8 Christmas TV Marathons To Watch This Dec. 25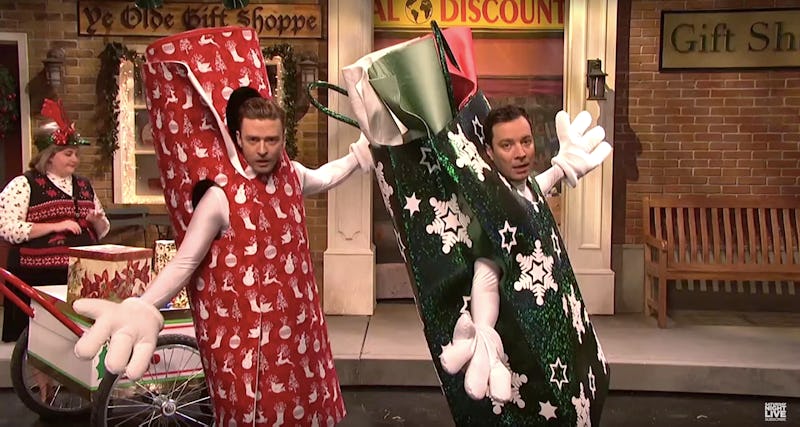 The holidays are a time for appreciating the three big "F"s in your life: family, friends, and food — and maybe football, if you're into that sort of thing. Of course, you can also take the time during the holidays to give yourself a break from the stress of your regular life, or the added stresses of the holiday season (shopping, baking, socializing with distant relatives, you name it). If you need some time to unwind, then what better way to do so than by curling up on the couch with a good Christmas Day TV marathon?
Sure, you could go the traditional route and turn on the 24-hour marathon of A Christmas Story — if you can stomach it for all 24 hours, then you truly are a Christmas champion. But if you'd rather not watch the same movie (albeit a classic) on an endless loop while making a serious dent in your family's gingerbread house, there are other options. Certain television networks have perfectly festive episodes of classic shows scheduled for your holiday marathoning. Or if, heaven forbid, you're absolutely sick of the holiday season and if you see one more Christmas-themed episode you'll puke, other networks totally have you covered, too. So don't waste your time flipping through the channel guide, because I've compiled a list of the eight best TV marathons happening on Christmas Day.
1. Doctor Who
18 hours of Doctor Who on Christmas? Sounds like a dream to me. Thankfully, BBC America has a Doctor Who marathon planned to begin at 6 a.m. and run through midnight. The episodes will be a mixture of Seasons 8 and 9, plus some Christmas specials thrown in, all leading up to the premiere of this year's Doctor Who Christmas special: "The Husbands of River Song." A marathon and a new episode? It's a Christmas miracle!
2. Jeff Dunham & Gabriel Iglesias
If you're looking for a more non-traditional and hilarious marathon to watch, Comedy Central is airing standup specials featuring comedians Jeff Dunham and Gabriel Iglesias. Most of the specials are not holiday related, with the exception of Jeff Dunham's Very Special Christmas Special.
3. Keeping Up With the Kardashians
E! usually runs marathons of America's favorite celebrity family during the holidays, and this year is no different. The network has 14 hours of the television series running on Christmas Day, with their special, "A Very Merry Christmas" airing at 2:30 p.m., which should avoid conflicting with any of your own family's traditions.
4. That '70s Show
Another show you can watch 18 hours of if your heart desires is That '70s Show on IFC. Although most of the marathon will include episodes from Seasons 3 and 4, the primetime slot will also feature Christmas episodes from various seasons like "The Best Christmas Ever," "Hyde's Christmas Rager," and "An Eric Forman Christmas."
5. Power
Have you been meaning to catch up on the second season of Starz's drama series, Power? Then you're in luck, because the premium cable network is airing the entire second season of Power on Christmas Day, starting at noon and running through every single dramatic twist of the 10-episode season.
6. Undercover Boss/What Not To Wear
This Christmas, TLC is giving the gift of a double marathon, for everyone who can't decide if they'd rather watch Undercover Boss or What Not to Wear. During the afternoon, the network will be airing episodes of Undercover Boss that have a slight holiday theme, like "Oriental Trading Company" and "Yankee Candle Company." Then, TLC will switch over to What Not to Wear in the primetime slot, and run until midnight.
7. NCIS
If you don't want to watch A Christmas Story for 24 hours, but you do want to see something all day, then USA has you covered with their full line-up of NCIS. Watch Gibbs and the team solve crimes and joke around like the family that they are — it's the perfect viewing for you and your own family.
8. Saturday Night Live
On the shorter marathon side, VH1 is airing five Christmas-themed episodes of Saturday Night Live, featuring hosts like Martin Short, Katy Perry, and Jimmy Fallon, before running the "Saturday Night Live Christmas Special" for an extra special dose of holiday hilarity. This marathon includes not one, but two episodes hosted by Jimmy Fallon, including one that also features Justin Timberlake, making for the second best holiday hosting pair after Tina Fey and Amy Poehler.
So, whether you're spending your Christmas with family, friends, food, or all of the above, there's plenty of TV to watch to unwind in between unwrapping presents and uncorking the wine.
Images: NBC (screenshot); Giphy (4); irishtrish/Tumblr