Why Star Wars Has A Feminist Future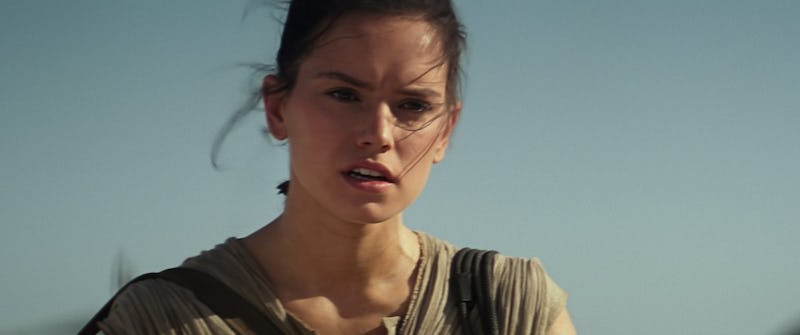 Though Lucasfilm might still bear Star Wars creator George Lucas's name, there's a new boss in the galaxy: In 2012, Lucas handpicked Kathleen Kennedy, a frequent collaborator and one-time Steven Spielberg production partner, as his successor, handing her the reigns and creative control over the future of the franchise. And with Star Wars: The Force Awakens , she's unveiled the female-forward direction the series will pursue both on and off screen. The rumors are true: The Force Awakens' protagonist Rey is a feminist hero, even more awesome and capable than fans could have imagined. The question only remains whether the as-of-yet-untitled Star Wars Episodes VIII and IX will sustain the feminist momentum.
The first moments of The Force Awakens look a lot like the exposition of A New Hope. The protagonist rescues a chirping droid from certain destruction at the hand of scavengers on a barren planet in a galaxy far, far away. That early scene in A New Hope has earned a mythic quality: Luke Skywalker meets his trusty robotic companions R2D2 and C-3PO, with whom he'll traverse the galaxy and tear it from the clutches of the evil Sith. Yet in The Force Awakens, Luke Skywalker's parallel is a young woman named Rey, and her R2 stand-in is a diminutive female droid named BB-8. The Force Awakens doesn't just place its female characters at the center as feminist tokens. The film makes a concerted effort to center women's narratives in front of the camera, and to narrow the gender gap among crew behind the lens.
Female characters haven't been absent from Star Wars in the past, but they've been sidelined or exploited as a way to advance the narratives of their male counterparts. Padme Amidala is a powerful politician, first as a respected leader on her home planet of Naboo and then a thoughtful senator for the Republic, before she marries Anakin Skywalker and becomes a footnote in his descent into evil. Princess Leia fares better, but she's a solo female protagonist in a galaxy populated by men. If The Force Awakens is any indicator, Rey will be no historical footnote in this galaxy or any other — she's successor to both Han Solo as captain of the Millennium Falcon and Luke Skywalker as powerful possessor of the Force.
It's not just about the central female role, though: Star Wars' peripheral characters, and even non-speaking parts, became exponentially more diverse in The Force Awakens. People of color and women populate cockpits and space ship crews. Menacing villain Captain Phasma is actually Gwendoline Christie underneath that gunmetal stormtrooper helmet. It doesn't even matter that Phasma is a woman, at least not to the narrative. It's simply a fact, just like it's a fact that Kylo Ren is a man. Lupita Nyong'o plays space pirate Maz Kanata, another mysterious figure whose narrative is sure to be fleshed out in future installments. You don't just cast Nyong'o and Christie for their skill as voice actors in a couple scenes.
Behind the camera, Kennedy told The Guardian that six of the eight team members involved in developing The Force Awakens were women. When she took the lead at Lucasfilm, she brought screenwriter Kiri Hart on board as senior vice president of development and Lynwen Brennan as chief operating officer, Fortune reported. (The Wall Street Journal has since described Hart as the "Star Wars Maestro.") "Having a balance of men and women in the room changes the story," she told The Guardian. The Force Awakens is only this team's first at-bat, and given its massive success, there's no apparent deterrent to pursuing this course in future movies. The inevitable backlash (there will always be some population of dissatisfied customers) has reflected this: in the minority, criticism that Rey is somehow too awesome, unrealistically so. As if everything else in Star Wars is totally rational and realistic.
Yet the directors of the upcoming Star Wars trilogy installments — J.J. Abrams for The Force Awakens, Gareth Edwards for Rogue One, and then Rian Johnson and Colin Trevorrow for Episodes VIII and IX — are all men. Kennedy has said she hopes to find a woman to helm one of the planned spin-off films, though she also noted that the directors who approach her about Star Wars properties tend to be men. "There is an assumption made that the people involved should predominantly be men," Kennedy told The Guardian. Men have traditionally been entrusted with the biggest blockbusters, even though directors like Catherine Hardwicke and Sam Taylor-Johnson have put out some of the biggest franchises of the past 10 years. Hardwicke's Twilight earned nearly $400 million globally, making it the highest-grossing female-directed film in history — a record that was topped only by Taylor-Johnson's Fifty Shades of Grey , which raked in just shy of $600 million. Kennedy has consciously emphasized elevating women within her company — "Part of our job is to nurture talent," she said.
There's a popular misconception that Star Wars fans are men, but this weekend's audience demographics for The Force Awakens opening demonstrate that women have responded to Kennedy's approach. On Saturday and Sunday, women composed 42 percent of theater viewers, Forbes reported — a number that had steadily increased since Thursday's pre-opening and that could mean a bright future among men and women alike for future installments. (In contrast, Star Trek: Into Darkness , Abrams' other effort to revitalize a beloved science fiction property and a critical flop, attracted an audience that skewed 64 percent male.) Kathleen Kennedy has spent the past three years since taking over Lucasfilm fostering an environment in which women have creative liberty on par with their male peers, in which they partake in writing dialogue and setting up shots and acting and editing, and The Force Awakens is just the first tangible evidence of her approach. The infrastructure she has set up promises a female-forward dynasty to rival that of the ancient Jedi order.
Join us for the first episode of The Chat Room, where we discuss what it's like to be a woman with an opinion on the internet and, of course, Star Wars:
Images: Walt Disney Studios; Giphy (2)