Get To Know Tammy's Husband Outside Of 'RHOA'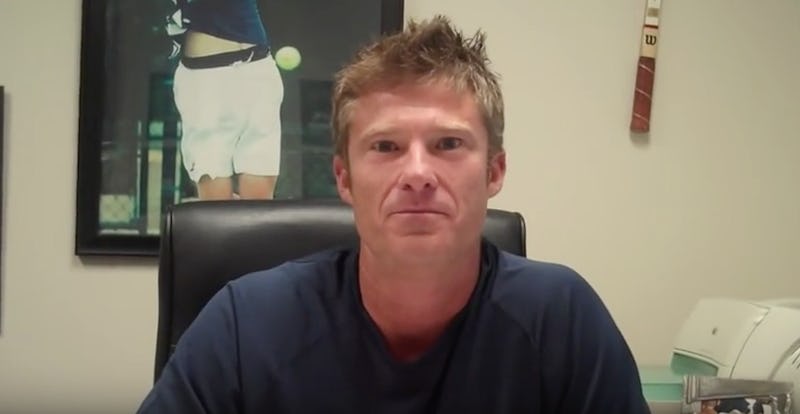 The Real Housewives of Atlanta didn't have the best first impression of Tammy McCall-Browning's husband, when she described her spouse as "really white" and a "Nazi." As with everything she does on the show, Tammy had literally no tact whatsoever when describing him. So who is Tammy McCall-Browning's husband exactly? John Browning was briefly glimpsed in a recent RHOA episode, when he dropped Tammy off before the Miami trip, and he made a much better impression in person than when Tammy tried to describe him on the boat trip, for obvious reasons.
Unlike the rest of Tammy's relatives, John Browning came across as a pretty normal and nice guy to the 'wives, while her nephew flew into a rage at the slightest provocation, resulting in his aunt getting hurt, and her son tried to get a record deal from Kandi. Meanwhile, Tammy herself hasn't made a very good impression on the ladies either, with her dramatic and kind of erratic behavior.
Then again — Mr. Tammy was only seen for a quick second. Who knows what he's like behind non-Housewives doors. But through his work and Tammy's social media, a more complete picture can be seen of John, and how exactly this marriage works. Hint: most of the time, it's all about Tammy.
The Brownings Share A Sense Of Humor
Tammy posted this Facebook update, saying that she and her husband just the sort of jokey people that only comedians like Jon Stewart and Paul Mooney could understand. "My husband and I are EXTREMELY politically incorrect," writes Tammy. That might help explain some of the things she's said so far during the season.
John Browning Is An Acclaimed College Coach
And Tammy's husband has a career as a tennis coach. He's currently the head men's coach at Emory University in Georgia. According to his Emory bio, he "has three national championships to his credit." And he used to be a player, which makes him another type of record-setter — Browning "is the fourth person in NCAA history, for any division, to win a national team championship as a coach and player."
He's Not Freedom Freco's Dad
Tammy's husband is not the father of her rapper son, Freedom Freco Augmon. His dad is former professional basketball player Kenny Augmon.
He Looks Just Like One Of Her Best Friends
Deja vu! One of Tammy's close friends, a photographer whose nickname is "Bubbalicious," looks like he could be John Browning's brother. Weird coincidence, especially since John is so camera shy that while scrolling through her feed you might do a double take.
They've Been Together For Years
While Tammy may seem like she's all over the place from her appearances on Real Housewives of Atlanta, in reality she had a pretty stable married life. She's been with John for at least three years, when this photo was taken, and judging from the #TBT she posted (above) they've been together much longer than that. No matter how wacky she comes across onscreen, I think it's pretty clear from getting to know her husband that Tammy is actually a secretly normal person. Who knew!
Image: EmorySports/YouTube