The Kardashian Hairstyles That Inspired Kimojis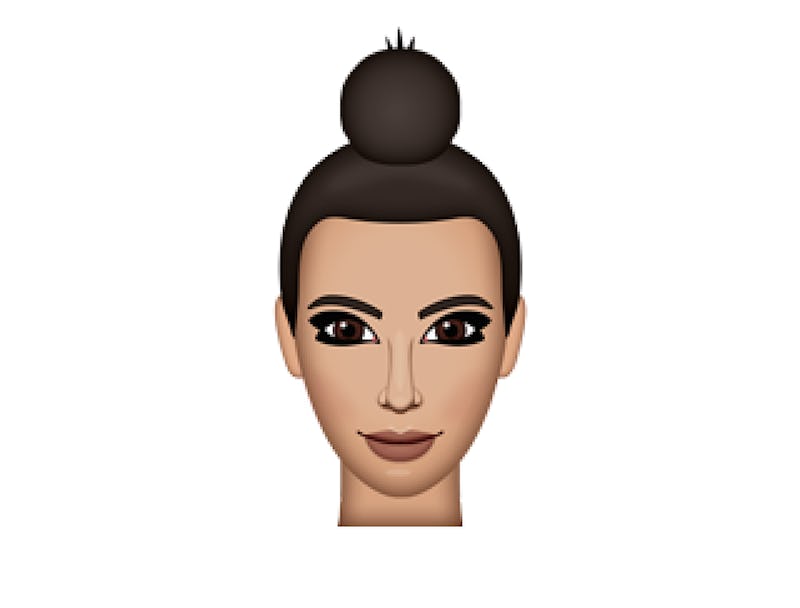 Looks like the queen of reality TV has officially taken her virtual empire to the next level. Kim K. launched Kimojis on December 21, and they are exactly what they sound like — emojis inspired by their creator. Just like the contouring and ugly cry symbols, Kim Kardashian's Kimoji hairstyles are definitely inspired by real life.
There's no question that Kim Kardashian's hair always looks incredible, so it's only fitting that her Kimojis would share her shiny, lush locks. Don't think they're all the same, though. In true Kim fashion, she's incorporated different styles inspired by her real-life hair. From sleek to wavy to pulled up, Kim's channeled some of her most iconic hairstyles in her creations.
It's not all about Kim, though. Just like she did in her app, she gave nods to her sisters in her latest digital venture. One Kimoji has Kylie Jenner-worthy blue tresses, while another channels Khloé's short-lived (but much talked about) ombré coloring.
Of course, it's still mostly about Kim — I'd imagine she's pocketing most of the profits from the $1.99 app (as if it would ever be free.) But hey, more power to her (and her Kimojis.)
Here are 10 Kimojis inspired by real Kardashian or Jenner hairstyles.
Sleek & Straight
One of Kim's signature hairstyles is her classic middle part and sleek, straight strands. This particular good hair day was at the 2012 FiFi Awards. Side note: In case you didn't know — scratch that, because no one really knew — the FiFi awards honor fragrances. Thanks, Google.
Platinum Blonde
Before this Kimoji, the Draco Malfoy meme was the most popular representation of Kim's platinum blonde locks. Honestly, though, I kind of loved it. She debuted the style at Paris Fashion Week in March.
Hair Flip
Kim certainly embraces that no-f***s-given hair flip — as do I. Step aside, sassy girl emoji:
Top Knot
At first, this looks like a regular top knot, but upon closer inspection I spy some wispies making their way out of the top of the bun. Which reminds me of this fabulously infamous photo:
Box Braids
Remember Kim's box braids? Me neither, but that's what the Internet is for.
Retro Waves
This could just as easily be a nod to one of big sis Kourtney's favored red carpet styles, but Kim looked pretty great herself in subtly retro glam waves at the 2014 Met Gala.
Kylie's Blue
Speaking of sibling homages, this blue-haired Kimoji is most certainly inspired by King Kylie, the family's resident hair chameleon.
Kendall's Pink
Even though Kylie's usually the one shocking people with her hair hues, Kendall made headlines when she rocked pink hair for a Vogue shoot.
Khloe's Red
My, how the time flies — Khloé had red hair for a hot second, which she proudly displayed at the 2011 People's Choice Awards. Of course, it wasn't fire red like the Kimoji, but you can definitely see the inspiration.
Khloé's Ombré
Look, another Khlo-moji! As much as I love Khloe's blonde hair, I her ombré in-between phase was pretty fabulous, too. She owned the look at the 2015 American Music Awards.
Want more beauty tips? Check out the video below, and be sure to subscribe to Bustle's YouTube page for more hacks and tricks!
Images: Kimoji app; Getty Images; kyliejenner, kendalljenner/Instagram; KimKardashian, paulshairworld, KimYeWestDaily/Twitter