16 Totally Unique Peppermint Recipes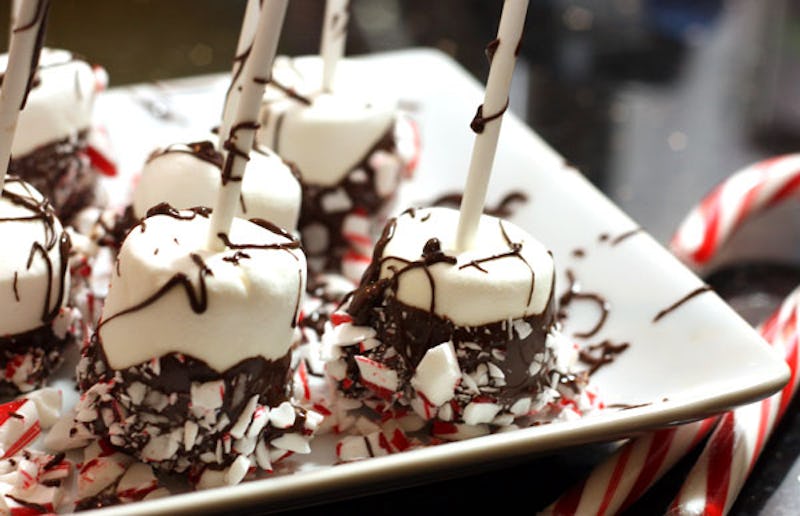 Unless you are a devotee to eggnog or gingerbread, it's fair to give peppermint the title of the most iconic holiday flavor. Seriously, beyond candy canes, there are so many holiday peppermint recipes that taste even more magical during this time of year. After all, a little minty freshness always reminds us of winter, so it's no wonder that we find ourselves craving this flavor as soon as temperatures cool down, and we swap our pumpkins for evergreen wreaths.
Certain flavor combinations are expected every season, and winter is no exception. While in autumn we can't seem to ever fully satisfy our pumpkin spice cravings, December gets us in the mood for everything chocolate mint flavored. But chocolate isn't the only flavor that makes mint really wow us. Try mixing it with cinnamon for an unexpected spice, or use it to give some plain butter cookies a whole new taste. Really, you've got plenty of options for making the most of this cool, satisfying flavor.
From traditional cookies to creative takes on peppermint bark, these 16 recipes will provide you with enough dessert inspiration to finish the holiday season on a seriously tasty, minty note. 'Tis the season to be baking, after all — here's everything you need to get started.
1. Peppermint Bark Petit Fours
All it takes to convince me to make A Beautiful Mess' petit fours is the thought of how pretty they'll look on my dining room table.
2. Raw Vegan Chocolate Peppermint Doughnut Holes
Trying to tackle your New Year's resolutions already? Averie Cooks knows how to make a healthier treat that still tastes good.
3. Candy Cane Cinnamon Rolls
Skip the chocolate. With a sugary glaze, Half Baked Harvest's minty cinnamon rolls get even better.
4. Homemade Mint Milano Cookies
Take the time to whip up a batch of your favorite holiday cookies. We promise A Cozy Kitchen's version is way better than store-bought.
5. Layered Peppermint Fudge
Don't just stick to your usual chocolate routine. Mix things up with A Spicy Perspective's pretty layered fudge recipe.
6. Chocolate Peppermint Chip Cookies
With pieces of crushed candy canes, these cookies by Table for Two Blog are bound to become an instant classic.
7. Peppermint Coconut Cocktail
This vodka-based cocktail by A Beautiful Mess is super creamy — but it's also dairy-free!
8. Peppermintini
Forget the punch. This minty martini by A Spicy Perspective is the drink you really need on Christmas.
9. Chocolate Peppermint Marshmallows
To make your hot cocoa experience even better, serve it up with one of Table for Two Blog's chocolate and candy cane-covered marshmallows.
10. Peppermint Patties
We dare you to eat just one of Savory Sweet Life's perfect peppermint patties. Just kidding, you're going to need to make several batches of these treats.
11. Peppermint Red Velvet Cake Roll
For a truly impressive piece of eye candy, give The Kitchn's ultra-festive cake roll a go.
12. Chocolate-Dipped Coconut Snowballs
These snowballs by Cara's Cravings are super sweet and satisfying, but don't worry — they're made with all-natural ingredients!
13. White Peppermint Hot Chocolate
Fans of white chocolate, this drink by Mel's Kitchen Cafe may be your ultimate indulgence.
14. Peppermint Mocha Blossoms
Candy cane kisses make Damn Delicious' mocha blossoms even more festive.
15. Peppermint Cream-Filled Butter Cookies
Skip the chocolate or jelly filling this Christmas, and opt for an even more festive ingredient, with the help of The Kitchn.
16. Peppermint Pretzel Marshmallow Fudge
Set out this fudge by Joy the Baker for a holiday movie night — but don't be surprised if it disappears in minutes.
Looking for more holiday cheer? Check out Bustle on YouTube.
Images: Table for Two Blog (2); A Beautiful Mess (2); Averie Cooks; Half Baked Harvest; A Cozy Kitchen; A Spicy Perspective (2); Savory Sweet Life; The Kitchn (2); Cara's Cravings; Mel's Kitchen Cafe; Damn Delicious; Joy the Baker