19 Things I Learned From Beyoncé's Instagram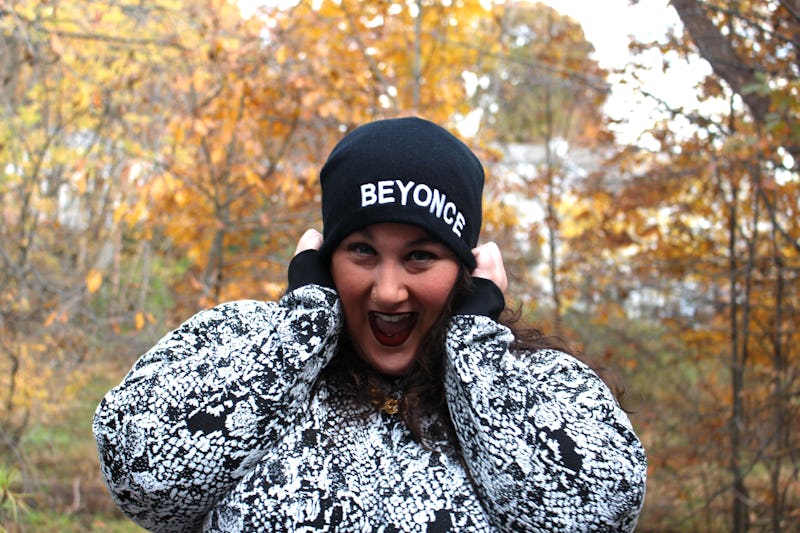 Beyoncé is one celebrity who will likely never step into The Shade Room or get involved in anything messy on social media. But when Beyonce's photos on Instagram do surface, it's likely that they'll be something fierce, artistic, and, of course, stylish. Queen Bey's Instagram is a small peak into her life on the road, her experiences as a mother and wife, her fabulous vacations, and some serious #OOTDs. Although she doesn't post as frequently as I would personally like (I mean, daily would be nice), she still brings the inspiration.
Before Beyoncé released her visual album in December 2013, I was pretty uncomfortable posting selfies on Instagram (a fact that I bet is laughable to anyone who follows me now). But the songstress' album helped me own my flawlessness and become more confident in what makes me unique.
Since focusing more on sharing my own style on social media, my followers have grown by leaps and bounds. I was around the 1,000 mark when the album first came out, and am now close to 40,000. So I wanted to explore all of the ways that Beyoncé's selfies have educated and inspired my own. Truthfully, I've learned hella lot from the Queen, including these 19 lessons.
1. Embrace Booty Shorts
Before Beyoncé's "***Flawless" music video and subsequent IG snaps, I never would've worn shorts like these. But if she could do it, so could I! The message of this song taught me that the only limitations to what we are capable of are the ones we place on ourselves.
2. Make The World Your Backdrop
I used to overthink my photos and believe I had to have the most professional backdrops. But sometimes a metal gate is all you need to strike a pose.
3. Feel The Wind In Your Face
Years ago, my friend who is professional model used to tell me to "pose like Beyoncé would with a wind machine on her face." It sounded silly at the time, but I think what it helped me do was stop over-thinking and realize that candid moments in which your hair is covering half your face can be pretty cute, too.
4. Take Mirror Selfies
Have no shame in your mirror selfie game!
5. Put A Ring On It
The hand selfie is another way that Bey expresses her personal style, and looking back through her Instagram, it's cool to see how her ring bling has evolved. I love sharing my own take on style through jewelry and nail art as well.
6. Turn In Your Toes
Ever since I was a little kid, I have turned in my toes when facing straight for photos. It just happens naturally without even thinking about it. People have pointed this out to me, which used to make me a little self conscious. But when I saw that even Beyoncé turns her toes in sometimes, I realized that it's not that big of a deal at all.
7. Try The Crossover
Although crossing my feet when I pose doesn't come naturally to me, I try to force myself to do it sometimes for variation's sake. Beyoncé kills this pose every single time, and taught me to do the same.
8. Embrace The Hat Snap
Being perfectly coiffed in every photo is something I will never have time for, but even Beyoncé rocks a hat from time-to-time and styles these looks in absolute perfection.
9. Experiment With The Side-By-Side
One thing I learned pretty quickly after posting my own photos is that two images side-by-side often work better than one. Beyoncé does this pretty often with her #OOTDs. I think it allows one to show the versatility of a look without sharing multiple photos. Also, plaid flannel forever.
10. Put Your Hands Behind Your Back
My natural instinct is still to put one hand on my hip and pop the other side out. It's something many of us are encouraged to do as fat women in order to "accentuate our curves." But screw that. Two hands behind the back is a power stance and trying to focus on posing that way has helped me grow into my own dominance.
11. Put It On A Tee
Sometimes, you gotta let your pose and your clothes tell folks just how confident you are in your queendom.
12. Get Your Head In The Game
Beyoncé always finds a way to keep her posing creative. Putting her hand on her head and tilting it slightly is so genius. I definitely found confidence when I did something similar.
13. Try The Pony Grab
People actually text me when Beyoncé poses in such a way, because it's what I do in, like, 90 percent of my own photos without thinking about it. I never thought of it too much, until I went to a psychic fair and someone told me that grabbing your hair is a way to connect with your inner strength.
14. Take Travel Selfies
I don't get to travel as much as I would like to, but when I went on a 10-day trip to Sicily this summer, I brought my good camera and lugged it everywhere we went. That way, I could capture OOTDs in the coolest of ancient settings, just like Queen Bey.
15. It's All About The Plant Life
I captured my outfits every day in Sicily. And if a plant happened to be the only backdrop available, then I was gonna work it.
16. Capture The Genuine Moments
I don't know who takes all of Beyoncé's photos, but it's clear that she captures some genuine moments of happiness. While looking fierce is important, preserving those real moments of laughter are nothing short of awesome. I know my mom cracks me up when she takes my photos.
17. Opt For The Candid Mother/Daughter Selfie
I love seeing Beyoncé and Blue together. Even though I don't have any children of my own, I like to keep the generational poses going, and often take photos with my own mom.
18. Share A Best Friend Selfie
This best friend selfie with Kelly Rowland is Bey's most recent Instagram photo. I am far too Instagram-obsessed to go four weeks without posting, but I always show love for my best friend when I can.
19. Don't Fear Being Festive
OK. So maybe there is no Chanel bag under my Christmas tree. But Beyoncé showed me that it's cute to be festive. She's someone who doesn't take herself too seriously on Instagram, and being myself on the social media platform is one of the best things to ever happen to me.
So while I haven't quite captured the art museum or private jet selfie yet, I have learned a lot about my own confidence through putting myself out there more on Instagram, just like Beyoncé. The more you allow yourself to have fun with your posing (and your posts in general), the more your page will resonate with your followers.
Images: ReadytoStare/Instagram