Ashley Nell Tipton Is On The Cover Of 'SKORCH' Mag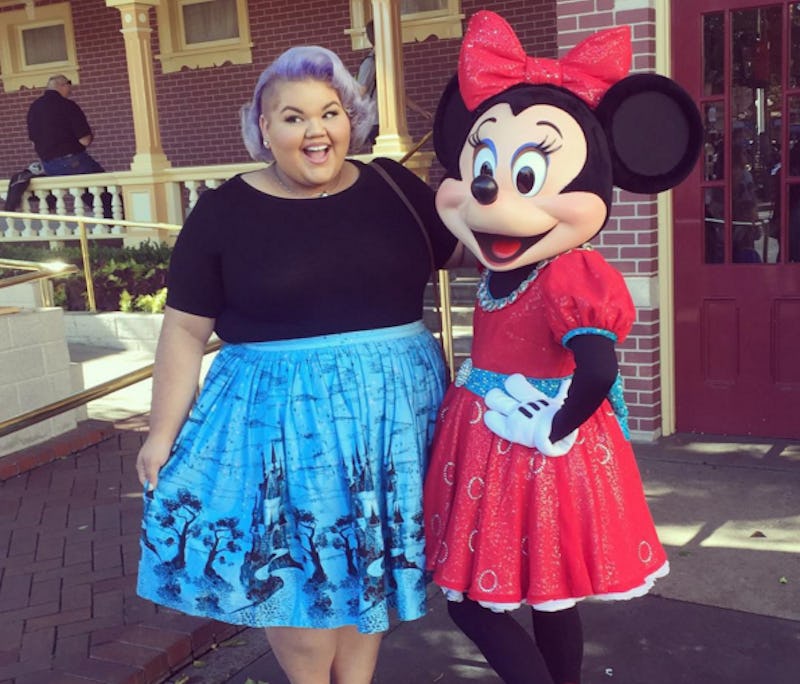 Making history this year by being the first plus size designer to win Project Runway , there's no question as to whether or not Ashley Nell Tipton's SKORCH Magazine cover is well-deserved. Besides being a plus size-centric publication, SKORCH Mag is notably body positive as well. The self-proclaimed "most body diverse mag in the world," this cover and spread only help back up this point. Instead of focusing on Tipton's designs or her groundbreaking Project Runway win, however, the spread and the interview both highlighted the woman behind the designs as well as all her hard work.
The outfits in the spread aren't Tipton's own designs, but I seriously think that the gal could pursue a career in modeling what with her fun vibe and completely vibrant personality (not to mention that hair). Stylist Tiffany Kaelin Knight deserves recognition for the bright party outfits from totally affordable lines such as Torrid and Society Plus that Tipton is rocking in this issue. But, of course, the clothes wouldn't work without such a star wearing them. It's especially great to see that the designer isn't being forgotten after her win, but is continuing to make a name for herself in the fashion and plus size worlds.
In the interview itself, Tipton covers a range of topics, from her win to her hair — no aspect of her aesthetic left to the imagination. Instead, we get some lovely insight into how it feels to be a history-maker for plus size people everywhere, paired with a taste of the designer's fun and original personality. The interviewer didn't shy away from complimenting Tipton's "aesthetic and talent," and when asked about her upcoming collection, I couldn't help but shiver with anticipation at Tipton's answer.
She told SKORCH, "Just expect that I'm turning this industry around making clothing that we've been wanting and needing. Also, it'll be a reflection of garments that I'd wear, that I know other plus sized women would wear too!" IMO, it's always especially exciting to see a plus size woman designing a plus size collection, since she's likely to know the ins and outs of what larger bodies needs.
When asked about the secret behind her success and her advice to upcoming plus size designers, Tipton's advice was sweet and simple. "It would be to stay strong, follow your dreams, trust your vision, and don't give up. Generic answer, however it's the honest to God truth!" Sometimes, the most cliche answers are the truest.
Image: Ashley Nell Tipton/Instagram