5 Best Outfits From 'SKORCH's' +Size Cover Shoot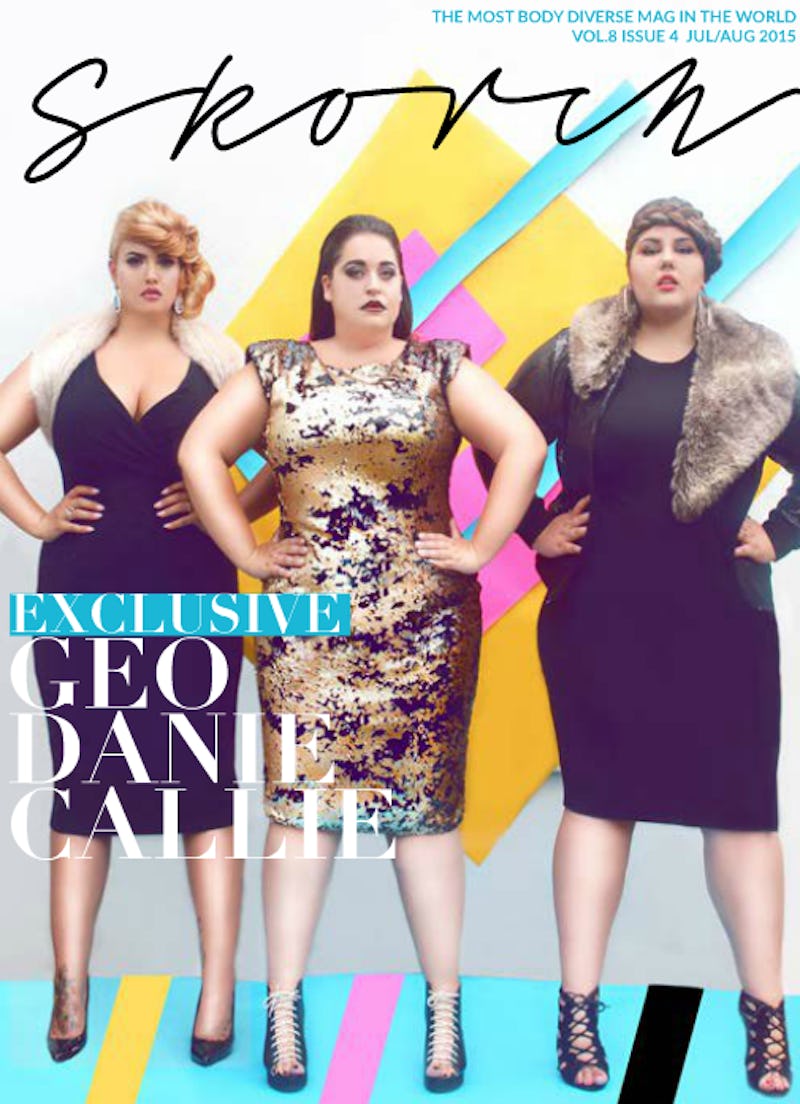 SKORCH Magazine prides itself on being "the most body diverse mag in the world," and its claim isn't unjustified if you ask me. Jessica Kane's publication constantly and consistently promotes plus size pride and body positivity. The Aug. 16-released Global Issue of SKORCH Magazine is an especially important one, though, as it includes editorials from France, England, Canada, and Russia in order to highlight body positivity around the world. But perhaps most poignant is the cover and headlining feature, which focuses on three plus size bloggers from the UK: Callie Thorpe, Georgina Horne, and Danielle Vanier.
These three women are often known as pioneers in the plus size style and body positive blogging worlds. After the Channel 4 documentary Plus Size Wars, they were arguably catapulted into the spotlight even further. SKORCH's decision to use Thorpe, Horne, and Vanier as representatives for the United Kingdom's body positive scene is personally giving me all the feels. Callie Thorpe represents the effortless cool chick that so many of us aspire to be sartorially. Georgina Horne is the perfectly pinup plus size role model. And Danielle Vanier's daring styles help show a diverse array of fashions that prove plus size women can wear whatever the hell they want.
In their interviews, all three women pile praise on each other's differing styles and body positive actions. When discussing the differences between UK and U.S. plus size fashion, Vanier and Thorpe say they both wish that British brands would take as much notice of bloggers as American ones seem to. They do, however, argue that British plus size style is much edgier and quirkier.
Here are the five best outfits from the shoot, although every single one was totally swoon-worthy.
1. Danielle Vanier's Cover Look
This gold dress looks stunning on Vanier, but when paired with a dark lip and slicked back hair, she brings it to a whole new level of glamour.
2. Danielle Vanier's Summer Starlet Style
This is such a perfect summer look from Vanier. She keeps it monochromatic and stylish with two well-paired pieces.
3. Georgina Horne As A Leopard Print Bombshell
Horne's vintage style shines through in this gorgeous leopard print bodycon dress paired with a glamorous fur scarf to complete the look.
4. Callie Thorpe As A Black Mesh Goddess
Callie Thorpe totally rocks all black everything. I especially love the amount of leg she's giving us. The look is stunningly simple.
5. Danielle Vanier's Jacket
Seriously, you could wear this jacket with anything, and I need to get ahold of it immidiately. Paired with a plain black dress, it'll stand out even more.
These three bloggers are helping represent the diverse styles found within the entire body positive community. And they're looking like a dream whilst doing so.
Images: Courtesy of Lia Boothman/SKORCH Magazine