11 NYE Accessories That Will Make Any Outfit Shine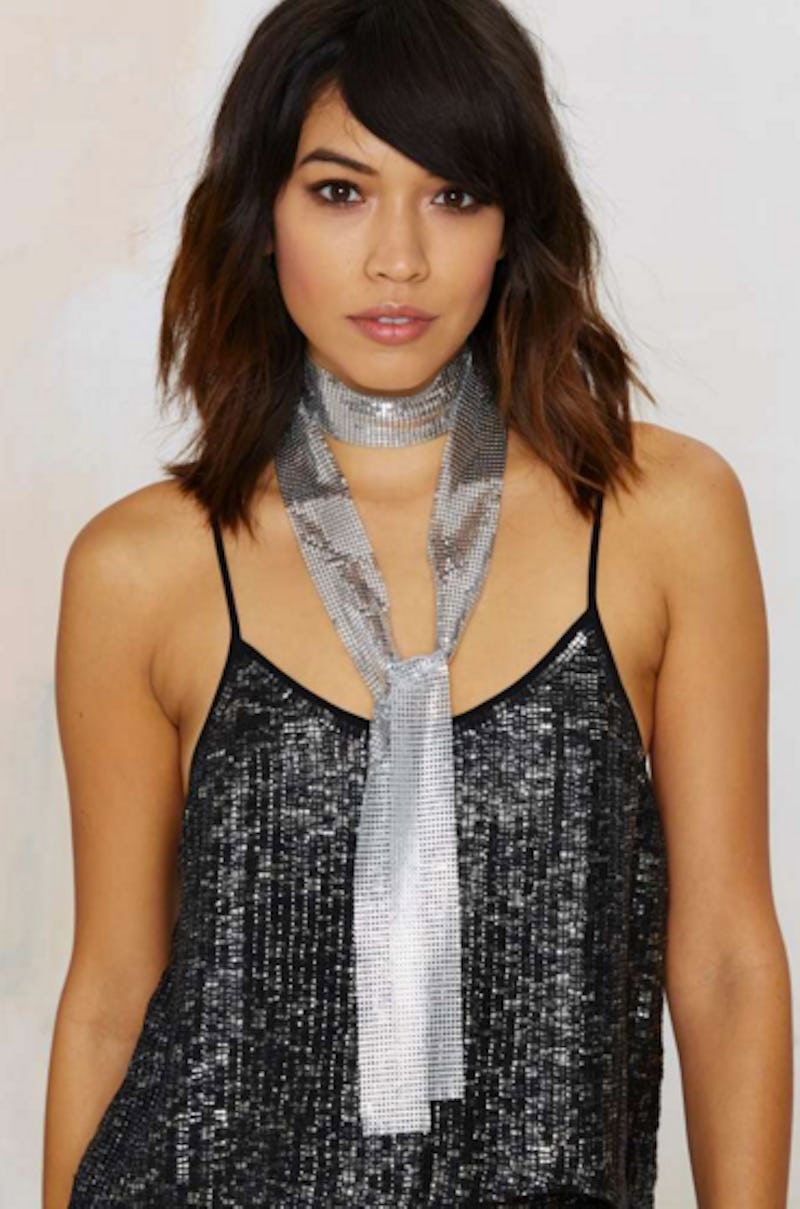 Every year I buy a sequin dress for New Year's Eve, and every year it sits in my closet collecting dust. While I love a little shine, especially during the holidays, it just doesn't fit in with my workday wardrobe. So this year, I've decided to invest in New Year's Eve accessories. What are New Year's Eve accessories, you ask? Anything and everything sparkly, of course.
While Bianca Jagger's head-to-toe red sequin outfit might be my ideal New Year's Eve ensemble, I've decided to forego the idea of looking like a glorified disco ball and opt for a more practical outfit to reign in 2016. Instead of buying a glamorous dress that will never be worn again, I've decided to purchase some glamorous accessories that can and most definitely will be worn again. A few of my must-have items for this New Year's Eve are a shiny purse that I will use year-round to take my look from day-to-night, a pair of metallic flats that will elevate my work wardrobe, and sparkly jewelry that will come in handy, well, always.
If you are hoping to be festive without being frivolous, look no further! Scroll down to shop some of my favorite New Year's Eve-inspired accessories.
1. Sparkly Flats
Miss Albright Shimmered Flats, $88, anthropologie.com
Practical yet pretty, these flats will come in handy even after NYE.
2. Sparkly Purse
Nila Anthony Pick of the Glitter Crossbody, $48, nastygal.com
This glittery purse is the perfect statement accessory for NYE and every other night on the town.
3. Statement Studs
Navi Studs, $38, baublebar.com
These timeless studs will be a great addition to your jewelry box.
4. Festive Hair Accessory
Geo Star Headband, $38, freepeople.com
An easy way to make your outfit look more festive is by adding a show-stopping headpiece.
5. Skinny Scarf
Factory Girl Mesh Scarf, $18, nastygal.com
A sequin skinny scarf screams Studio 54.
6. Fur Stole
Vivian Color Block Faux Fur Stole, $69.95, freepeople.com
While fur is not the most typical NYE accessory, it is a super luxe way to update any outfit — be it an evening gown or a wool coat.
7. Glittery Ankle Boots
Crosswalk Stardust Glitter Bootie, $112, nastygal.com
You can never go wrong with a good ankle boot, and this glittery pair is no exception.
8. Glitter Tights
Glitter Tight, $40, freepeople.com
Add some shine to a little black dress with metallic tights.
9. Body Sparkle
Gobi, $14, bodybauble.com
Instead of a typical necklace, opt for some not-so-typical body art.
10. Glitter Belt
Kate Spade Glitter Bow Belt, $58, shopbop.com
Accessorize your waist with this darling glitter belt.
11. Confetti Manicure
UO Sparkle Nail Polish, $5, urbanoutfitters.com
Polish off your look with a festive nail lacquer.
Now you are ready to step into the new year in style.
Want more sparkly tips? Check out the video below, and be sure to subscribe to Bustle's YouTube page for more hacks and tricks!
Images: Courtesy Brands