Faux Fur Stoles That Scream Luxury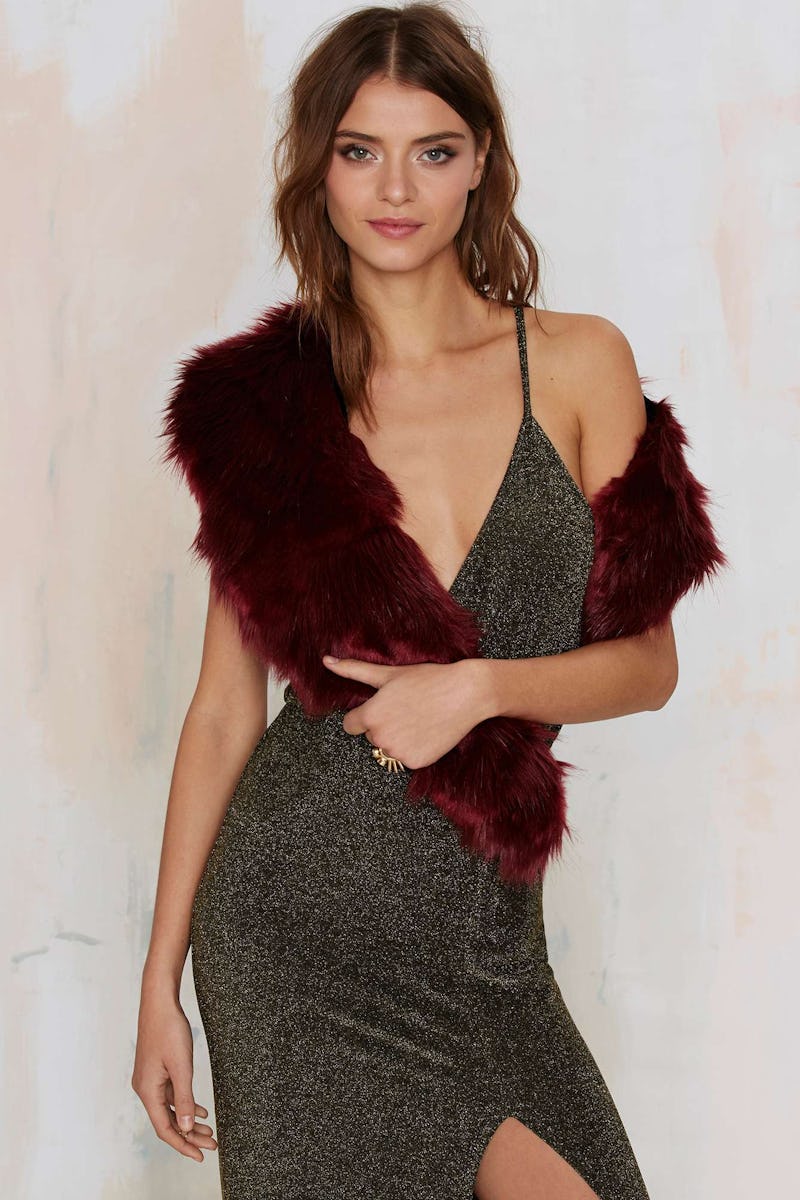 What do Margot Tenenbaum, Cruella De Vil, Miranda Priestly, Marilyn Monroe, and Carrie Bradshaw all have in common? They wore fur, of course! And while you won't see me walkin' around in a full mink, faux fur stoles are definitely a staple in my wardrobe. Not only does (faux) fur make you look incredibly chic, it also keeps you pretty damn warm, too. Definitely a plus for Northeast dwellers.
Although it's been very mild lately, something tells me that we're going to be hit by the cold out of nowhere. If I know anything about the weather, it's that its extremely unpredictable. One day, it's clear skies and in the mid-50s, and the next day, there's snow on the ground. And since we've been spoiled with warm weather these past few days, I know that the cold is coming back with a vengeance.
As a city dweller (a walking city, at that), it's important to layer up and wear the warmest possible versions of each item I have. My hat? Wool. Gloves? Lined with fleece. And my scarf? A faux fur stole, for sure. The added plus is that you basically get to feel like royalty when you throw it on. Whether you're wearing a plain black sweater, your favorite white button up, or even a ratty tee, adding a faux fur stole basically ups your fancy game by about 100 points.
In honor of the inevitable strong winds and (hopefully) snow, here are some stoles that you'll definitely want around your neck this winter season.
1. The Brown Beauty
Sole Society Faux Fur Stole, $40, Sole Society
This baby can go over any type of jacket, even a rougher one like this anorak.
2. All Black Everything
Faux Fur Stole, $29, Simplybe
I'll stop wearing black when they come up with a darker color.
3. The Multi
Topshop Faux Fur Stole Scarf, $52, Topshop
This one's long enough, it'll even keep your tummy warm when tucked into your jacket.
4. A Pop Of Red
Holly Faux Fur Shawl Collar Stole, $22, Boohoo
Red lip and even redder stole? Fierce.
5. For The Color Blocking Boss
Colour Block Faux Fur Stole, $98, French Connection
Why pick a single color when you can have many?
6. Super Luxe
Faux Fur Stole, $70, The Limited
So obsessed with how this is styled. I'm definitely trying this out this season.
7. Animal Print
Camel Leopard Stripe Stole, $35, Dorthy Perkins
Who doesn't love a little touch of animal print?
8. Little Red Riding Hood
Boohoo Anna Tonal Long Fur Collar, $26, Boohoo
I love the cape feel of this one. It also even doubles as a necklace with that beautiful black tie.
9. The Kylie Jenner
Jayley Teal Faux Fur Scarf, $72, Asos
How beautiful is this color? Definitely giving us Kylie vibes.
10. Deep Red
De Ville Faux Fur Scarf, $50, Nasty Gal
With a slip dress like this one, this burgundy stole adds just a subtle touch of sexy.
11. A Shout Out To Big Bird
Boohoo Zoe Oversize Long Faux Fur Scarf, $32, Boohoo
Looking to make a statement? This stole has you covered.
12. The Softest
Zara Faux Fur Stole, $70, Zara
If you don't want to bury your face directly into this stole, I don't know what to tell you.
13. Ultimate Luxe
Ultra Faux Fur Scarf, $39, Restoration Hardware
Who knew the most beautiful furniture store would sell faux fur stoles? Certainly not me, but I'm glad they do.
As the Starks always say, "Winter is coming." Get yourself prepared with one of these babies that'll definitely have you feeling as warm as the men of the Night's Watch.
Did you know that you can find ASOS promo codes at the Bustle Coupons page? Bustle Coupons is a service provided by Groupon in collaboration with BDG Media, Inc. Each time you use a coupon or promo code from Bustle Coupons to make a purchase, Groupon and BDG Media, Inc. earn a small commission. This article was created independently from Bustle's sales department.