'HelLA' Creator On How She's Beating The System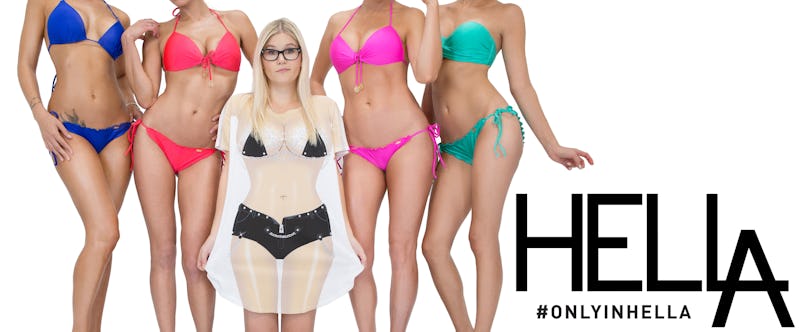 I'm standing outside of a wax museum on Hollywood Boulevard waiting for Rory Uphold, creator and star of the webseries HelLA , to meet me for an unconventional interview. But according to an email she just sent me, she's already here. I look around: A man with a sign reading "Need $$ For Booze" is lying on a Hollywood Walk of Fame star. A family of tourists rounds the corner with cameras slung around their necks, and an off duty Spider-Man sipping a soda crosses the street. But no Uphold. "You're outside of the wax museum?" I type. I check my phone for a minute longer before looking across the intersection. And there she is, eyes glued to her phone, standing outside of a different wax museum, because of course.
Hollywood Boulevard, the mecca of tourism in Los Angeles, is a place most locals would rather eat a sugary, gluten and calorie-filled pastry before visiting. But it's the perfect place for our meeting. Uphold's series, for which she stars in, writes, directs, and produces, encompasses the same conflicted feelings as the famed Los Angeles street. The boulevard — shiny and exciting on the outside, yet dirty and sometimes seedy in reality — is a bigger metaphor for the feeling of the city Uphold is trying to capture in her comedic webisodes that air on HelLA's Youtube channel. Each episode encompasses an unfortunate LA-ism, something uniquely true, but unsettling, about the city of Los Angeles. According to twentysomething's website, her webseries is al love/hate letter to the city she calls home." Sort of like the sparkly yet questionable Boulevard we're standing on.
Episodes of HelLA are less than two minutes long — a point of pride for Uphold, who knows YouTube viewers have a short attention span. Each episode focuses on a moment that LA residents and outsiders alike can relate to — pressure to stay thin and ageless, the trouble with traffic, and more absurd topics like catering to a gluten-free homeless man.
"HelLA is about feeling like a sane person in a crazy world. I'm from LA, but I don't really relate to having, for example, a crazy macrobiotic diet. But I also catch myself and make fun of myself when I'm doing these things," she says of those stereotypical LA trends. Season 2 features some of Uphold's actor friends: Sophia Bush, Glee's Kevin McHale, Veronica Mars' Chris Lowell, Center Stage's Amanda Schull, and more.
As we wander through the museum Uphold was in front of, she snaps photos with a selfie stick she bought at the front counter and shows me a lighting trick for taking the best photos. As I hold up my camera to snap a pic, she utilizes the flashlight setting on her own phone to light the subject — voila! A veteran in front of and behind the camera, she knows the ins and outs of filmmaking, a talent that's come in handy creating her own online show.
She is, and intends to be for as long as she's in the business, a renaissance woman of content creation. Before she created HelLA, Uphold dabbled in music before launching into production. Perhaps she's motivated to move forward in part because the managers she had early in her career pigeon-holed her talents. They wanted her to audition for "roles that a white, blonde female could play — a preacher's daughter or a stripper — nothing of substance," she says. "I decided I was either going to dye my hair or I'd make my own thing."
And she opted for the latter. Fueled by the want to make her own content, and thanks to a bad breakup that gave her the idea for the narrative, in 2012 Uphold premiered a short film she wrote called Safety , which explores a one night stand. The film did well, playing at 11 film festivals and winning four awards, including the Audience Award at HollyShorts festival. "From that moment on, I knew I wanted to keep doing this, so that's when I made HelLA," she says.
As we get lost among the wax figures, a Donald Trump display catches Uphold's attention. "Ooh, I have a great idea," she says, running over to the Trump Princess boat, complete with a fake, romantic sunset, and stands inches from the could-be President of the United States. She raises her fists and flips him off. She gives me a big, sarcastic grin.
For Uphold, the success of Safety translated to over a million views for her first episode of HelLA, released in January of 2014, which features Uphold trying on clothes next to a supermodel. But the release of the video came with scary side effects. "There were so many mean comments about her and about me. The thread of comments became: Who's hotter? I was getting rape threats. My computer was hacked. It freaked me out." Compared to these Internet trolls, Trump suddenly seemed like the least of our concern.
One male viewer commented on Uphold's first HelLA video: "All the bodies are beautiful... except for the two fatties!" Another wrote: "We are attracted to good looking women for biological and instinctive reasons, this seems to be something that crazy feminists don't understand." Other commenters, who go into explicit detail about how they would physically harm and sexually assault the women, are too gruesome to quote. But these negative comments inspired Uphold to speak up.
She wrote about her experience with sexist comments in an article for the website xoJane, titled, "How My Viral Video Forced Me to Confront Misogyny." In the post, she writes, "When I released my first episode... I found myself forced to confront exactly what I was trying to escape by becoming an independent artist: superficial, misogynistic bullshit." Her article goes on to say: "I can't help but wonder if there will ever come a time when a woman can create something that captures the truth about how women are represented in American society without being reduced to less than human for doing so?"
Unfortunately, the backlash Uphold faced, and still faces, isn't entirely surprising. According to Statistic Brain Reasearch Institute stats from November 2015, 18.2 percent of females — compared to 10.5 percent of males — have had "mean or hurtful comments" about themselves posted by others online. And most of these women probably weren't putting themselves out there on digital platforms like YouTube. Cartoonist and columnist David Trumble said of his male privilege in a Huffington Post article: "I can say exactly the same thing a female feminist does, in exactly the same arena, without having to change my address, fear for my personal data, or carry a rape whistle."
It's scary, to be sure, and while Uphold still hates seeing the negative comments, she's adopted a different philosophy over the years. "Now I say, 'Thank you for your view. Thank you for boosting my numbers. Thank you for ultimately making this video more successful.' I'm way used to [the threats]. I know that sounds stupid. But you just have to keep pushing. If you're going to criticize my appearance, I don't care."
She's embraced this attitude because she recognizes the challenges all women face, threats aside, as creators of their own content. According to Uphold, she doesn't have time to waste being scared of the trolls when she's already playing an odds game.
"As a woman, no one was like, 'You'd be a great director. You'd be a great showrunner.' No one ever encouraged me, but I think it's twice as important to encourage women to get out there and let their stories and their perspectives be heard. I never knew how bad the statistics were."
Bad is an understatement. The New York Times reports that in 2014, less than two percent of directors were women in the top 100 grossing films. And get this: 95 percent of cinematographers, 89 percent of screenwriters, 82 percent of editors, 81 percent of executive producers and 77 percent of producers were men.
While the statistics are ominous, Uphold is holding onto the dream that HelLA will one day be picked up as a full-sized TV show. Broad City, which started out as a webseries, currently has about 200,000 to 300,000 views per webisode for Season 1. Now it's one of Comedy Central's most beloved half hour shows, and while Season 3 has yet to air, the series has already been renewed for a Season 4 and 5. It also appeared on The New York Times, Time, and Rolling Stone's "Best TV Shows of 2015" lists. Crazy Ex-Girlfriend, which had its freshman season on the CW, opened to rave reviews and earned its star, former-YouTuber Rachel Bloom, a Golden Globe nomination. Bloom became known to the Internet world in 2010 with her cheeky online hit "F*ck Me, Ray Bradbury," which now has 2.8 million views.
Uphold's numbers are a bit lower. She has almost 7,000 subscribers on YouTube (compared to the 55,400 subscribers Bloom has, which likely blossomed after she landed a TV show) with an average of about 30,000 views per HelLA video (excluding her high performing series premiere, which would skew the data). Nevertheless, unique female voices, like Uphold's, are slowly being allowed into the arena of storytelling. And thanks to her ability to think outside of the box that her managers initially tried to put her in, Uphold is making a name for herself.
At this point, we've exited the wax museum — after taking photos with Lucille Ball, a tattooed Justin Bieber, and Tom Hanks with his box of chocolates — and moved on to a much needed lunch spot outside of the Boulevard. As we munch on avocado toast and veggies dipped in edamame hummus (how very LA), something unexpected happens. "Oh my god, it's raining!" Uphold exclaims, glancing out the window. She leans into my recorder. "It should be noted that this is the most un-LA thing to ever happen."
Statistically, the chances of Uphold landing a TV show where she can act, direct, write, and be the showrunner are slim. Very slim. But crazier things have happened — like rain during a drought in LA.
HelLA's Season 2 premieres Jan. 26 on HelLA 's YouTube channel.
Images: Chris Gomes; YouTube/OnlyInHelLA; Sarah Barlow; Rory Uphold; Anna Klassen