I Was Allergic To Being A Bride — Literally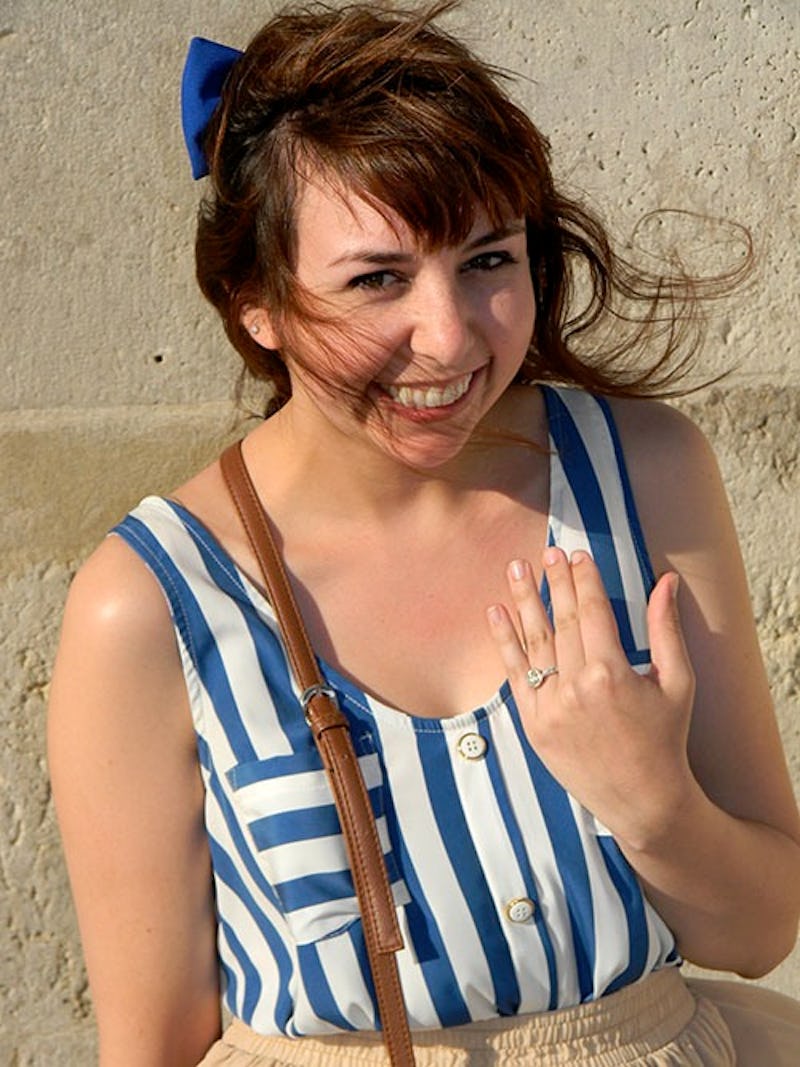 I was drowning in a sea of white. My legs were tangled in tulle; satin was suffocating me. I kept bumping my arm against knobby rosettes while flicking off glitter that had somehow found its way onto my hands. I was in a four-by-four mirrored prison with bad fluorescent lighting that made me look jaundiced. I could hear the shrieks and shrills from my little bride tribe. I was at a wedding dress shop with my mother and future mother-in-law, but I had no intention of wearing an actual wedding dress to the wedding I wasn't even excited about planning.
When we had arrived at the dress shop, we'd been greeted by a peppy consultant.
"Hi! How are you! I'm Kelly! Congratulations on your engagement!" Every sentence was spoken with a crescendo, and even simple questions became enthusiastic statements.
"I thought we'd try on a few different dresses today! What kind of bride would you say you are? A sassy bride? Sexy bride? How about sophisticated bride? Vintage bride?"
I didn't know how to tell Kelly I was a non-bride bride; I was an anti-wedding bride planning a wedding. I bashfully informed Kelly that I was only interested in looking at dresses that didn't look like wedding dresses. She ignored everything I said.
"Come on out!" Kelly chirped. I was forced to face the mothers.
"Oh! You look like a bride!" My eye caught my reflection in the mirror, and it was even worse than I'd imagined. I was a head popping out of a Victorian tea cozy.
"Do you like it?"
"It's not really … me," was all I could muster.
The mothers and the dress consultant started fervently chatting about potential alterations, but I was too distracted by my surroundings to crush their dreams of seeing me in this dress again. All around me were women in white taking pictures with toothy smiles. They were looking forward to a wedding, but their dream was my nightmare. What was wrong with these women? Or was I the problem?
Any time a woman discovered I was planning a wedding, the same thing always happened: a gasp, followed by, "Congratulations! You must be so excited!" While I was in no way excited, I hate even remotely disagreeing with a stranger. So I always replied, "super excited!" in my shrillest voice. My jaw actually hurt after holding a smile while I was informed that my wedding day would be the best day of my life. I never had the courage to tell them that I'm just not that kind of girl.
We brew coffee for each other and take turns cleaning out our cat's litter box, and honestly, that's enough romanticism for the both of us.
I've always lacked the bride gene. I'm the result of divorced parents; growing up, I never dreamed of my wedding day. I dreamed of love, but walking down the aisle was as difficult to envision as climbing Mount Kilimanjaro.
As much as I've grown and changed over the years, my allergy to tradition and corny romanticism never diminished. The Notebook will never make me cry and I hate Valentine's Day. My now-husband, Darren, shares many of my anti-romanticism. Roses are banned from our house and we never go out to dinner on February 14th. We brew coffee for each other and take turns cleaning out our cat's litter box, and honestly, that's enough romanticism for the both of us.
The highest dose of romance we experienced was our engagement. At the top of the Arc de Triomphe in Paris, Darren popped the question, mumbling quietly like a shy third grader asking his crush to go steady. He didn't get down on one knee, as I had warned him never to do. I knew the proposal was coming, but I acted as if he'd caught me off guard. We followed the ebb and flow of a relationship deemed "proper" by society: dating, getting engaged, marrying. This was what was supposed to happen, right?
We'd been engaged for nine months when we figured we should start planning our wedding. Over the next few months, my mother wanted all the details of the wedding I hadn't planned. My future mother-in-law gave me two bridal magazines — DIY Weddings and Brides — and asked numerous times how I'd enjoyed them.
I hadn't perused a single page. What in the world would I find in there? Fifty ways to style a veil? The best waterproof mascaras? How to import violets from a small village in Argentina? All of this information seemed entirely unnecessary and unnatural. I refused to wear a veil, I knew I wouldn't cry, and I'd assumed I'd just buy flowers from the grocery store.
By the time Darren and I actually started planning our wedding, we were ready for it to be over. If only we'd eloped! If only we'd gone to the courthouse! All we cared about was being together. We didn't need a ceremony to prove it. Unfortunately, it was too late to cancel. Invitations had been sent; neither of us wanted to disappoint anyone and neither of us could handle explaining our less-than-conventional ideas of romance.
I finally had a chance to look in the mirror, only to discover my cheeks were puffy and swollen. I uttered a brief jumble of swears before embarking on a tearful trip to Urgent Care.
And that's how I ended up in a bridal shop trying on white dresses, despite my absolute certainty that I would never regret not wearing a gown fit for a princess. During those two hours at the wedding dress shop, I tried on six entirely unappealing gowns. When we eventually reached the bottom of the dress pile, I couldn't have been more relieved. I made it safely back to the comfort of my own clothes, and we left the bridal shop empty-handed.
"We'll call in a few months to set up a second appointment!" Kelly reminded me as we walked out the door. Not a chance in hell, sweetheart.
"Sure thing!" I answered instead.
Like an unpleasant ex's number, I labeled the bridal shop's phone number "DO NOT ANSWER" and went about my way as a non-bride getting married, never to return to a bridal store again. My mom and mom-in-law eventually came to terms with the fact that I just wasn't the traditional bride and there wouldn't be a girl in a long, white dress walking down the aisle of a church, crying with tears of joy as she thought to herself, "this is the greatest day of my life."
Three months later, I survived the "big day." I wore a $60 short, crocheted dress from Urban Outfitters and the only picture taken of it is the one you see above. I had uncombed hair and wore hardly any makeup. The ceremony was a brief eight minutes; there wasn't a "first dance" (or any dancing), and the dessert was a simple strawberry shortcake without any tiers or frosted flowers. Darren and I laughed, we held hands, and we thanked the 42 people who joined us for what we considered to be a backyard party that just so happened to focus on the two of us.
It wasn't until later that night when we arrived at our hotel that I finally had a chance to look in the mirror, only to discover my cheeks were puffy and swollen. I uttered a brief jumble of swears before embarking on a tearful trip to Urgent Care. My salivary glands were blocked due to dehydration and, what I imagined, an allergy to weddings.
After a few days of antibiotics, my cheeks returned to their normal size, and Darren and I continued on with our normal life as if a wedding had never occurred. We enjoyed a honeymoon in Australia where we ate a lot of food and giddily interacted with the wildlife. Dirty, sweaty, and exhausted from adventure, we felt like our relaxed, non-bride-and-groom selves. It was the best feeling in the world.
More than three years later, my last name is the same as it was the day I was born, and some days I forget to wear my ring. You won't find dozens of pictures from "the big day" cluttering our walls. You won't find a wedding dress delicately stored in the back of our closet for the future daughter we may or may not have, either.
They say marriage changes a couple, but the only difference I've noticed is the relief I feel when I hear engaged women sharing their wedding planning stories. I nod and my eyes widen, but I still have no clue how someone can know 300 people, let alone invite that many to their wedding. I feel nauseous just thinking about having to dance in front of a crowd, and I wonder if I would even know what a canapé looked like if I saw one.
But I feign the bride gene anyway — if only for a moment. My people-pleaser mentality can't seem to help it. I smile and shriek, "Congratulations! You must be so excited!"
Images: Gina Marie/Gina Marie Studios; Darren Binkley