How To Treat Your Unicorn In A Threesome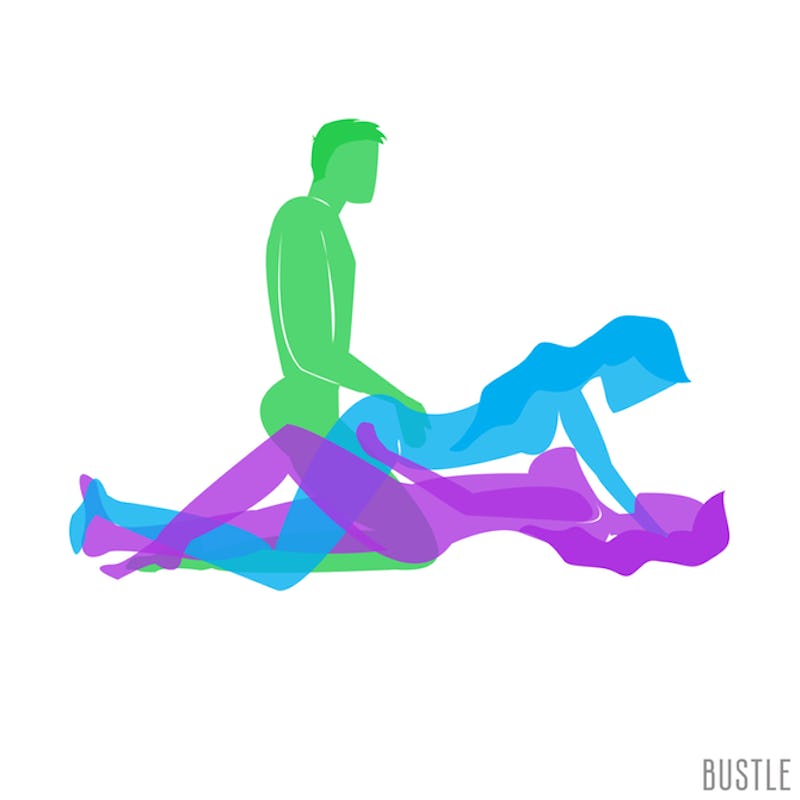 We're always hearing that we could be having better sex, a better orgasm, or a better relationship. But how often do we hear the nitty-gritty of how we can actually better understand our deepest desires and most embarrassing questions? Bustle has enlisted Vanessa Marin, a sex therapist, to help us out with the details. No gender, sexual orientation, or question is off limits, and all questions remain anonymous. Now, onto today's topic: how to find and be kind to your threesome unicorn.
Q: "After a number of discussions, my partner and I have decided to have our first threesome. Now we're trying to figure out how to actually make this happen. We live in a relatively small and conservative town, but we want the other person to be a stranger. How can we find a third, and how do we ask them to have a threesome with us? We started out so excited, but this is becoming increasingly awkward.
A: Thanks for the question! So many couples fantasize about threesomes, but they can be quite tricky to pull off in real life. The logistics can be awkward at times, but try to think of it as the price of admission for an evening of fun. Let's go through seven steps to finding your "unicorn," as they're called, and treating them right.
1. Use The Internet
Unicorns can be hard to find, so you're going to have to search far and wide for yours. Fortunately there's a tool that makes it easy to search beyond the confines of your hometown: the Internet. The web is your best friend when it comes to making your threesome fantasy a reality. Set up a profile on 3ndr, an app specifically for threesomes. You can also browse OKCupid, AdultFriendFinder, FetLife, or your other favorite dating site. You can always put up an ad on Craigslist, depending on your level of comfort with Craigslist sketchiness.
2. "Sell" Yourselves
Not literally, of course! In your profile and in communications with potential unicorns, you need to find ways to make your threesome seem safe and appealing to your third. Threesomes are obviously alluring for a couple. You get the thrill of bringing someone new into your relationship. But why would this third person want to join you in the bedroom? What do the two of you have to offer?
If you've ever done online dating, remember what you used to look for in other people's profiles. What gave you a good impression of someone? What made them seem safe and approachable? What were your turn-offs? You want potential unicorns to know that you're sane, you're safe, and you'll treat them well. It's also great to let them know that you're both excited about the threesome, since no one wants to know that they're joining a threesome where one partner is still wary or unconvinced.
3. Communicate Clearly
When you talk to potential unicorns, be upfront about what you're looking for and what your boundaries are. Threesomes can look incredibly different depending on the couple and the circumstances, so don't assume that simply saying "threesome" is enough.
Do you want one night of fun? An ongoing relationship where you meet up once a month? Are you in an open relationship or looking for a polyamorous one? What activities are on or off the table for the threesome? Is there anything else your third should know? Sharing this information will help your unicorn decide if this is the right situation for them.
4. Talk Through It First
Once you've selected a unicorn, you can get into more details about what's going to happen during the threesome itself. Make sure everyone is still clear about wants and needs. Talk about how you're going to protect yourselves from sexually transmitted infections or pregnancy (if applicable to your situation). Discuss what happens after the threesome too (will there be a sleepover? Will there be further contact between the three of you?). A lot of people will balk at this level of detail, and will worry about ruining the allure of the threesome, but this really is a necessary step to keep all of you healthy and happy.
Since threesomes can be triggering, you may also want to come up with a safeword, and a plan for what happens if any of the three of you utters the safeword (this is a non-negotiable if your threesome is going to involve bondage or pain play). For example, let's say you suddenly start freaking out seeing your partner being intimate with the unicorn. Does saying the safeword mean you're taking a 10 minute time out? Does it mean the fun is over?
5. Ask About Their Boundaries
Part of this conversation should involve asking your unicorn what they want out of your time together. A lot of couples get so caught up thinking about their own boundaries that they forget that their unicorn will have their own boundaries too. It's great to be upfront with your unicorn about what kinds of activities are and aren't on the table for the two of you, but you also need to take the unicorn's desires into consideration and work together to figure out what will feel best for all of you. Telling your third, "this is the deal, take it or leave it" can come off as disrespectful.
6. Value Their Pleasure
During the threesome itself, make sure you take great care of your unicorn! Seduce them and shower them with compliments. Spend some time focusing on him or her. Help them have an orgasm (if they want one). Respect their boundaries. Even if the unicorn is only being intimate with one partner, the other partner should still treat the unicorn with care and respect. Make sure to thank them afterwards for helping bring your fantasy to life.
7. Treat Them Like A Human Being, Not A Unicorn
The bottom line is that your unicorn is a human being (that has got to be one of the best sentences I've ever written). You might have been fantasizing about threesomes for years or searching for your perfect third for months, but remember that this is still a living, breathing person who has feelings. Your unicorn is not an object or a plaything. They're not there to cater to your every whim (unless that's explicitly part of your arrangement). Obey the Golden Rule and you'll be fine.
And don't forget one of the most important rules of threesomes: have fun!
Want more of Bustle's Sex and Relationships coverage? Check out our new podcast, I Want It That Way, which delves into the difficult and downright dirty parts of a relationship, and find more on our Soundcloud page.
Images: Bustle; Giphy