'Ash vs. Evil Dead' Isn't Dead Yet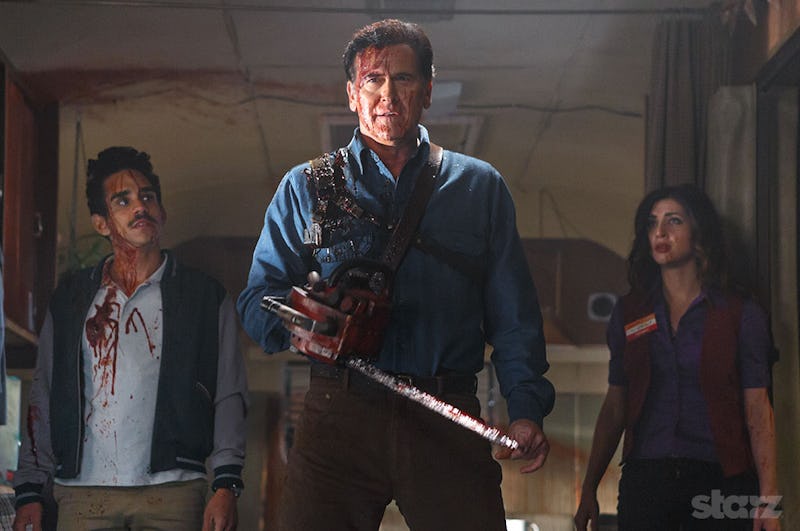 From the teaser for the Season 1 finale of Ash vs. Evil Dead , it looks like the episode will be the scariest and bloodiest of the comedy horror series yet. However, fans of Sam Raimi's Evil Dead film franchise have been waiting a long time for Ash Williams (Bruce Campbell) to return to the screen, so no matter how good the finale is, the fact that the first season of Ash vs. Evil Dead is coming to a close on Saturday night is a tough pill to swallow. However, knowing if Ash vs. Evil Dead is renewed for Season 2 would help make watching the Season 1 finale that much more of a scary good time.
Well, this is one instance involving Ash vs. Evil Dead where none of us should be afraid. Starz announced that it had renewed Ash vs. Evil Dead for a second season a few days before the series premiered Oct. 31 on the premium cable channel. "One season isn't enough to satisfy the fans' two decade-long appetite for more Ash," Starz Managing Director Carmi Zlotnik said in a press release announcing the renewal. "The early fan and press support, along with the international broadcaster demand for more story have made it clear that the adventures of Ash Williams can't end with season one."
That release also revealed that Campbell and Lucy Lawless will return for Season 2 to reprise their roles as Ash and Ruby, respectively. Beyond that, there aren't too many details available about what will go down in Season 2 of the show, but the Season 1 finale hasn't even aired yet, so maybe we all need to calm down just a little in that department?
However, Ash vs. Evil Dead's executive producer and showrunner Craig DiGregorio has spilled enough deets about Season 2 of the series to satisfy our appetites — for now. "The first season wraps up everything and it also wraps up nothing. Or rather, it does wrap up something, but it also leaves something else much more open-ended," DiGregorio told iO9 in November. "Toward the end of the season, there are some decisions that Ash has to make which either show he's grown three percent as a person and can have relationships with people, or maybe didn't grow at all. So we'll see."
As for when Season 2 of Ash vs. Evil Dead will premiere, that's still up in the air. Starz has made no official announcement about that just yet. However, DiGregorio also revealed in that iO9 interview that they're in the midst of writing the second season of the show, which should be filmed in the first and second quarters of 2016. "Then Starz is going to air it sometime later next year," he said.
I'm sure we'll all be on the edge of our seats until we finally find out when new episodes of Ash vs. Evil Dead will be in our lives. Until then, re-watching Season 1 of Ash vs. Evil Dead or any of the films in The Evil Dead series should provide just the right amount of thrills and chills to (ironically) help you survive a temporarily Deadite-less existence.
Images: Starz; Giphy (2)