What To Know If You Can't Get Off During Sex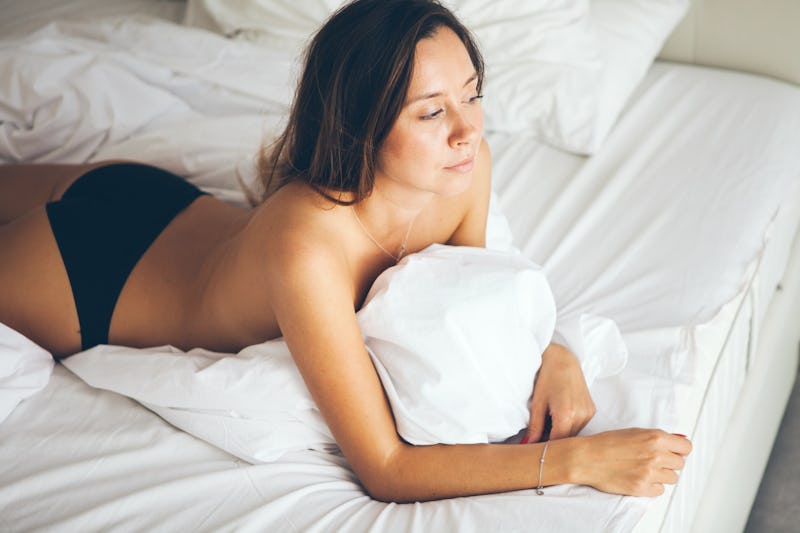 Veera Tsõbo / EyeEm/EyeEm/Getty Images
A lot of people, myself included, can get kind of obsessive about climaxing and default to focusing on orgasms when we talk about sex. Even though orgasms are great, we lose a lot if we focus on orgasm as the be all and end all during intercourse. Yes, for a lot of us it's a natural endpoint and, well, climax, but it isn't for everyone. And it certainly doesn't have to be.
Some people orgasm every time they have sex. Some people only orgasm some of the time. And some people don't orgasm at all. And all of that is totally fine. If we stop obsessing over orgasm, take a step back, and think of all the other amazing things about sex, we realize there's a whole lot more.
Obviously there are some people who don't have any interest in sex, which is OK too, but here, I'm talking about the many people who still engage and enjoy sex, without the orgasm. Because it's completely normal, but the amount of pressure around orgasming can make you feel like there's something wrong with not doing having one. Not cool.
So here are six reasons why it's OK if you can't come from intercourse, because it happens to so many people and there's so much else out there:
1. Because There Are So Many Other Things To Focus On
Kissing, foreplay, cuddling— there are so many amazing things you can do to each other besides give each other orgasms. You may be someone who gets off through foreplay, you may be someone who doesn't orgasm at all, but either way, focusing on these things still gets you all the great pleasure without getting fixated on intercourse as the ultimate act.
2. Because You Are Not Alone
There are so many people who don't come, whether they don't come regularly or at all. While you hear so much about orgasms whenever we talk about sex, it's important to remember that for lots of people, they're not the norm. And if you're ever with anyone who makes you feel like it's something that only happens to you or that it's not OK.
3. Because There Are So Many Reasons It Happens
Whether it's medical conditions, mood, stress, medication, sexuality— there are so many different things that can mean you don't orgasm. It's just the way it is. It's completely OK. There's no use feeling bad about something that has reasons completely outside your control. And like I said, if you want to have sex, it's still amazing without orgasm.
4. Because There Are Other Ways To Get Off That Aren't Sex
If you're capable of orgasming but can't do so during intercourse, don't fret. Workout orgasms (aka coregasms) are a real thing, so is erotic hypnosis, thinking-off, and other orgasms from your brain. You can have orgasms without using your body, or without doing anything we traditionally view as sexual. There's something out there for everyone.
5. Because Anticipation Is The Best Part Anyway
Yeah, I love orgasms, but I like the buildup even more. And you can still have that even if it doesn't build to a climax. In fact, you can enjoy it for even longer and keep fooling around and having fun if you don't orgasm. Talk about intense.
6. Because It Doesn't Have To Just Be About The Physical Pleasure
One of my closest friends has never orgasmed, but she and her boyfriend still really enjoy sex because of the intimacy it creates. Obviously it would be different if it was actually physically uncomfortable for her, but she loves doing it. Because, yes, sex may seem like it's all about physical sensations, but for a lot of people the emotional side is just as important or more so. You don't lose any of that just because you're not having an orgasm. In fact, if you remove the physical climax of it you can focus on the intimacy even more.
Want more of Bustle's Sex and Relationships coverage? Check out our video on sex positions for small penises:
Images: Veera Tsõbo / EyeEm/EyeEm/Getty Images; Giphy (6)