The One Thing To Prevent Hat Hair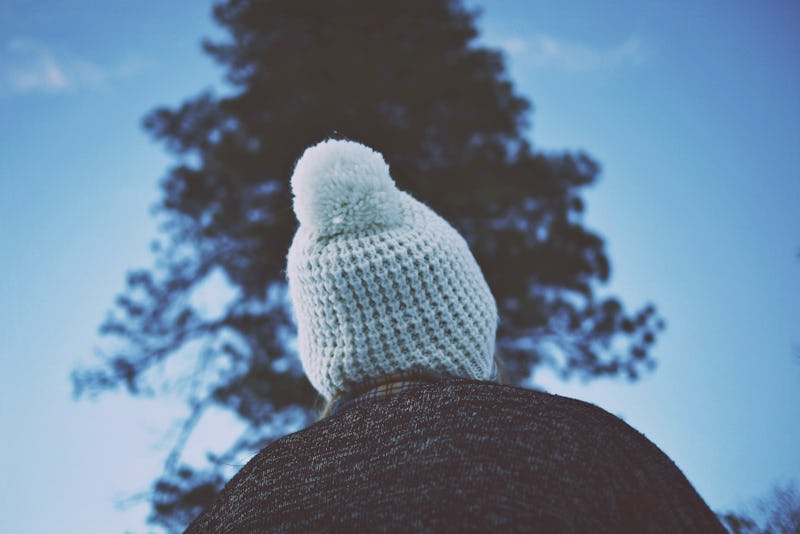 When it's cold outside, sometimes hats are just straight up necessary. But make sure to do the one thing to prevent hat hair if you're going to be rocking a cute beanie or winter fedora in the near future! Nothing sucks like taking off your hat to discover limp and slightly dented strands.
All awkward waves considered, I have pretty fine hair that definitely gets dented easily by hats. I learned this lesson an unfortunate way last February. I was on my way to a first date in Manhattan and it was snowing hardcore outside, so I popped a beanie over my freshly straightened hair and headed out the door. By the time I arrived and took the hat off, my hair had an irreversible dent. Ugh. Luckily, I've since learned how to avoid this frustration!
The one thing to prevent hat hair in the winter is to add a little hairspray to your roots before you put the hat on and after you take it off. As shared on AllWomen'sTalk, this trick will "reinforce your hair, helping it stand straight from its roots, providing sustainable volume and bounce that isn't easily squishable." Yay for squish-free strands!
And fortunately, this hack couldn't be more of a breeze to do. Just follow the steps below.
Agadir Argan Oil Volumizing Hair Spray, $12, Amazon
Lift sections of your hair and spray the roots. Your hair should ultimately look much "puffier" than you actually want it to, and the hairspray will provide a strengthener against hat dents.
Multi-knit Pom Beanie, $18, ASOS
After your roots are lifted, put on your hair (ideally one that has a little room and isn't pressed directly on your head).
TRESemme Travel-Size Hairspray (3 PK), $9, Amazon
To give your hair a refreshing post-hat boost, take a little portable hairspray and re-fluff the roots. That's it!
Want more beauty tips? Check out the video below, and be sure to subscribe to Bustle's YouTube page for more hacks and tricks!
Images: Cole Patrick/Unsplash; Courtesy of Brands