8 New Year's Eve Memes That Are Actually Funny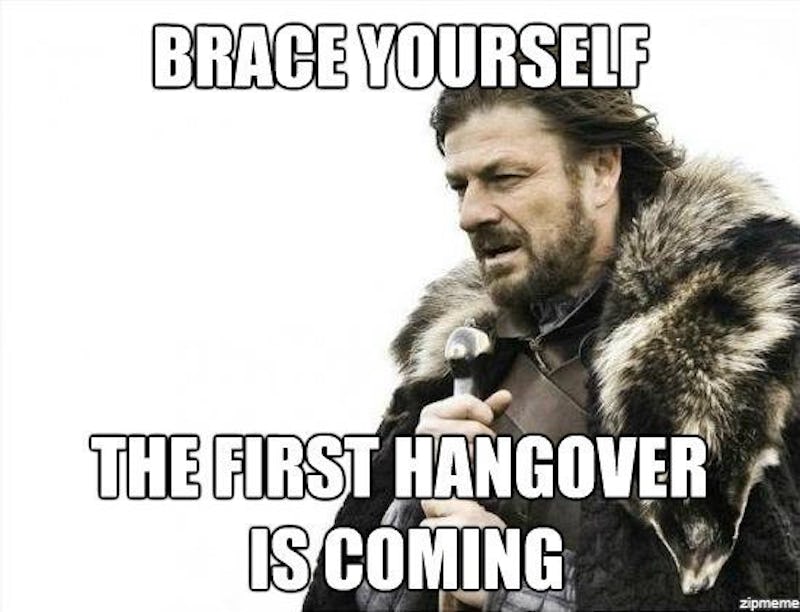 It's rare that I manage to stay up until midnight on New Year's Eve, but if I'm going to make it all the way through 'til the ball drops, you better believe it's because someone has me laughing my head off. If you are looking for a way to stay awake this holiday, I suggest the miracle-working power of laughter — and these funny New Year's Eve memes ought to do just the trick. As glamorous as New Year's Eve is hyped up to be, more often than not it's a giant, hangover-inducing letdown, and these memes understand that. At least we can all laugh at our disappointment together, right?
On a more uplifting note, the best way to enter any new endeavor is with a positive attitude. 2016 is offering us a fresh start, and no matter how 2015 may have gone down, now is the time to laugh off all the nonsense. So grab your glass of champagne, assume the facial position known as smiling, and get ready to giggle your way into 2016. I predict this year is going to be an amazing one full of good vibes, and you are already way ahead of the game. Cheers.
Another year may have passed us by, but Grumpy Cat remains timeless.
I'm optimistic this year will be different, though.
You're not the only one feeling philosophical this year.
Mean, but also brilliant. BRB — ordering pizza immediately.
Same.
Don't lose hope, little guy! You can always come over to my house and watch Sex and the City reruns on the couch with me.
And she's gonna be a doozy.
Unless, of course, you're at home wearing sweatpants. The best New Year's celebration is the one where you don't have to wear a bra.
Looking for more holiday cheer? Check out Bustle on YouTube.
Images: Meme Generator; Memes Vault; Zipmeme