See Pics From Ann & Chris' Last 'Parks and Rec'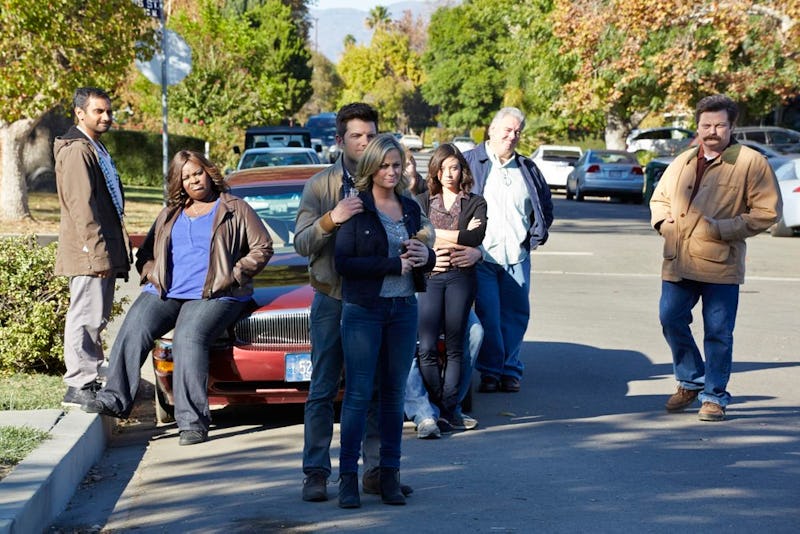 Next Thursday is a sad, sad day for television: Ann Perkins is abandoning Leslie Knope to go have a baby with some boy in a city that is not nationally televised. In other words, Rashida Jones and Rob Lowe are leaving Parks and Rec and the episode airs next week. Is Leslie Knope going to cry? Yes. Am I going to cry? Probably (yes). Now let's look at the pictures to make the anticipation of the pain that much more fun/torturous.
The episode is suitably titled "Ann and Chris," but let's hedge for a moment before the pain and the beauty of the pictures, because, Ann, you beautiful, tropical fish! Ann, you poetic and noble land-mermaid! I know I can't blame you, Ann Perkins, because you're fictional and Rashida Jones has every right to pursue other creative avenues, but how could you abandon me and your soul-sister like this?!
As Leslie says when she finds out about Ann's plans to move:
"I mean, who wants to stay in the greatest town in the world with her best friend and be happy forever, when she can abandon her soul sister like an old shoe and move to a garbage city full of jerks?! I get it! No hard feelings!"
The pictures, for their part, indicate both group sadness and group revelry, as well as making the point that Ann and Chris will likely have their sweet little goodbye moments with everyone.
Wow, just rip my heart out with a rusty crowbar why don't you?
Images: NBC