11 Literary Books That Are Seriously Dirty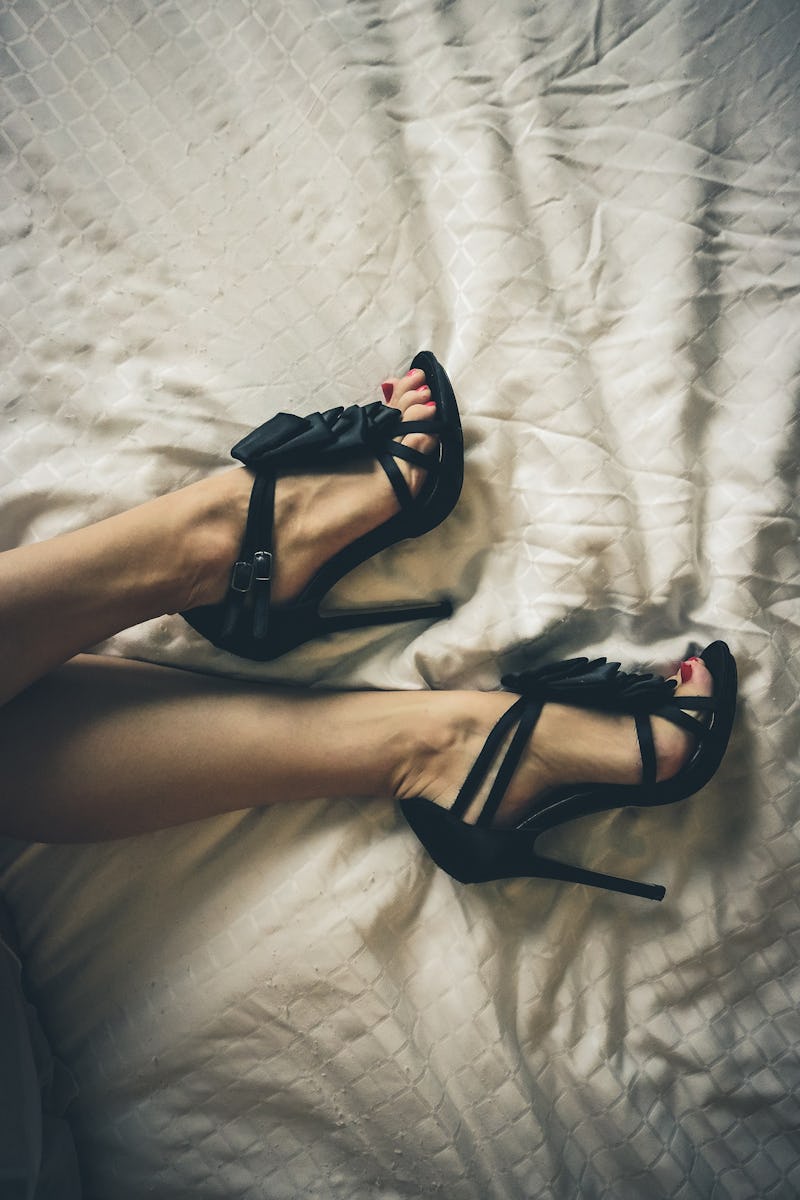 We bibliophiles do more than just think reading is fundamental. Reading is definitely sexy, and as our culture grows and becomes more vocal, it's only getting sexier. We celebrate the idea of hot dudes reading; we like big brains and we cannot lie, and usually when we want to get fired up, we'd rather reach for a book than for anything else. There's a vast ocean of sexy literary books out there, often boasting images of swooning ladies on the cover, which can be great in its own right. And sometimes, these sexy scenes are in unexpected places.
What about those who are more literary inclined? Not everyone wants to pick up a romance novel when they're in the mood for a sexy read — not that there's anything wrong with romance novels. Luckily, the literary world is positively dripping with books that are probably way dirtier than you ever realized. To celebrate this, I've compiled a list of 11 literary books that might just surprise you with their sexiness. From the French revolution to the swinging '70s, and even including a book that became infamous thanks to a certain president's infidelity, these books are guaranteed to speed your pulse… or at least surprise you.
This classic Shakespeare play is probably most notable for the incredibly witty and sexy banter that takes place between the two leads, Beatrice and Benedick. However, the main plot concerning innocent lovers Claudio and Hero takes a rather dirty turn. Claudio, wrongfully informed of Hero's infidelity, is completely deceived when he is set up to witness some sexy time between the villain's associate and Hero's chambermaid (who Claudio believes is hero). Crazy voyeurism aside, the title itself is far dirtier than you may realize. While Much Ado About Nothing can clearly mean just that, given the fact that the entire plot is brought on by misunderstanding after misunderstanding, it's also worth noting that in Elizabethan times, the words "thing" and "nothing" were often used as slang for the female anatomy.
Originally published in 1979, Endless Love may be a bit more modern, but is nevertheless a classic in its own time. Centering the love story of teenagers David Axelrod and Jade Butterfield, the two lovers swiftly become consumed with each other's sexual chemistry, and when they are torn apart, David spirals out into a dark obsession that will threaten to destroy everything. This book is an intense meditation on first love, as well as a sexy read that will get your pulse racing, there's a little something for everyone!
3. Mating by Norman Rush
You know that things are about to get serious when the cover art features a detail from Hieronymus Bosch's The Garden of Earthly Delights. Mating centers on a young female anthropology student who travels to Africa in order to find Nelson Denoon, a professor who has sequestered himself away in a corner of West Africa in order to build a feminist utopia where he is virtually the only man there. Dense and full of SAT words, this book is entirely about how smart can be sexy. Read it with a dictionary, and try not to blush!
For those who may not know, Anaïs Nin is basically the gateway into vintage literary erotica. Delta of Venus is a collection of sexy short stories that are sensual but not raunchy. A hatmaker in Paris leaves her husband for the opium dens of Peru, a veiled woman chooses strangers from a fancy restaurant for sexual encounters, and that's only the tip of the ice berg. As Nin was writing in the 1930s, it's also good to appreciate her fierce sexual agency during a time where it would have been absolutely scandalous.
5. Dracula by Bram Stoker
Perhaps not as sexually focused as other books on this list, Dracula nevertheless has several blushworthy moments. Published in 1897, the Victorian era tale of the supernatural was written long before vampires were considered to be more sexy than scary, but that doesn't mean that they can't have a little bit of fun. One notable moment occurs near the beginning of the book when our hero Jonathan Harker has been kept prisoner by our titular villain. In the middle of the night, he is visited by three of Dracula's "brides," the moment is described here:
… The girl went on her knees, and bent over me, simply gloating. There was a deliberate voluptuousness which was both thrilling and repulsive, and as she arched her neck she actually licked her lips like an animal, till I could see in the moonlight the moisture shining on the scarlet lips and on the red tongue as it lapped the white sharp teeth. Lower and lower went her head as the lips went below the range of my mouth and chin and seemed about to fasten on my throat. Then she paused, and I could hear the churning sound of her tongue as it licked her teeth and lips, and could feel the hot breath on my neck. … I closed my eyes in a languorous ecstasy and waited—waited with beating heart.
Definitely one of the older books on this list, Les Liasions Dangereuses was published in the years leading up to the French Revolution, and has grown notorious since then. When two bored aristocrats, Vicomte de Valmont and the Marquise de Merteuil, decide to team up and turn the act of seduction into an elaborate game, we're treated to a dangerous and emotionally taxing roller coaster of epic proportions. While the two villain protagonists are equally fascinating, the prize must go to Marquise de Merteuil for being an awesome feminist icon written during a time when that would be almost unheard of.
You may recognize Henry Miller's name from his other erotic novel The Tropic of Cancer, which is definitely a story that will give you the vapors if you are of a more delicate sensibility, but Under the Roofs of Paris came from a fascinating place. Miller was commissioned to write an erotic novel for one dollar per page (not so bad for 1936!), and because of that the 272-page novel was born. The story centers on... well, sex. Lots of sex. However, it's also a wonderfully written satire that remains compulsively readable, and is made even more interesting due to the fact that it was written, much like Anaïs Nin's work, during a time when sex was not as accepted as it is today.
Rubyfruit Jungle centers on protagonist (and author avatar) Molly Bolt as she comes to terms with her budding sexuality in 1970s America. This roman a clef is equal parts bawdy and moving, this is a study on the fluid nature of sexuality as well as gender roles in the 1970s. While some (if not all) of the descriptions of sex might make you blush, the sheer fact that the name "Rubyfruit Jungle" is slang for female genitalia is enough to make this a bawdy, but touching classic.
9. Vox by Nicholson Baker
Notable due to the rumors that Monica Lewinsky gifted this book to Bill Clinton during his scandalous presidency, Vox centers on two anonymous people as they begin to develop a strange and sexy relationship based entirely on phone sex. While the two protagonists never touch, it's nevertheless incredible sensual and erotic, showing that sex isn't just about the physical act and the biggest erogenous zone of them all is the human brain.
First published in 1857, Madame Bovary created a bit of a splash when it first came out due to the raciness of the story. When Emma Rouault accepted Charles Bovary's hand in marriage, she truly believed that she was being accepted into a life of sexual passion and decadent luxury. Unfortunately due to the fact that she married a simple country doctor, passion and luxury seem to be a bit elusive. In order to combat this, Emma sets out on a mission to find herself a lover and capture that idea of bodice-ripping sexual love she's been looking for. Unfortunately (and perhaps due to the time in which it was written) this doesn't necessarily work out for our heroine.
11. Story of O by Pauline Réage
Before Fifty Shades of Gray, we were gifted Story of O, a mysterious little book about the willful debasement of our titular heroine, the fashion photographer O and the many trials and tribulations that occur as they make their way through a secret and sexual world that makes Eyes Wide Shut look like The Mickey Mouse Club. Originally published in 1954, the identity of Pauline Réage remained a mystery until 1994 when journalist Dominique Aury (real name Anne Desclos) admitted to being the author in a 1994 interview with The New Yorker . Turns out, the novel began originally as a series of love letters to her secret lover, the editor and critic Jean Paulhan, with whom she conducted a three decade long affair, thus making the story behind Story of O almost as interesting as the novel itself.
Image: Olichel/Pixabay