9 Winter Beauty Myths That Are Total BS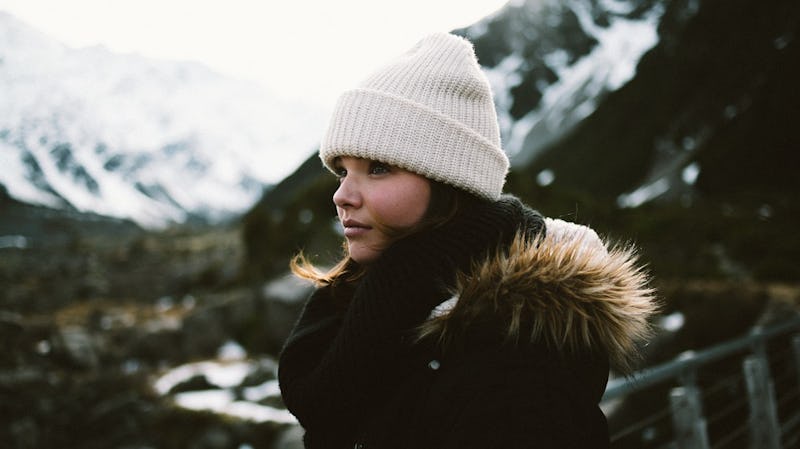 As soon as the weather starts to get cooler, a new crop of skin issues tends to arise, and so do the "solutions" about how to solve them. Don't be fooled by all the misinformation out there. Take advantage of the change in the weather by becoming more informed about your skin care routine. It's the best way to avoid all the winter beauty myths that tend to circulate around.
We've all heard them; from sunscreen misuse to lotion lies, everyone talks about the same winter beauty "secrets" over and over. However, many of them don't actually hold any truth. These beauty myths are based in total fabrication or old-school mumbo jumbo. If you've ever wondered about the validity of a skin care secret, then look for expert advice surrounding the subject. If a dermatologist, esthetician, or skin care professional gives their seal of approval, then it just might be true. However, when it comes to radically changing up your own skin care routine, always make sure to seek your own personal professional. Your own doctor knows your skin better than the Internet. Trust their word before anyone else. However, if you're looking to weed out a few common beauty blunders, here are nine winter skin care myths that you need to avoid.
1. You Don't Need Sunscreen In The Winter
Sunscreen, $8.49, drugstore.com
You don't need to ditch the SPF just because the temperature is dropping. As dermatologist Dr. Cheryl Burgess reminded Marie Claire , the sun's strong rays can penetrate even the heaviest of cloud cover. Protect your delicate skin by making sunscreen a year-round must-have in your skincare routine.
2. Thicker Creams Are More Hydrating
While thicker creams may feel like they are more hydrating, that's not always the case. Instead of relying on consistency when choosing your next winter moisturizer, Seventeen recommended taking a look at the ingredient list. Reach for products that offer deeply hydrating properties such as hyaluronic acid and natural oils. These ingredients are what your skin needs to stay looking and feeling its best.
3. The More You Exfoliate, The Better
Don't get me wrong – there is nothing wrong with exfoliating your skin. It's overexfoliating dry, winter skin that can be the problem. Exfoliating already dry skin can leave your skin feeling even more raw and chapped. If your skin is feeling clogged, then turn towards a gel-formulated peel to remove dead skin cells. Shape swears by this for glowing skin during the colder months.
4. Lip Balms Are The Only Way To Prevent Chapped Lips
Lies! While lip balms are super handy for healing chapped lips, they aren't the only solution. Banish flaky lips by using a hydrating lip scrub. Make your own at home by using brown sugar and olive oil. The brown sugar buffs away the dead skin, while the olive oil works to hydrate the deepest layers of your skin.
5. Steamy Showers Help To Moisturize Dry Skin
We all know that hot showers feel amazing during the winter, however, it can be contributing to your dry skin. According to Dr. Michael Shapiro in an interview with DailyMakeover.com, "Exposure to hot water with temperatures over 98.6 degrees causes blood vessel dilation that results in water loss throughout the epidermis." So, next time you hit the showers, consider turning down the heat.
6. Drinking Water Helps To Treat Dry Skin
It's a no-brainer that drinking water is great for your body. However, when it comes to treating dry skin, it isn't the most successful solution. Instead, MedCan Clinic's chief dermatologist, Dr. Julia Carroll suggested increasing your Omega-3 fatty acid intake. This means eating more flaxseed, walnuts, and canola oil. Carroll explains that these foods contain alpha-linolenic acids, which help to strengthen the lipid layer that helps the skin to retain its natural oils.
7. Guys Don't Have To Worry About "Winter Skin"
No gender is immune to winter skin troubles. For men, facial shaving irritation can become worse during the winter. In order to prevent any skin irritation, HealthyEssentials.com suggest cleansing and exfoliating the face before you shave.
8. You Don't Need To Shave During The Winter
Don't trash your razor just yet. Even though shaving isn't needed as often during the winter (#leggingsforlife) or any time if it's not your thing, it is still a great tool for combating dry, winter skin. Think about it. When you shave you aren't just removing hair. You're removing dead skin cells as well. Self recommended shaving twice a week, and following up with a moisturizer post-shower to keep your skin feeling soft all year-round.
9. Overusing Lip Balm Causes Chapped Lips
Layering on the chapstick isn't the issue. More likely, it's the act of licking your lips that is causing them to be chapped. According to Self , after you apply your lip balm you could be "unconsciously licking off the stuff or pressing lips together, leaving behind saliva. blame for excessive chapped lips." Reach for lip balms that contain more natural oils like jojoba or coconut oil that act as softeners to the lips.
It's time to nip your winter skin issues in the bud. Crack down on your skin care routine this winter by getting in the know.
Images: Pixabay (9); Courtesy Brand