Our Current 'Bachelor' Is Not Without Some Ink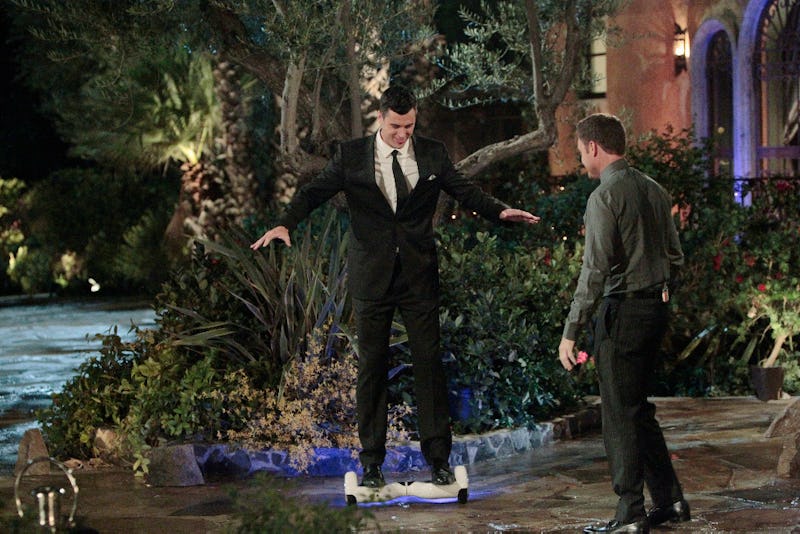 Chris Harrison has a hard job, I assume. There's probably a lot more to hosting The Bachelor and its many iterations than popping out from behind the trees every so often. So he's allowed to have his little quirks, and for that reason I wonder — does current Bachelor Ben Higgins have any tattoos?
We all remember how Chris Harrison commented on the rampant tattoos on the contestants of last season's Bachelor In Paradise , (though he was right, JJ's were bizarre and the worst) and everyone's favorite rebel Bachelorette Kaitlyn Bristowe has her fair share of ink as well. It's a whole thing now, and whether or not you have any tattoos is now an important question for everyone who gives and receives roses on this show! Of course, Ben was not Bachelor In Paradise, so he wasn't up for debate at the time and the question still stands. Has he been under the needle, like so many before him? Shrewd fans of The Bachelorette should remember that yes, Ben Higgins does have one tattoo that we know of, and it's pretty prominent as well. We've already seen it, but here's a refresher. Check it out.
See? It's just the one side tattoo, and it's a Bible verse. That's not so bad. It's downright classy. Calm down, Harrison. There's no way you can find fault with that. According to OKHereIsTheSituation, the Old Testament verse is Proverbs 16:3 and reads "commit to the Lord whatever you do, and your plans will succeed" — sometimes it's "and your plans will be established" or "and he will establish your plans," depending on the translation. That's a good mantra, I think, especially for someone in the often rocky business of show.
As for the other contestants, we'll have to wait and find out. The little trends that pop up on Bachelor Nation are always interesting to me, whether it's a popular profession or an affinity for hiking or an abundance of body art. With this single tattoo, Higgins is the ideal Bachelor. He's not too outside of the norm, but playing it safe in his own way as well.
For everything Bachelor Nation, check out Bustle's podcast, Will You Accept This Podcast? and follow our Bachelor fan page on Facebook.
Images: Rick Rowell/ABC; ABC