11 Relaxingly Luxurious Bath Products To Try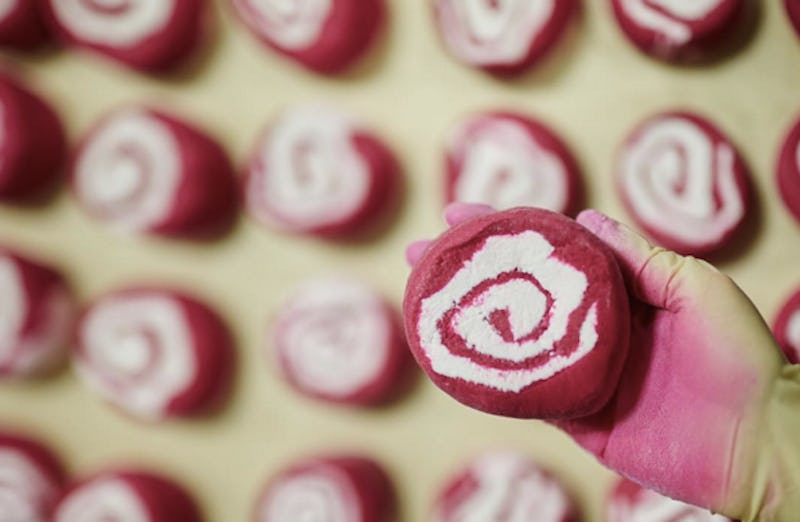 There is no time that is more sacred to me than that which I spend taking hot baths. Completely immersing myself in some warm water at least once a week, along with my favorite bath products, is essential for me to stay relaxed and feeling pampered. Additionally, soaking in a bath for half an hour does wonders in relieving the tension in my muscles and back that I often experience due to chronic illness. It's a safe space where I can cry, detoxify, sing, laugh, and splash completely by myself (unless my partner wants to join me, of course).
Since I'm such a bath enthusiast, I'm forever buying any bath bombs and bubble baths I can get my hands on. There's something about bubbles, the smell of flowers, and the color pink that just enhance the healing powers of my time spent in the tub tenfold. There are formulas out there infused with ingredients such as patchouli and lavender for those looking to relax and unwind. There are ones with sea salts and eucalyptus that are perfect for clearing out sinuses and working out the tension from our joints and minds. And then there are those that make us feel super luxurious thanks to a fancy ingredient like sake, or simply because it makes us leave the bath smelling like roses. Here are some of the bath products that I've either had my eye on or have used in the past.
1. Bath Tea
Aquarian Soul Full Moon Bath Tea Bags, $18, urbanoutfitters.com
My latest discovery (thanks to my mother's generous gift-giving this holiday season) has been bath teas. Just pop one in the bath and you're sitting in a fragrant oversized teacup, which could be dangerous for avid tea lovers like me (please don't drink the bath water). This tea contains lavender, hibiscus, and rose petals.
2. Relaxation In A Bottle
Eucalyptus Tea Luxury Bath, $16.50, bathandbodyworks.com
Just skip the tea bags and pour some of this stuff in the tub. It's formulated with eucalyptus oil and tea for a perfect stress-relieving bath time.
3. Green Tea
Fuji Green Tea Bath Tea, $20, thebodyshop-usa.com
The green tea leaves in this bath are great for glowing skin and relaxation. However, the loose tea makes this one a bit messier than, say, a bath tea in a bag. If the messiness of the tea in the water bothers you (personally, I don't mind it), you can use the tea with The Body Shop's bath diffuser. Otherwise, a normal tea diffuser should work just fine.
4. Bath Bomb
Sakura Bath Bomb, $6.55, lushusa.com
In my opinion, Lush is the ultimate destination for fun bath products with quality ingredients. My favorite happens to be this one, which contains notes of mimosa, orange, and (one of my favorites) jasmine. Simply breathe in and transport yourself to a fragrant flower garden of peace.
5. Bath Salts
Burt's Bees Bath Crystals, $9.99, walgreens.com
These bath crystals, formulated with sea salts, lemon, and eucalyptus, are perfect for relaxation as well as sore muscles. Opt for a formula with Himalayan Pink Sea Salt or Dead Sea Salt and experience the ultimate relief for achy muscles.
6. Rose
Ren Moroccan Rose Otto Bath Oil, $48, sephora.com
If there's something I can't get enough of, it's all things rose-scented. This luxurious rose bath is both soothing and moisturizing. But most importantly, it allows you to fully immerse yourself and make your skin smell like roses. Sounds like heaven to me.
7. Lavender
Lavender Foaming Bath, $36, usa.loccitane.com
If you're looking for the most relaxing experience above all else, opt for one that will make you smell like lavender all over. "Simply pour two or three large spoonfuls into the bath under running hot water," L'Occitane's website states, "And then let your mind roam free as it soars to the rugged hills of Provence." After all, it contains lavender essential oil specifically from France.
8. Sake
Sake Bath, $82, fresh.com
Inspired by Japanese geishas who often used sake to soften and clean their skin, according to the site, this purifying soak contains 50 percent sake, which is great for detoxifying as well as easing tension. This one is definitely more of a splurge, but I'd recommend investing in this one any day.
9. Honey
Creme Brulee Honey Bath, $45, lauramercier.com
Honestly, is there anything that sounds better than a "foaming honey-scented moisture bath?" This decadent formula is also enriched with the scents of caramel and vanilla, and includes a honey dipper to spoon out the honey bath under your tap's running water.
10. Energizing
Deep Steep Bubble Bath Grapefruit Bergamot, $8.87, walgreens.com
I came across this uplifting and affordable bubble bath one night on a Whole Foods run. I found the formula's citrusy notes not only energizing, but also helpful in getting me out of any depressed funk I may be experiencing. It's perfect for those who prefer to begin their days with a nice soak.
11. Meditative
Blue Skies and Fluffy White Clouds Bubble Bar, $11.95, lushusa.com
This easy-to-break bubble bar delivers a delightfully foam-filled bath, evoking all the peaceful vibes with its main ingredients of patchouli and frankincense. Simply run your bath to transport yourself to your favorite yoga studio (or any serene place of your choice).
If you love meditating in the tub as much as I do, these products will undoubtedly help that experience become all the more blissful.
Image: lushcosmetics/Instagram