Here's How To Get The Most Out Of Your LUSH Finds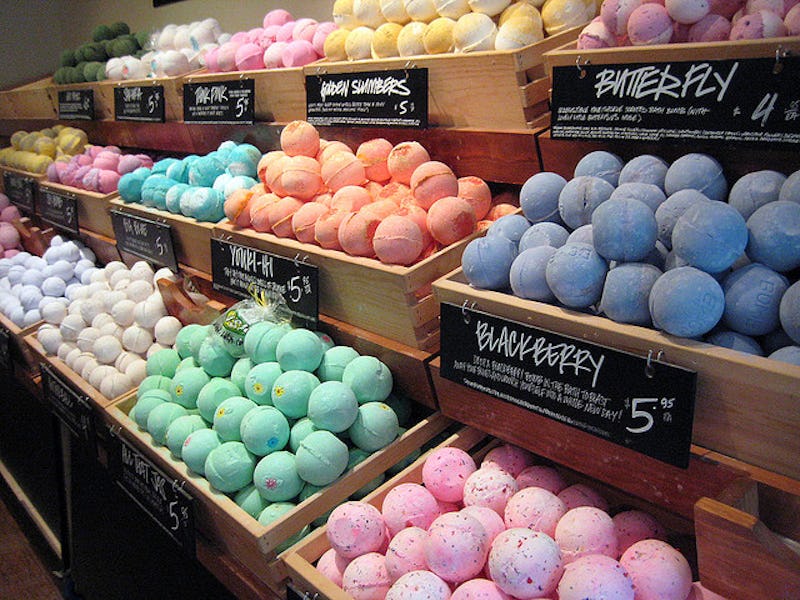 OK, I'll admit it — I can't walk past a Lush store without going in. Ever. Shopping at Lush is like wandering around in the best-smelling dream you've ever had. It's like being a kid in a candy shop, which makes sense because the components that make up Lush products often double as delicious household ingredients. Sure, you could DIY it, but why not support a company that loves giving back? With its wide array of products and ethical consumption policies, Lush is an easy place to love.
Look, I know I'm not the only one with a little Lush problem. The thought process goes something like this: It won't hurt just to look... five minutes and then I swear I'll leave. I just want to smell everything, I'm not even going to spend any money in there. Wait, is this new? I love citrus scents and it could be Treat Yo Self Day somewhere, right? Whatever, I'm getting it. I deserve it. It's been a long week. Who cares if it's only Tuesday?
When you visit Lush as often as I do, you learn a thing or two (like, don't pick up Sunny Side unless you want to spend all day looking like Ke$ha before she dropped the dollar sign). Here are some ways to get the most out of your Lush experience:
1. Ask Questions
Dream Cream, $30, Lush
Lush can be a daunting and confusing place. How do you use those weird discs that kind of look like macarons? What the hell is caca rouge going to do to my hair? Ask an employee. Everyone who works at Lush has tried everything in the store, or they know someone who has. And don't be afraid to mention your dry/oily/sensitive/normal/combination skin — there's something for everyone. And if you want to test a product before committing, well...
2. Take Advantage of Samples
Having doubts as to whether or not a charcoal cleanser will really exfoliate your skin? Intrigued by grass shampoo but unwilling to commit to smelling like a freshly mown lawn for the next month? Just ask for a sample! Again, Lush employees are notoriously friendly (seriously, one time I dropped my freshly-purchased bath bomb outside the store and they gave me a new one for free) and you're totally within your rights to ask to sample something before you buy it. Soaps and skincare products are easiest to attain since they can be easily parsed off into sample sizes, while it's harder to get the full effect from just a sliver of a bath bomb.
Bonus: You also get samples with your online purchase! If you have a specific sample request, just enter it in the gift note area during your checkout.
3. Look Out for Seasonal Products
Father Christmas Bath Bomb, $7, Lush
Seasonal products are some of the best things about Lush. (The winter seasonal items are almost gone, but grab some buy one, get one free while you can!) These items will usually pop up in both fall and winter — the best seasons to sit in a hot bath, put on some Ed Sheeran, and drink a glass of wine or two. Or three. Part of the fun is that you never know which items will return next year, and FOMO is a perfectly good reason to stock up on multiples of everything.
4. Repurpose Bath Bombs as Air Fresheners
Tisty Tosty Bath Bomb, $7, Lush
I know, Lush products are almost too pretty to use. So if you're not quite ready to let go of your bath bomb, just leave it out on a small dish and let it do its thing. Though they won't do too much in the way of combating strong odors, bath bombs lend their gentle scents to whatever spaces they occupy. For a stronger scent, try crumbling up half of your bath bomb and dividing the pieces into little pouches. These can be used in lieu of car fresheners or nestled in closets and drawers. Just think: Your whole life could smell like a Lush store.
5. Cut Bath Bombs and Bubble Bars in Half
Brightside Bubble Bar, $12, Lush
Hate to see your bubble bar go, but love to watch it leave? Make it last longer by cutting it in half or in thirds. Bath bombs, which are round, can also be cut in half. The effect will still be the same, and now you'll get double the Instagram pictures (and fancy baths, duh) for your money. Plus, $3 is way more reasonable to spend on a bath... right?
Images: Mandy Jansen/Flickr; Lush (5)