Actor Susan Heyward On Women & 'Vinyl'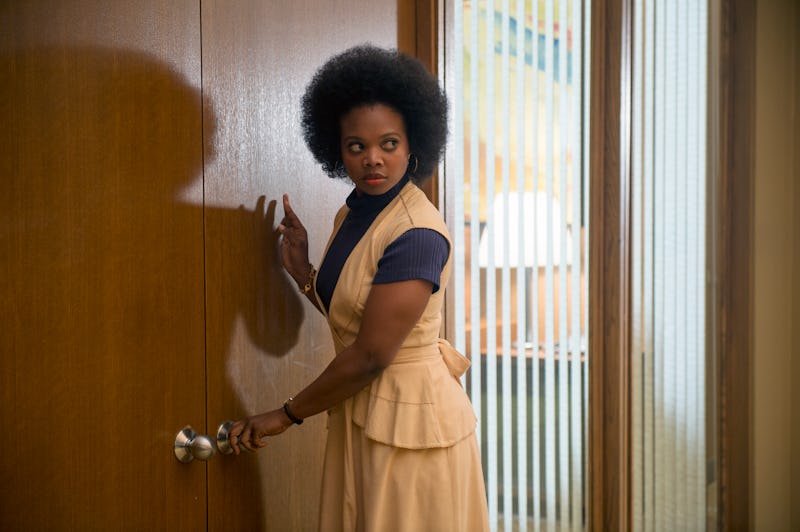 On Valentine's Day, a new show from The Sopranos and Boardwalk Empire creator Terence Winter arrives on HBO called Vinyl. You might have heard of it, because not only does Oscar-winner Martin Scorsese serve as an executive producer, but so does The Rolling Stones' Mick Jagger. Oh, and it also has a huge cast, including Olivia Wilde, Bobby Cannavale, and Ray Romano, and focuses on the music industry during the 1970s. If that's not enough to make you excited for the series, then the focus on women during that era surely will. Vinyl star Susan Heyward is opening up about her character Cece Heyward and what it was like for women in the workplace back then.
As secretary to Cannavale's character, Richie Finestra, Heyward tells Bustle via phone who exactly Cece is. "We meet her at a point when Richie's making a huge shift in the business and we don't know what's going to happen," she explains. "We kind of watch her help him navigate his life as things kind of start to fall apart." As Richie's right hand, Heyward compares Cece to His Girl Friday. "She makes sure all the contracts are ready to be signed. She makes sure his responsibilities in the business are running smoothly. She's very practical, very on top of things."
Cece is so practical that she realizes not much is going to change for women in the workplace — at least at this point in time. She recognizes that there's not much she can do personally, which is why she isn't trying to work her way up from her current position. Heyward says,
I think Cece's someone who likes to be effective and practical, so she's going to go with where she can be of use. The glass ceiling is something that I think she's made peace with as a woman and as a black woman at that time. I think she's kind of OK with being a part of the system as it is. She's not necessarily a revolutionary. I'm excited to see what happens as the seasons progress, if that revolutionary spirit, if she gets caught up in some that. I think her ambitions are closely aligned with Richie. They make a good team and she's not interested in rocking the boat there.
Heyward also comments on whether Vinyl will focus on Cece's shortage of professional opportunities not only as a woman, but as a woman of color. "I don't think that's something we're going to address directly on the show," Heyward says. "We're meeting the whole cast of people working at the office at a point where big things are changing in the business for them. So, everyone is kind of scrambling to keep their positions. Nobody knows if their jobs are safe or secure, so we're coming into the story at a place, where most people want things to stay stable. Cece certainly wants things to continue in a way that will keep her secure."
When it comes to playing Cece, Heyward most certainly relates to her character and has learned quite a bit from her, including how far things have advanced for women in the workplace. For example, Heyward says Cece has to deal with quite a bit of inappropriate and degrading comments from the men in her office. That said, those particular types of scenes have made the actor extremely grateful for the treatment of women nowadays. Granted, issues still exist for women in the workplace, especially when it comes to equal pay, but overall, there has been vast improvement. She says,
It's one of those things where it's not that long ago the workplace was far more volatile and unfriendly for women. If I'd been born just a generation or two earlier, I would've had to deal with some things that there's no question that I don't have to deal with now. It made me really grateful for how far we've come.
Even though it doesn't seem like Cece will be making it her goal to transform her work environment into a place that is equal for both genders, she most definitely appears to serve as an important reminder and figure for women. Also, if Vinyl returns for a second season, viewers could easily see Cece joining the women's liberation movement.
For now, the main focus of Vinyl is presenting a story that's much more than the music industry, and that shows more than those who are in the spotlight. Like Heyward says,
I'm most excited for people to remember that there's regular people at the same time there's these huge icons. We remember the icons and the people who break the rules and who have tons of talent, but a lot of the time the people who are behind the scenes making things possible they're forgotten about. Sometimes when those people get caught up among all these icons, they don't have the same status. It's a great reminder for everyone that you don't have to be a huge icon to make a difference. You don't have to be this huge famous person to live a full life.
Image: Macall B. Polay/HBO; HBO