The Most Memorable Quotes From 'The Bach' Premiere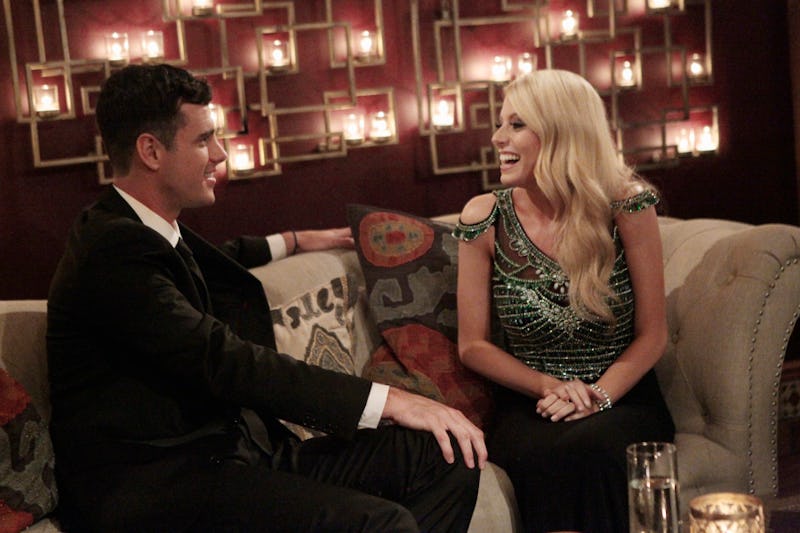 Christmas might be over, but the most wonderful time of the year is just getting started. On Monday, Ben Higgins' season of The Bachelor began, and it was everything I ever hoped it would be. Two solid hours of staring at Perfect Ben, crazy and creative limo arrivals, and free flowing wine — all the things that make it the entertaining, long-running show that it is. Oh, and one more thing: There were plenty of memorable quotes from The Bachelor premiere to keep things interesting.
From the contestants' introductions, the (occasionally awkward) first meetings outside of the mansion, the first cocktail party of the season, and everything in between, this year's contestants gave us so many quotable moments. Some were funny, some were kind of embarrassing, and some are just perfect examples of why I love this show so much. In fact, I even have a feeling that some of these are going to come back to haunt these women for rose ceremonies to come.
Here are some of my favorite quotes from the premiere. I can't wait for the rest of this season. It's gonna be a good one! And if not? Well, we all still get to look at Ben.
1. "What came first? The chicken, or the Ben?" — Chicken Enthusiast Tiara
I think it was the chicken, because they have been around since before Ben was born. Just saying.
2. "I have an important question for you. Boxers or legal briefs?" — Samantha
Cute, or too much? I can't decide.
3. "I was hoping there'd be one ugly person, but I have yet to see an ugly individual." — Laura
I mean, she's not wrong. Everyone is gorgeous this season.
4. "How can you compete with twins? With a mini horse, that's how!" — Maegen
Again, not wrong.
5. "I don't think there's one girl here who's competition. I think I'm way prettier than everyone else." — Lace
At least she has a good self esteem?
6. "Is there another glass?" — Lace, looking for more wine.
Because same.
7. "I have a feeling the drama is just getting started." — Ben
YOU'RE RIGHT.
For everything Bachelor Nation, check out Bustle's podcast, Will You Accept This Podcast? and follow our Bachelor fan page on Facebook.
Image: Rick Rowell/ABC