What Michelle Tanner Would Be Like In 2016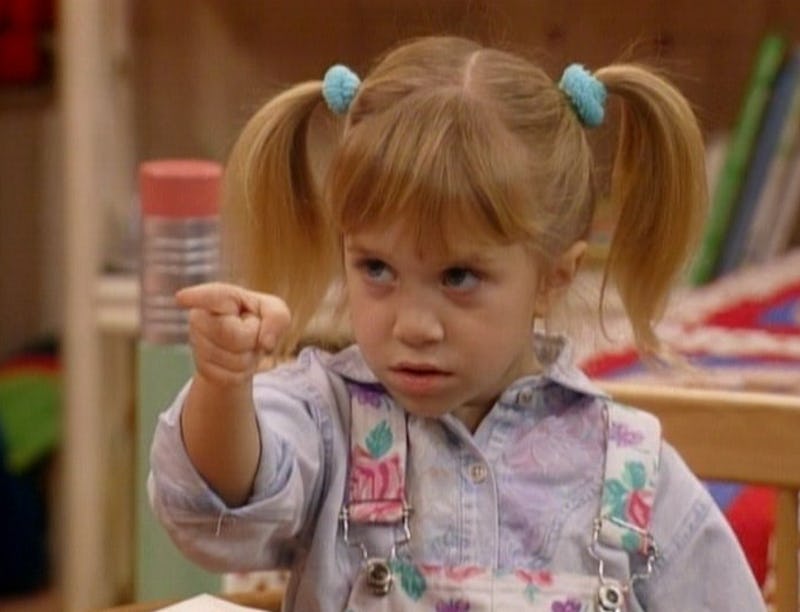 Michelle Tanner was basically America's little sister. We watched her grow up over the course of Full House's eight seasons, but, where would Michelle Tanner be in 2016? While fans will be able to figure out what happened to the rest of the San Francisco-based family in the upcoming re-boot, Fuller House, it seems that we may not find out as much as we would've liked when it comes to Michelle's character. With Mary-Kate and Ashley Olsen not signing on to join the Netflix reboot (sad news for all the fans who consider Michelle to be their favorite of the Tanner fam) we're just going to have to wait for hints from the other cast members about Michelle's ultimate fate. Or we're just going to have to speculate for ourselves.
Well, Mary-Kate and Ashley Olsen have managed to transition their careers from acting to fashion designing in the 20 year span since Full House aired its finale. Now, the famous twins consider themselves full-fledged fashion designers with absolutely no intentions of heading back to television anytime soon. So, would Michelle turn out going in the direction of fashion as well? I certainly think so!
In fact, it's what I'm hoping she did with her future, along with these other milestones:
1. She's Got Herself A College Degree
Michelle has always been smarter than her age. She came up with the wittiest phrases and was never afraid to speak her mind. She probably soared when it came to college. With a degree in something either on the artsy side or the philosophical side, plus maybe a spot on her school's debate team. This girl definitely didn't just get through college on her cute face alone.
2. She's Probably Passionate About The Arts
As a nod to Mary-Kate and Ashley's jobs in the fashion industry, the reported explanation for Michelle's absence on Fuller House is that she is working on her fashion brand in New York. Which, you know, does make sense. There's no way that Michelle completely threw away her creative and fun spirit for some boring office job, unless it was one that simultaneously allowed her to create something.
3. Her Instagram Account Is On Fleek
Whether she's a fashion designer or not, if Mary-Kate and Ashley can look flawless... so can Michelle. She's probably one of those people with an Instagram account so perfect and full of excitement that you almost can't bear it.
4. She's In A Serious Relationship
I don't think Michelle would be married or engaged just yet. However, I'm thinking that she probably met the perfect guy in college, and now they're totally in love and traveling the world together (when she's taking breaks from working on her fashion line). Because, well, how could someone not fall in love with Michelle? And while she loves this guy, Michelle is too busy just enjoying life to even think about having a family of her own right now. Yeah, that sounds like our girl.
5. She Probably Lives Somewhere Abroad
The only good reason as to why Michelle's not around with the rest of the family is because she's traveling the world and living in the most beautiful places. New York might be her business' hub, but that can't be her only destination.
6. She's Still Close With Uncle Jesse
Their relationship was pure magic. Between their serious talks, hugs, and musical numbers, there's no way that these two just stopped talking to each other. I wouldn't be surprised if they texted each other funny GIFs and talked on the phone on a daily basis.
Basically, we're just going to have to wait and see if we hear any more Michelle Tanner information come the Feb. 26 Netflix premiere of Fuller House. But, odds are, her fashion future is nothing less than perfect.
Images: Warner Bros. Television; Giphy (6)