Natalie Dormer Faces Her Demons In 'The Forest'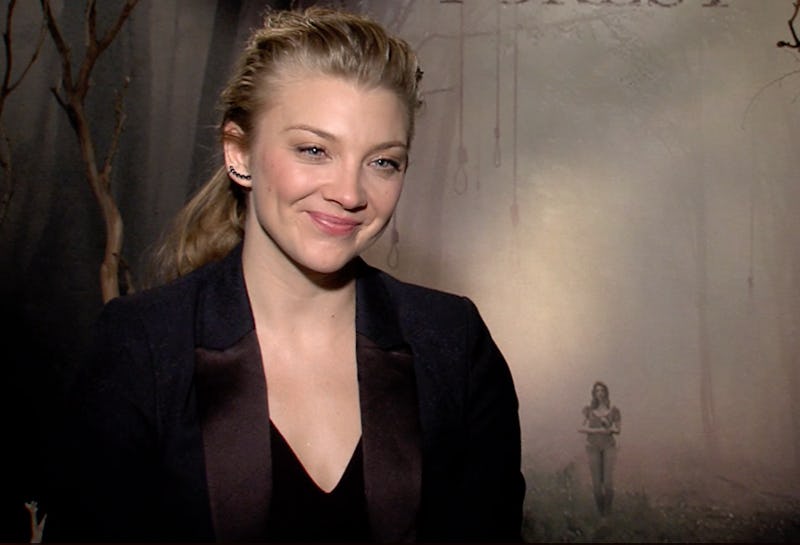 Do you remember the first horror movie that scared the crap out of you? Game of Thrones star Natalie Dormer does, and she has a new appreciation for horror cinema after starring in The Forest, which opens on Jan. 8. In The Forest , directed by Jason Zada, Dormer plays an American woman named Sara who journeys to the famed Aokigahara forest, also known as "the suicide forest," in Japan in search of her twin sister, Jess, whom Dormer also plays.
Located near the base of Mount Fuji, the forest's association with death and torment have made it a cultural symbol for Japan's strong belief in the paranormal world. The Aokigahara has become known as a place where people go to take their own lives, and the spirits of those suicides haunt those who dare to visit. Dormer, whom fans have watched and loved as the scheming Margaery Tyrell on Game of Thrones and the filmmaker Cressida in The Hunger Games franchise, sat down with me to discuss the film and her visit to the famous forest. But before we dove into the seriousness of the film's sinister subject matter, I admitted to Dormer that this is the first horror film I'd seen in quite some time, since I'm a total chicken. To my surprise, she revealed I wasn't alone. "I'm just like you, I'm a bit of a wimp when it comes to horror movies," she says in the clip.
But Dormer was brave enough to visit the sea of trees, and it wasn't an easy feat; without cell phone service or working compasses as a result of iron deposits in the mountain, there's no help if you get lost, and who knows what might pop up then. As Dormer says in the clip below, "the forest reflects your own demons back at you." Even Margaery would be scared of that.