Female-Centric Movies To Look Forward To In 2016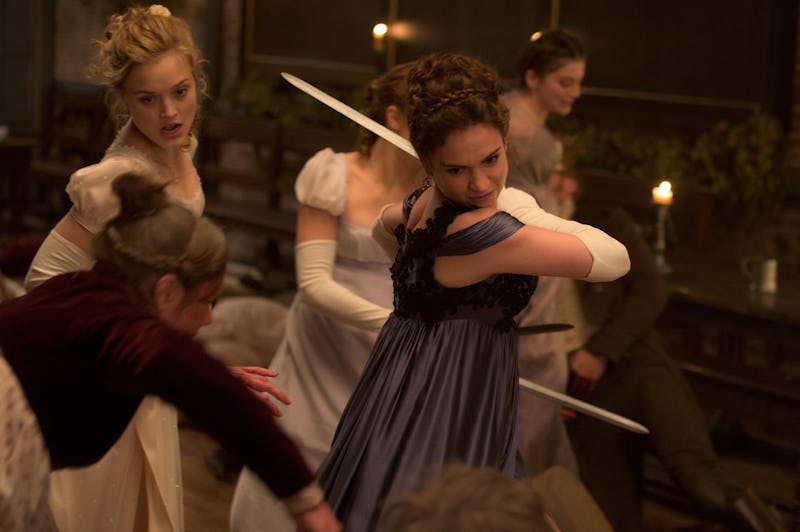 The year 2015 was a pivotal one for women in film. Female protagonists dominated commercially (The Hunger Games), critically (Carol), and sometimes both (Mad Max: Fury Road). Even the newest Star Wars film, The Force Awakens, had a female lead. But if 2015 was a year for women to prove they could sell tickets, partake in a deadly high-speed chase through the Wasteland, and carry one of largest movie franchises in history, 2016 is the year to push the boundaries of women in cinema even further.
I say that, of course, with hopefulness. The lineup for male centric films in 2016 is expansive. Recently, Fandango posted a list of the top 10 films to look forward to for the next year, and as Bustle's Maitri Mehta pointed out, only one female-led film made the cut — the animated Finding Dory. However, there are actually a ton of female-friendly movies to look forward to in 2016, and they deserve attention. Some are so big, they might even give us our next big female action star. After all, The Hunger Games — which proved to be a massive selling point for female centric films — has ended, leaving us all to wonder: Who will take the place of Katniss? Can we expect another Imperator Furiosa? (Or better yet, shouldn't we?)
The best way to ensure that Hollywood keeps moving to a more gender balanced future — where Katnisses and Imperator Furiosas aren't far and few between — is to support the films that tell stories about women. The following ones happen to do just that.
1. Jane Got A Gun, January 29
Natalie Portman and the Wild West? I can't think of a better pairing. Titular character Jane Hammond (Portman) shouldn't disappoint when she goes on a quest to save her husband Bill, and this film looks to be a full fledged, gun-slingin, bad ass.
2. Pride And Prejudice And Zombies, February 5
Based on the book of the same name by Seth Grahame-Smith that took Jane Austen's Pride and Prejudice and mixed it with...zombies. The Bennett sisters are taking their societal norm slaying to a whole new level.
3. The Huntsman: Winter's War, April 22
As a film with three leading female parts, the Hunstman looks promising. It doesn't hurt that the leading ladies happen to be Charlize Theron, Jessica Chastain, and Emily Blunt.
4. Maggie's Plan, May 20
Maggie (Greta Gerwig) wants to have a baby, but she falls in love with her married university colleague. A classic love triangle ensues, but as with anything Gerwig touches, expect no conventionalities.
5. Alice Through The Looking Glass, May 27
Mia Wasikowska will be back once again as Alice in Tim Burton's newest rendition of the Lewis Carroll classic.
6. Finding Dory, June 17
Over 12 years ago (!!!) the case of a missing clown fish captured our hearts and imaginations — but this summer, Ellen Degeneres' forgetful fish persona will embark on a journey of her own.
7. Ghostbusters, July 15
The feminist revival of Ghostbusters — starring Melissa McCarthy, Kristen Wiig, Kate McKinnon, Leslie Jones, and Sigourney Weaver — will be full of ghost busting, ass-kicking, and of course, laughs.
8. Bridget Jones' Baby, September 16
Though not much is known of the plot yet, we do know that everyone's favorite British rom-com heroine Bridget is back — and that's really all that matters.
9. The Girl On The Train, October 7
The adapted thriller revolves around the story of an alcoholic (played by Emily Blunt) who becomes involved in a murder mystery.
I can't predict which of these female centric movies will make waves in the cinema zeitgeist this year, but I will be there to support anything that fills the Hollywood gender gap — even if it's just a little bit.
Images: Lionsgate UK