'PLL's People's Choice Noms Are Promising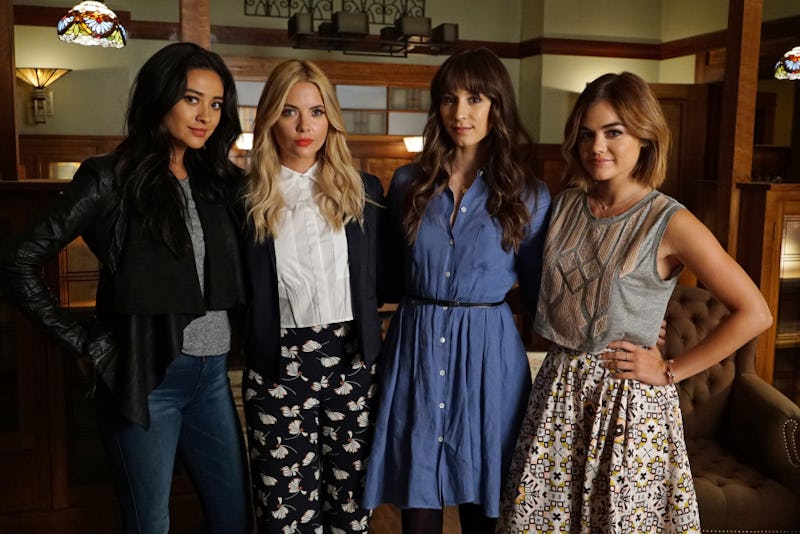 While it's true that the Pretty Little Liars Season 6B premiere is still six days away, fans will be able to an early dose of Rosewood goodness sooner than expected. As I'm sure many of you know by now, PLL has been nominated for the 2016 People's Choice Awards in two different categories, so there's a good chance we'll see some of our favorite Liars walking the red carpet (while looking fabulous, of course) in just a few hours time. And even though it's true that not every show or actor will come out a winner by the night's end, I think Pretty Little Liars stands a pretty big chance of winning in both of its categories this year.
Much like last year, PLL has been nominated for Favorite Cable TV Drama as well as Favorite Cable TV Actress. And while the series managed to win the former, they lost the latter to Angie Harmon (both Lucy Hale and Ashley Benson were nominees). However, I don't think the ABC Family series (sorry, I mean, Freeform series) will suffer the same defeat this year. Why is that, you may ask? Let's just say that the odds are quite literally very much in their favor this time around.
Not only have both Hale and Benson been nominated again, but now their fellow co-star Shay Mitchell has also been added to the impressive lineup for Favorite Cable TV Actress. And since there are only five nominees total, that means a PLL star has a 60 percent chance of walking away with the trophy. (Only for PLL would I do so much math, by the way.) So that puts the odds more than half in their favor. They just have to beat out Hilary Duff and Sasha Alexander, who are both fierce competitors, mind you, but when you've gone up against the likes of A and won, I'd say these Rosewood girls are pretty much unstoppable at this point.
As for the other category, Favorite Cable TV Drama, I'd say PLL pretty much has that particular win in the bag. Don't get me wrong, it's fellow nominees of The Fosters, Bates Motel, Rizzoli & Isles, and Suits are all great shows in their own right, but none of them have the sheer fan power that these Liars do. So given that these votes are made by the people (hence why they call it the People's Choice Awards), I'm willing to bet that Pretty Little Liars will be the ultimate victors. And considering the stressful year these cast of characters have had to endure (dollhouse anyone?), I'd say they've more than earned a victory lap or two.
Images: Eric McCandless/ABC Family; Giphy