Katie & Schwartz Talk Wedding Guest List On 'WWHL'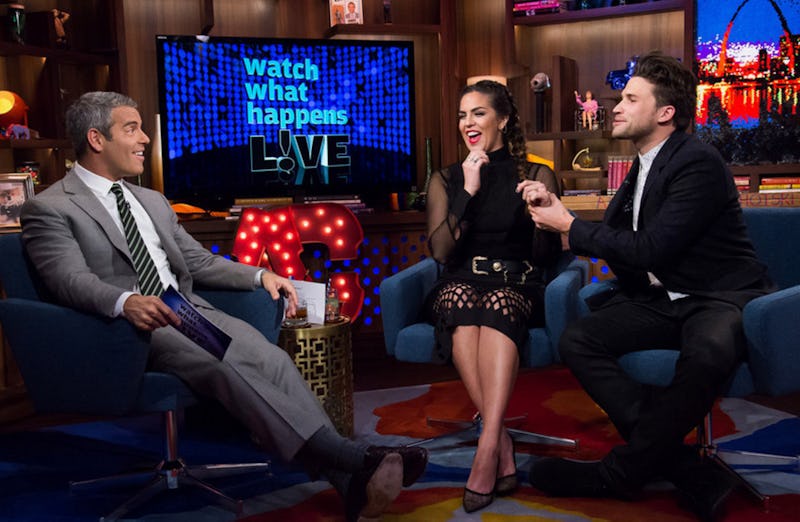 If there is one thing I know to be true about the King of Bravo, it is that he is never one to pass on a chance to make Bravolebrities play a tell-all game. Not two hours after the Tom Schwartz/Katie Maloney proposal episode of Vanderpump Rules made its way to our TV sets via illuminated ring box on Monday night, Andy Cohen welcomed the newly affianced couple to the Watch What Happens LiveClubhouse. And yes, you better believe Schwartz and Katie's Big Moment inspired a WWHLactivity.
At some point during the duo's visit to the live after show, Andy wondered which Pump Rulescostars might make the Maloney/Schwartz wedding guest list cut. But rather than simply ask the duo to list which Pumpers can look forward to getting save the date postcards in the mail, the King of Bravo challenged Gordo Von Friendenheimer's parents to a game called "RSVP Or B**ch, Please?"
The objective of the game: find out whether or not certain members of the Pump Rules cast should expect an invite to Katie and Schwartz's nuptials. When asked about newer Pumpers James Kennedy and Lala Kent (aka WWHL enemies number one and two), Katie and Schwartz replied with "B**tch, Please." SUR manager Guillermo, the SUR cooks who celebrated the firing of Kristen Doute, and Scheana's mom, on the other hand, landed in the "RSVP" group. The only maybe: Lauren the SUR hostess/breakout star of S4E6.
Oh, wait. I lied. There was another maybe.
Later on in the episode, one particularly aggro, Tom Schwartz-hating WWHL caller named Biff asked Katie if Stassi Schroeder will be invited to the wedding. Worried that the answer would give away her and Stassi's current friendship status (and what happens in the to-be-aired episodes of Vanderpump Rules), Katie kept things vague.
"Wait and see," Katie said. "Maybe you might know that in a few weeks' time."
Way to leave us hanging, Maloney.
Images: Charles Sykes/Bravo; bricesander/tumblr