Lisa Makes A Big Decision On 'Vanderpump'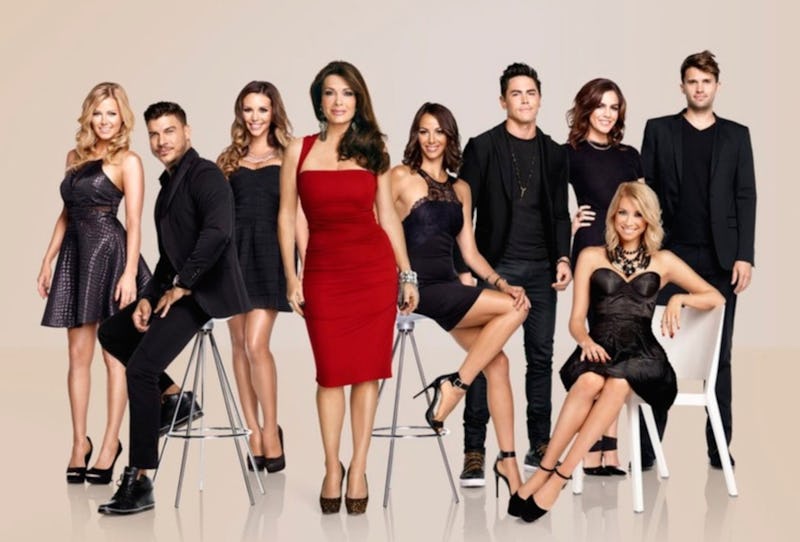 The moment SUR's pink car mascot has been careening toward for three seasons finally happened: On Monday night's episode of Vanderpump Rules, Lisa Vanderpump fired Kristen once and for all. The Kristen/Annemarie/Scheana/Diana argument was the final straw. (Was Kristen fired-fired, or will she return to her SUR job after the dust settles? The truth always comes out eventually.)
But before Lisa, Nathalie, and Diana brought down the axe, the rest of the SURvers predicted Kristen would walk out of the meeting with yet another slap on the wrist from management. Ah, the running joke of SUR/Vanderpump Rules: Silly Kristen went and got herself suspended again! She'll never get fired! She has immunity!
The SURvers' predictions were wrong. This time was different. After refusing to accept any responsibility for The Great Miami Girl Debacle, and after refusing to acknowledge that she shouldn't yell at her direct superior whether or not she's on the clock, Kristen wound up jobless.
Lisa placed a Donald Trump wig atop her perfectly coiffed hair, pointed at Kristen, and barked, "YOU'RE FIRED." And then, Lisa removed the Trump wig, put on a blonde wig, and said, "You're auf'd." And then, Lisa removed the blonde wig, and calmly said, "Please pack up your knives and go." (OK, that's not how it actually went down, but it's how I choose to remember it.)
Actually, I take that back. How it actually went down was terrific. Lisa Vanderpump rules.
Kristen told James what happened, James told Jax what happened, and one SUR cook told another SUR cook what happened:
The cook who was on the receiving end of this news high-fived the messenger. The two laughed at and celebrated Kristen's dismissal. The only duo whose reaction was on the same level as the cooks' reactions was the anti-Kristen duo of Ariana and Tom Sandoval (side note: Tom Sandoval's victory punch-dance was aces). The cooks were AMPED. It was a quick scene, but it was my favorite scene of the night.
And now I want the backstory: Did Kristen steal a kitchen lighter while she was on a smoke break and forget to return it? Did she use the cooks' phones without asking to check up on Tom Sandoval on social media if/when he'd blocked her? Did she pick multiple fights about Crispy Chicken? Do the cooks watch Vanderpump Rules and are they as enraptured by all the drama as we are? Are the cooks Team Stassi?
Whatever the reason (or reasons) for the cooks' reactions may be, I'll be giggling about that insta-classic moment forever. Well, at least until next week's episode.
Images: Tommy Garcia/Bravo; Bravo