Glossier's Milky Jelly Cleanser Is Way Affordable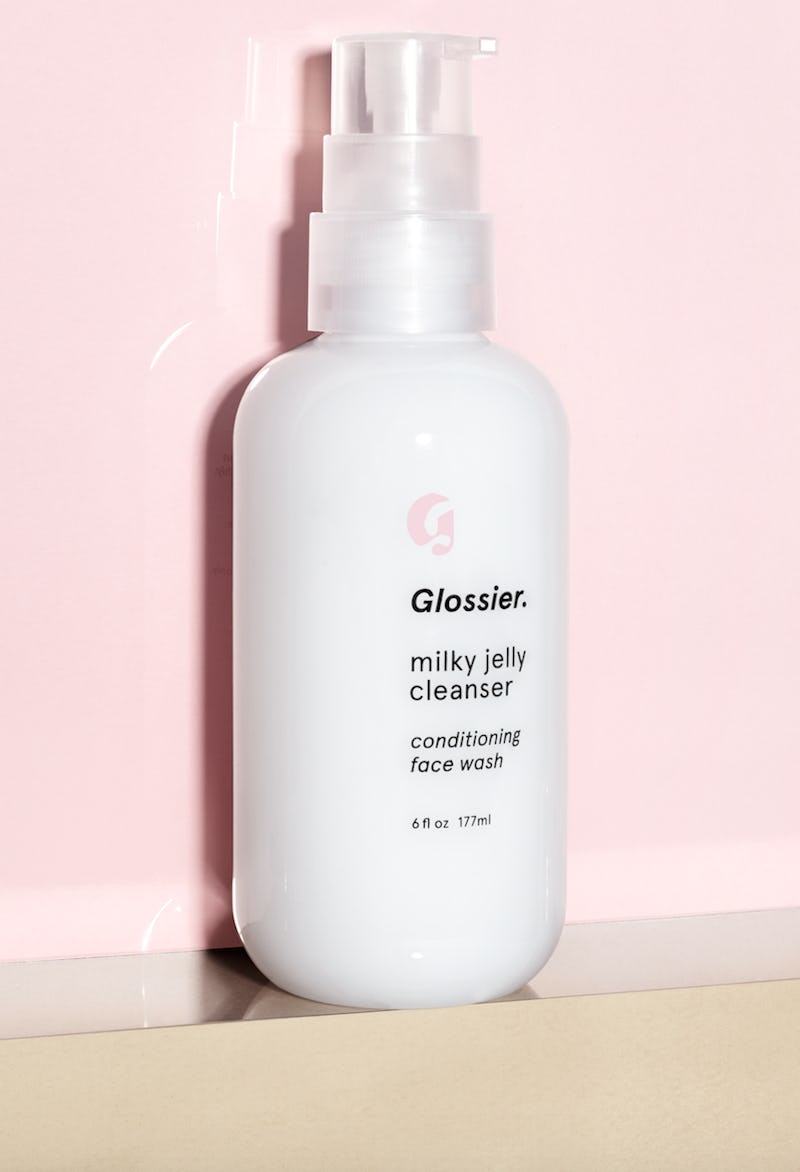 Your (and my) new favorite face wash is here! Glossier's Milky Jelly face cleanser has arrived and it's ready to help you moisturize while washing your face. It will melt away your makeup and all of the accompanying the dirt of the day. How much is Glossier's Milky Jelly? Well, for all of its benefits and the fact that it treats skincare like makeup, it's actually quite affordable.
The Milky Jelly cleanser, which is criminally creamy and I used as part of my daily and nightly routine for several days so far, is $18. Since it does so much and is not your average cleanser, the price tag is justified.
Milky Jelly is exclusively available via Glossier's site, too. It's formulated to be your quintessential daily face wash. With a blend of five conditioners, your skin will be clean and soft, but never tight. It's also tough enough to crush your mascara and makeup when you're done wearing it at the end of the day!
It has the same cleaning agents that are in contact lens solution, so it's gentle around the eye area, all the while being super, duper effective.
Glossier recommends keeping your bottle of Milky Jelly in the shower, so you can use it on wet skin in the morning.
Two dime-sized pumps are all you need to get the job done.
It's also part of the new Phase 1 set, which also includes the Priming Moisturizer, Perfecting Skin Tint, and Balm Dotcom. The products are streamlined and they are core basics, which will leave you with that always desired dewy glow.
I already have a committed relationship with the Coconut Balm Dotcom. It smells like an island resort and quenches my lips and their thirst for moisture, in addition to adding just a hint of sheen. The Perfecting Skin Tint, which I tap and apply with my fingers, is so light but it also evens out my skin tone with its barely there coverage. I like my skin to breathe while eradicating any imperfections and that's what you get with TPST.
I love the light, fresh scent —it's like baby soap— and the fact that my skin doesn't feel pulled or tight after using this. It seriously is like washing your face with a light moisturizer. You get all the benefits of a cleanser and a lotion in one bottle.
So, yeah, I am in love with Milky Jelly and find it to be totes worth its price.
Glossier founder Emily Weiss even shared this tutorial on how to use Milky Jelly on both wet or dry skin.
Images: Glossier (5)