Kyle Learns That Kim Was Arrested On 'RHOBH'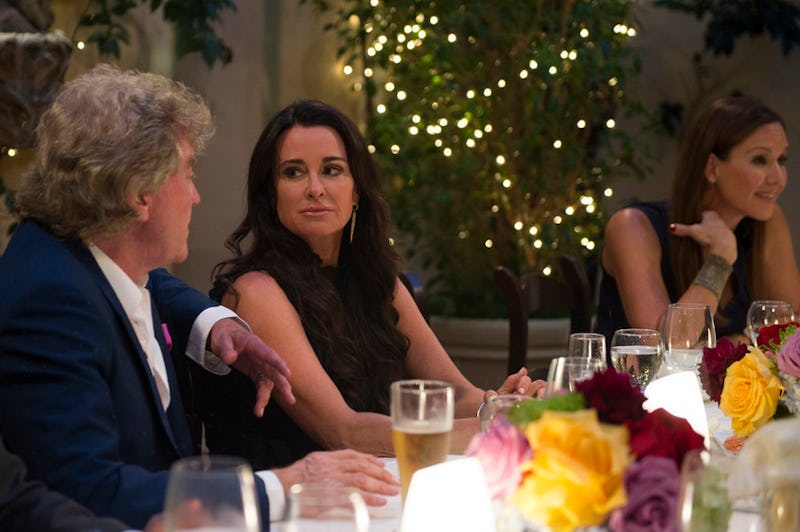 Family drama, in a word, sucks. It's one of those things that brings even the most elite people back down to Earth. On Real Housewives of Beverly Hills , Kyle Richards faces her own family drama after learning that her sister Kim Richards has been arrested. It's not the first time Kim has been brought up this season, and it won't be the last, but no matter how many times the issue arises, it never gets easier to watch. Drama between friends is one thing. Watching a grown woman not know how to handle and help her sister is a completely different issue.
This isn't the first time we've seen Kyle struggle to deal with her sister Kim's behavior. Even though Kim is not on this season of Real Housewives, she's very much present. Her actions are the proverbial elephant in the room, since during filming, Kim was arrested at a Target for allegedly shoplifting. According to Us Weekly and RHOBH, Kim was accused of attempting to shoplift over $600 worth of items from the retailer, but was arrested in early August. On Tuesday's RHOBH, we had to see Kyle deal with the aftermath of Kim's newsworthy headlines.
Without getting into the legality of it, I imagine it can't be easy having to deal with this type of family attention. It is no secret that Kim has struggled with addiction in the past. Back in 2012, Kim Richards admitted that she was an alcoholic, and since then, the public eye has been strictly watching her. But, along with watching Kim, we now watch Kyle deal with the ramifications of the circumstances. In this situation, Kyle was visibly upset about the news and admitted that she learned about the arrest via TMZ.
I know that the women who choose to join The Real Housewives of Beverly Hills, or any reality show for that matter, are allowing cameras to record their lives. They know that whatever they deal with personally will probably be projected onto national television. With that said, it doesn't get easier watching the Richards sisters deal with issues that seem much greater than any show out there. In the case of addiction, the most important thing is getting help, so I almost feel guilty watching Kyle have to answer to the other Housewives for her sister's supposed actions.
While it would be easy to say "I hope this doesn't happen again," it's not realistic. So, I hope that Kyle Richards continues to handle any type of situation thrown at her with the grace and strength she's handled past situations.
Images: Nicole Weingart/Bravo