This Harvest Will Feed More Than Just Yourself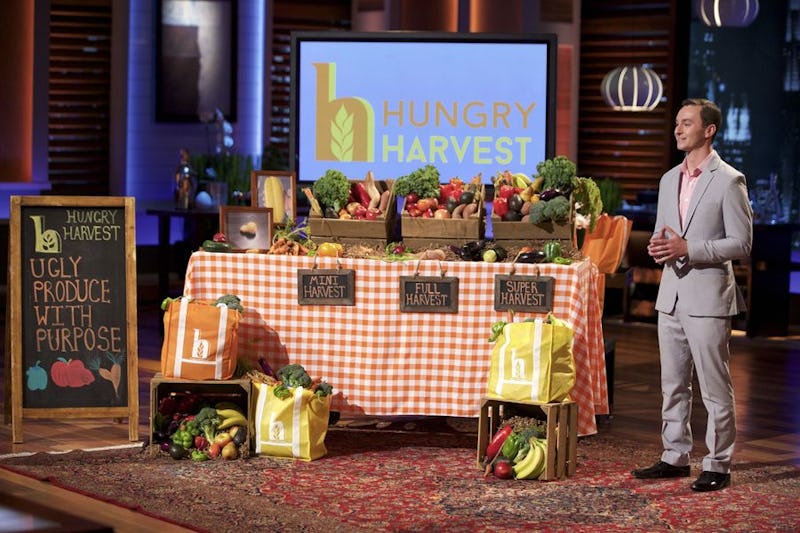 You know the saying, "Don't judge a book by its cover"? Well, that apparently goes for food, too. Just because an apple looks a bit small or a bell pepper is misshapen doesn't mean it's not still edible. That's exactly what Hungry Harvest will set out to prove when it steps into the Shark Tank during Friday night's upcoming episode of the ABC reality show.
Though it may sound like this company is all about activism — and it partly is — there's a real business here, too. The entrepreneur behind Hungry Harvest is going to have to work hard to convince the Sharks of that, though, since they're really just interested in how a company can help them see the green, and I don't mean in the produce sense.
Well, at least Friday night's episode will feature Sharks Barbara Corcoran and Kevin O'Leary, both of whom have a reputation for investing in food companies. The altruistic angle to Hungry Harvest may also appeal to the "warm blooded Shark" Lori Greiner. And you know what? Mark Cuban may also swoop in and invest in it in the end, because why not?
But perhaps you'd like to know a little bit about Hungry Harvest before I get ahead of myself here? I feel you. Read on, and it might just completely change the way you look at food.
It's A Produce Delivery Service Like No Other
Like fruits and veggies? Good. You came to the right place then. That's because Hungry Harvest purchases surplus produce that will be thrown out if no one recovers it from several farmers and wholesalers for pennies on the dollar. Most of the produce that ends up in surplus is there because of cosmetic imperfections, such as "apples that are 'too small,' to square potatoes, to cucumbers with a 'weird curve'" and is perfectly good to eat, according to the Hungry Harvest website. The company then sorts, bags, and triages the produce before delivering it to customers. If the thought of eating "ugly" fruits and vegetables gives you the willies, just remember that you're probably going to cut them up before you prepare them and eat them anyway, so does it really matter what they look like?
Hungry Harvest Does A Lot Of Good
So why is this company kind of a big deal? For starters, more than 6 billion pounds of fresh produce goes unharvested or unsold each year, according to an oft-cited 2012 report by the Natural Resources Defense Council. Hungry Harvest is trying to eliminate some of that waste. In the approximately 20 months the company has been in operation, it says it has recovered 300,000 pounds of produce, as reported by The Baltimore Sun.
But wait. It gets even more philanthropic than that. For every bag of produce delivered, the company donates a meal to a family in need. Hungry Harvest says it has donated 100,000 pounds of produce to date via The Baltimore Sun. The company also partners with homeless shelters to hire people living there as independent contractors and offers them resume building and other career resources, according to Technical.ly Baltimore. That's a fact that's sure to make you feel better than having a full stomach.
But It's Not A Charity
Hungry Harvest is a good name, but it also might be a somewhat misleading one. It does sound an awful lot like a food bank, many of which do contain the word "harvest" in the U.S., with New York's City Harvest being one of the most famous. A recent article about Hungry Harvest in The Packer also reported that "the company is sometimes mistaken for a food bank." Though there is a charity angle to Hungry Harvest, at the end of the day, it is a profit-seeking company, so perhaps a name change might be something to look into in the future.
You Can Start Your Harvest Now
If you're digging what Hungry Harvest is all about, you can head over to the company's website to sign up for a weekly delivery. Right now, you can sign up to receive recovered harvests ($15-$35 per week), organic harvests ($30-$55 per week), or all-fruit harvests ($25-$35 per week). You can also add on items like bread, pesto, and cold-pressed juices to your order. Unfortunately, Hungry Harvest only delivers to the Washington, D.C.-Baltimore area as of now with plans to expand to New York, Philadelphia, Pittsburgh, and Richmond, Va. soon. However, if the company scores an investment on Shark Tank, who knows where it could end up next?
The Founder Is Barely Out Of School
Evan Lutz is the CEO and co-founder of Hungry Harvest, and he's only 23 years old. He graduated from the Robert H. Smith School of Business at the University of Maryland in 2014, according to The Baltimore Sun. Unsurprisingly, he spent some of his college days working with the Food Recovery Network, a student movement founded at the university to fight food waste and hunger in the U.S. Lutz may be young, but clearly this kid is the real deal when it comes to making his career aspirations happen.
He Stepped Into Shark Tank Prepared
Perhaps one reason for Lutz's success is that he knows a thing or two about preparation, at least where Shark Tank is concerned. It looked like Lutz and the other people behind Hungry Harvest put in a lot of effort to film and edit the company's Shark Tank audition tape above. But even more than that, Lutz made sure he knew Shark Tank inside and out before he taped his segment of the show by watching every episode of the series that he could and anticipating questions from a 13-page, single-spaced document he and his team created featuring what they thought the Sharks might ask, according to Technical.ly Baltimore. We'll have to wait and see if all of that hard work paid off.
Hungry Harvest Has Some Major Help
Some of Hungry Harvest's success up to this point may also be attributed to the fact that the company has some heavy hitters in its corner. These include advisers Doug Rauch (pictured on the left in the above photo and a former president of Trader Joe's, CEO of the non-profit Conscious Capitalism, and the founder/president of the not-for-profit food store Daily Table), Jeff Cherry (CEO of The Porter Group and founder and executive director of the Conscious Venture Lab accelerator), and Jordan Figueiredo (a solid waste specialist and anti-food waste activist).
However, having a Shark become a part of Hungry Harvest's squad probably wouldn't hurt either.
Image: Tyler Golden/ABC