TV-Inspired Nail Polish Arrives At Target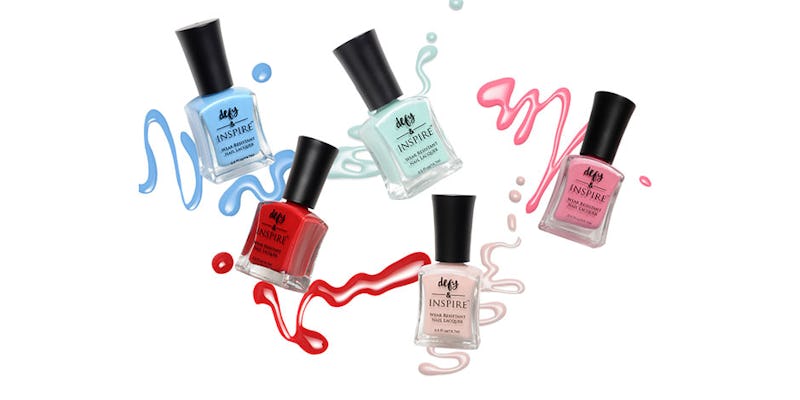 Have you ever wondered what your favorite TV shows would look like if you were to bottle them up into beauty products? Thankfully, you no longer have to ponder the possibilities, because one brand now has the answer. PopSugar reports that Target is launching a range of nail polishes inspired by The Bachelor, along with other popular TV shows including Gossip Girl, and The Hills. So if you're looking to add something fun to your weekly Bachelor viewing party, passing around some pretty bottles of polish just might be the thing!
The in-house Target collection, titled Defy & Inspire, will debut with 38 eye-catching shades ranging from dark opaque colors like cherry-red and charcoal gray, to pale pastels like ballerina pink and blueish-green mint. The brand totally nailed it with gorgeous hues, but the sweetest part of this lacquer line is the playful, pop-culture inspired names, obviously. Labels like "Final Rose" and "Fantasy Suite" will appeal to all reality television junkies alike, while LC idolizers will fawn over "The Hills" and "Laguna Beach." If those don't speak to your personal TV preferences, perhaps "Real Housewife" or "Toddlers and Tiaras" will fit your fancy.
If you're already dying to get your paws on some of this TV-meets-beauty goodness, you'll have to wait until it hits stores and online January 17th.
Until then, let's review some of the most stand-out shades along with their corresponding TV inspirations.
Final Rose
The perfect petal-colored red to capture the essence of the rose ceremony.
Bachelor
I feel the same way about this nail color as I do about this season's bachelor — hot.
Fantasy Suite
Things are starting to get steamy...
XOXO
You know you love this pretty crimson shade. XOXO, gossip girl.
Laguna Beach
This is totally the nail color LC wore on her television debut in Laguna Beach.
GTL
This is bringing back major Jersey Shore nostalgia.
Want more beauty tips? Check out the video below, and be sure to subscribe to Bustle's YouTube page for more hacks and tricks!
Images: Courtesy of Target (8); Giphy (6)