One Thing Lazy Girls Should Know About Lipstick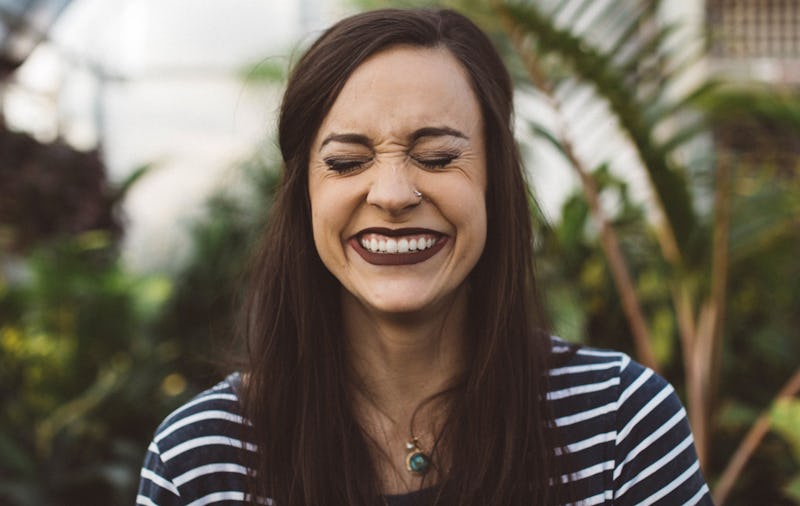 As much as we might love taking an hour on some days to really doll ourselves up, when the lazies hit, makeup is often the last thing on our minds. But one thing that lazy girls should know about lipstick is that even on its own, it can instantly transform a face. So even if you do nothing else — no concealer, eyeshadow, or blush — a swipe of lipstick can make you appear instantly put together. And don't worry if you're feeling still too lazy to go through the whole process of properly applying lipstick to really make it last. There are still some other tricks for a faster, less-messy application that won't have you needing to babysit your lipstick all day long.
Because nude and natural hues make it harder to discern a lip line, these are the types of colors you should reach for if you don't have time for a careful application, or maybe want to casually reapply throughout the day without a mirror. If it bleeds, smears, or fades, it will be harder to tell than with a bright or vampy shade. Of course if you do want to wear a bolder color without having to bother with a lip liner or frequent reapplication, a stain or liquid lipstick is the way to go.
Stains and liquid lipsticks have formulas that are longer lasting than most others, and can be applied more precisely and faster thanks to their having doe-foot applicators (much like a lipgloss). So generally, once applied, you can just forget about lipstick maintenance for the rest of the day. Sounds pretty easy, right? Here are some nudes, stains, and liquid lipsticks to have on-hand for the next time you're feeling especially lazy.
Nudes
Too Faced La Creme Color Drenched Lipstick, $22, toofaced.com
It's so easy to get away with a quick application of a natural hue.
Sonia Kashuk Satin Luxe Lip Color SPF 16, $10, target.com
No lip liner or even mirror necessary.
Stains
YSL Rouge Pur Couture Glossy Stain, $36, yslbeautyus.com
A glossy, liquid lipstick that leaves behind a stain is a no-brainer for lazy girls.
Smashbox Be Legendary Long-Wear Lip Lacquer, $24, smashbox.com
Because we're too busy loafing to reapply.
Liquid Lipsticks
Anastasia Beverly Hills Liquid Lipstick, $20, anastasiabeverlyhills.com
For when you can't be bothered, but still want a classic, red lip.
Stila Stay All Day Liquid Lipstick, $24, stilacosmetics.com
One swipe, and you're set for the whole day.
See? Lazy can still be glamorous.
Images: Brooke Cagle/Unsplash; Miki Hayes; Courtesy of Brands