This Entrepreneur Improved The Lives Of Millions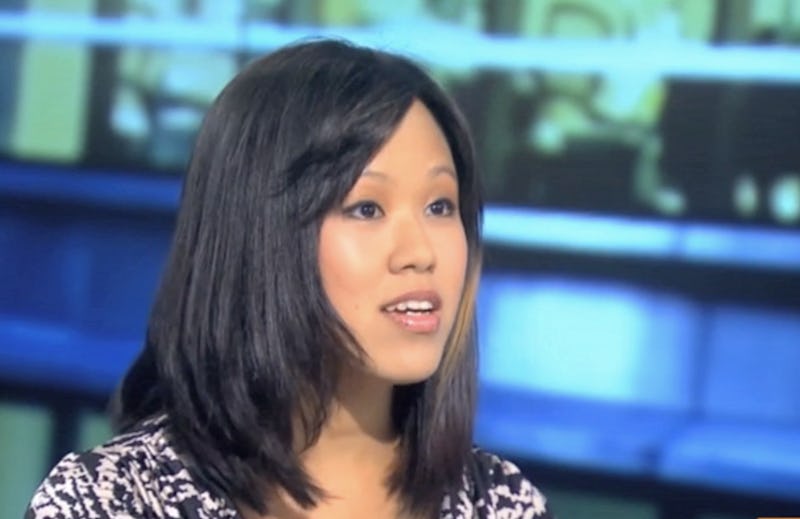 Last July, on what felt like the hottest day of the century in the dustiest part of Beijing, I was on the verge of collapsing, thirsty and famished and utterly exhausted. My travel companion, on the other hand, who was now outpacing me exponentially, continued to look around in wonder, snapping photos as she casually defied the sweltering heat. This seemingly insignificant scenario is a perfect description of Lily Liu, co-founder of public policy tech start-up PublicStuff, which has helped millions of residents improve their cities. Liu, who is a self-described adrenaline-junkie, is a woman who never tires, never complains, and never stops. Hers is the kind of zeal for life that simultaneously daunts and inspires, but much more the latter.
To give you a more specific glimpse: A typical day for Liu is surfing at 6 a.m., landing large accounts for Accela by 10 a.m., and grilling steaks for a dinner party she's hosting by 8 p.m. When she first moved to New York City, about seven years ago, Liu learned Muay Thai and other mixed martial arts at Anderson's Martial Arts (mean streets be damned!). A few years later, it was flag football, which unfortunately led to a torn ACL (some guy felt the need to tackle her), but even that couldn't render her inert. Before her knee brace came off, she and I were hiking the Appalachian Trail together.
Also included in her repertoire? Kitesurfing, snowboarding, piano, violin, and photography. I do believe a better question to ask would be "What doesn't Lily do?" (Well, perhaps a few things, like whine or sleep.) For Liu, every day is an opportunity to learn something new, but she prefers the more extreme hobbies for their "meditative" quality.
"When you're doing these extreme sports, nothing else can get in the way of your mental focus. So if you're on a Double Black [Diamond trail] or if you're kitesurfing with crazy winds, you're really focused on getting through it and not getting hurt. There's a level of meditation that comes into it."
Plus, it's a great excuse for her to get away and see different parts of the country and world.
When I caught up with Liu, she was on a business trip — one of many she'll take this year — in California, where she is helping to facilitate a team-building and goal-setting retreat for roughly 100 employees at Accela. "It's been sort of a hectic trip so far," she tells me over the phone, "because California is dealing with El Niño right now, so lots of flooding, lots of rain." But the inclement weather was not about to get in the way of employee bonding. "A lot of people on the team haven't ever met in person," Liu explains. "So this is a good opportunity for all of us to get together and really start the year off on the same page."
How she came to Accela stems from PublicStuff, a company that she started five years ago at the ripe old age of 27.
PublicStuff is a communications platform for citizens to submit requests to their local governments that range from fixing potholes to reporting the new annoyingly loud drum and bass bar below your apartment. Users can also use additional tools in the app to more smoothly manage daily tasks, like paying bills and keeping track of garbage pickup schedules. To date, PublicStuff has helped residents in roughly 200 cities in the U.S., from Philadelphia to Palo Alto, California.
If you're thinking to yourself, "This sounds an awful lot like 311," then you've just tapped into the impetus for creating PublicStuff. What Liu and her co-founder, Vincent Polidoro, wanted to create was something like 311 but with trackability and accountability. Users who submit through the app can monitor the progress and status of their request with specific updates on how it's being resolved.
In 2014, Forbes ranked PublicStuff No. 85 on its America's Most Promising Companies list, an accomplishment that most 32-year-olds cannot claim. It's been praised in major media outlets like The New York Times, which said it "has potential to lead to a simplified version of civic involvement, making communities out of any residents with smartphones," and Fast Company, which called it "311 version 2.0."
Last year, Accela acquired PublicStuff. Both companies shared the same goal of improving civic engagement by providing software to help local governments connect with communities, so the acquisition made sense. PublicStuff is now officially called Accela CRM (Citizen Relationship Management), and Liu is now a business development executive at Accela, helping to bring in new business and opportunities for the company.
For Liu, a platform that encourages more civic responsibility is a crucial part of helping society function more smoothly in general. "I think civic engagement is a huge component in all of our lives," Liu says, "even if we may not initially be aware of it."
Indeed, most people might take public policy for granted, but it permeates our daily existence and affects us all. "It's really the core infrastructure that allows us to do what we do every single day — go to work, have fun, build families, make stronger communities," she says. "It's that level of engagement that really drives communities to not only build them up, but maintain them and make sure that our livelihoods have that healthy level of balance between government and business."
Liu's appetite for learning daring new sports can only be rivaled by her passion for helping communities, but just where did her interest in civic involvement come from?
Prior to co-founding PublicStuff in 2011, Liu was the youngest analyst in New York City Mayor Michael Bloomberg's office, working on special projects with his Department of Education. Liu and her team worked around heavy budget cuts forced by the financial crisis in order to execute projects that had been planned before the crash. "At the time I believe the budget was a little over $60 billion," she casually mentions as I try not to faint. Most 20-somethings can barely manage the allocation of the Christmas money from their grandparents, let alone a budget of billions.
Despite this invaluable experience, which Liu said gave her "a perspective into a completely different level of government," it was not her time with Bloomberg that inspired her to create her civic engagement app.
"PublicStuff was originally inspired when I worked in Long Beach, California," where she was doing a rotational program there after completing graduate school at Carnegie Mellon University. One of her assignments was to implement a 311 system for the city. For the project, Liu did intensive research on how such a system would work with local government, which helped germinate the idea for PublicStuff.
"Long story short, we ended up canceling the project due to lack of funds and that's when I started thinking about more of a shared-city model utilizing technology to drive costs down and really deliver more modern tools and technology for residents."
A few years later, PublicStuff was launched.
Today, a mere five years into entrepreneurship, Liu is using her expertise to help others, far beyond fixing uneven sidewalks. In her free time (when she's not learning a new extreme sport), Liu volunteers with multiple programs to mentor and support other women in tech, including Girl Develop It, a nonprofit providing women with affordable programs to learn web and software development, and Mentor Effects, a women-helping-other-women network of mentors, one of which is Liu.
At its core, Liu explains, Mentor Effects is "women supporting other women in a variety of different industries." Her mentorship, however, focuses specifically on developers working in civil tech, "and making sure we promote that as an opportunity for young women learning engineering and programming."
What makes Liu such an ideal mentor is not only her impressive professional resume and vast experience or even the successful company she started from scratch, but the fact that she combines all of this with an unquenchable thirst for life. At her core, she is passion personified. Liu is living proof that you can work to live and live to work.
Images: Lily Liu