The WGA Noms Give Lots Of Love To 'Trainwreck'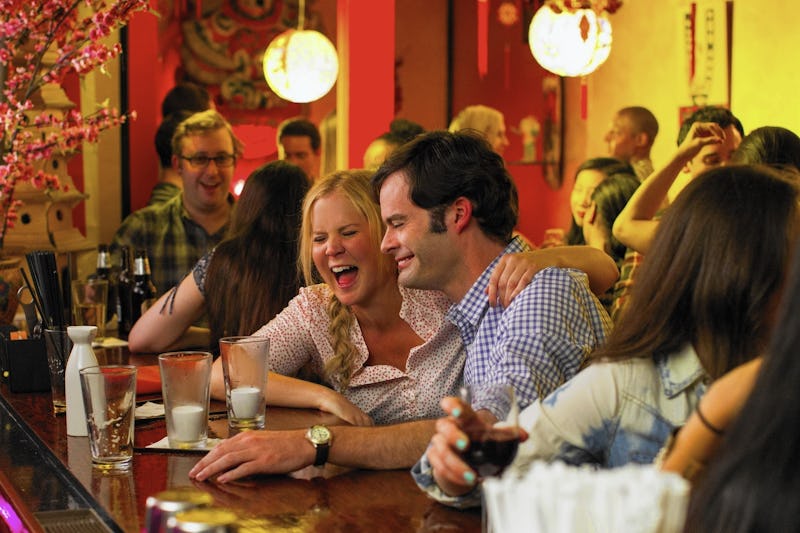 Every year, the run-up to the Oscars is suffused with precursor ceremonies, from various groups of critics to the Golden Globes to the industry guild awards. Of all of those, it's the latter category that is the most reliable when it comes to predicting the eventual Oscar nominees, since guild members make up a large number of Academy voters. So what do Wednesday's Writers Guild of America screenplay nominations mean for this year's Oscar ceremony? Well, they certainly mean great things if your name is Amy Schumer.
There's a good chance we'll have to add "Academy Award nominee" as part of Schumer's title soon, since her WGA nomination for scripting Trainwreck bodes well for her chances at the Oscars. But, as satisfying as her inclusion on the list is, a cursory glance at these nominations would seem to indicate a few surprising snubs — most notably Quentin Tarantino being shunted out of the Original Screenplay category for The Hateful Eight. In fact, of the 10 films currently predicted to be nominated in these two categories at the Oscars by prognostication website Gold Derby, only six of them make an appearance here, with Hateful Eight and Pixar's Inside Out being replaced by Sicario and Straight Outta Compton in the Original category, while dramas Brooklyn and Room were apparently ignored in favor of The Martian and Trumbo in the Adapted field.
But, in fact, none of those four films were ignored — they were simply ineligible for consideration under the Writers Guild's stringent rules and regulations. Other potential Oscar nominees that were deemed ineligible because their writers aren't members of the WGA include The Danish Girl, Ex Machina, and Mad Max: Fury Road. This means that, despite those films being absent on this list, any or all of them are still very much in the game when it comes to the Academy Award nominations that will be announced next Thursday.
The fact that so many Oscar hopefuls are often not even eligible for a WGA nomination makes this the most unreliable of all the Guilds to be a bellwether for that ceremony. Although occasionally the fields will match up five-for-five (as it did in the Original Screenplay category two years ago, when Spike Jonze's Her took home the trophy from both groups), more often than not they'll only share two or three nominees in common.
However, the WGA Awards do still tend to be fairly reliable when it comes to predicting eventual winners, correctly forecasting 10 of the last 15 Original Screenplay winners and 11 of the 15 victors in the Adapted category. So, while it may be relatively easy to get your screenplay nominated by the Academy despite a WGA "snub," it's far more difficult to actually take the trophy home without the might of the Guild behind you. (One of those exceptions is Tarantino himself, who won the Oscar for Original Screenplay three years ago for Django Unchained despite having been ineligible for a WGA nomination once again.)
So while this is potentially bad news for non-Guild writers, there is definitely one group that received good news from the WGA nominations today: women. Three of the 10 nominated films have female writers: Trainwreck's Schumer, Carol's Phyllis Nagy, and Straight Outta Compton co-writer Andrea Berloff. While that's still far from equal representation, it's a huge leap forward when compared to the Oscars; that's as many women nominated by the WGA in one year as the Academy has nominated in the last three. (None last year, Dallas Buyers Club co-writer Melisa Wallack and Before Midnight co-writer Julie Delpy two years ago, and Beasts Of The Southern Wild co-writer Lucy Alibar three years ago.)
Once the non-Guild-eligible writers are included by the Academy, that number could even go up thanks to the likes of The Danish Girl's Lucinda Coxon, Inside Out's Meg LeFauve, and Room's Emma Donoghue... or it could go down, if the Academy decides instead to include even more male nominees like Tarantino, Brooklyn's Nick Hornby, or Ex Machina's Alex Garland. While the latter outcome wouldn't exactly surprise me, I'll certainly be keeping my fingers crossed for the former.
Here's the full list of nominees:
Best Original Screenplay
Bridge Of Spies (Matt Charman, Ethan Coen, Joel Coen)
Sicario (Taylor Sheridan)
Spotlight (Tom McCarthy, Josh Singer)
Straight Outta Compton (Andrea Berloff, Jonathan Herman)
Trainwreck (Amy Schumer)
Best Adapted Screenplay
The Big Short (Adam McKay, Charles Randolph)
Carol (Phyllis Nagy)
The Martian (Drew Goddard)
Steve Jobs (Aaron Sorkin)
Trumbo (John McNamara)
We'll find out one way or another when the Oscar nominations are announced next Thursday morning. The Academy Awards themselves will be broadcast on Sunday, Feb. 28 at 8:30 p.m. ET on ABC.
Images: Universal Pictures