20 Healthy Breakfast Ideas You Need In Your Life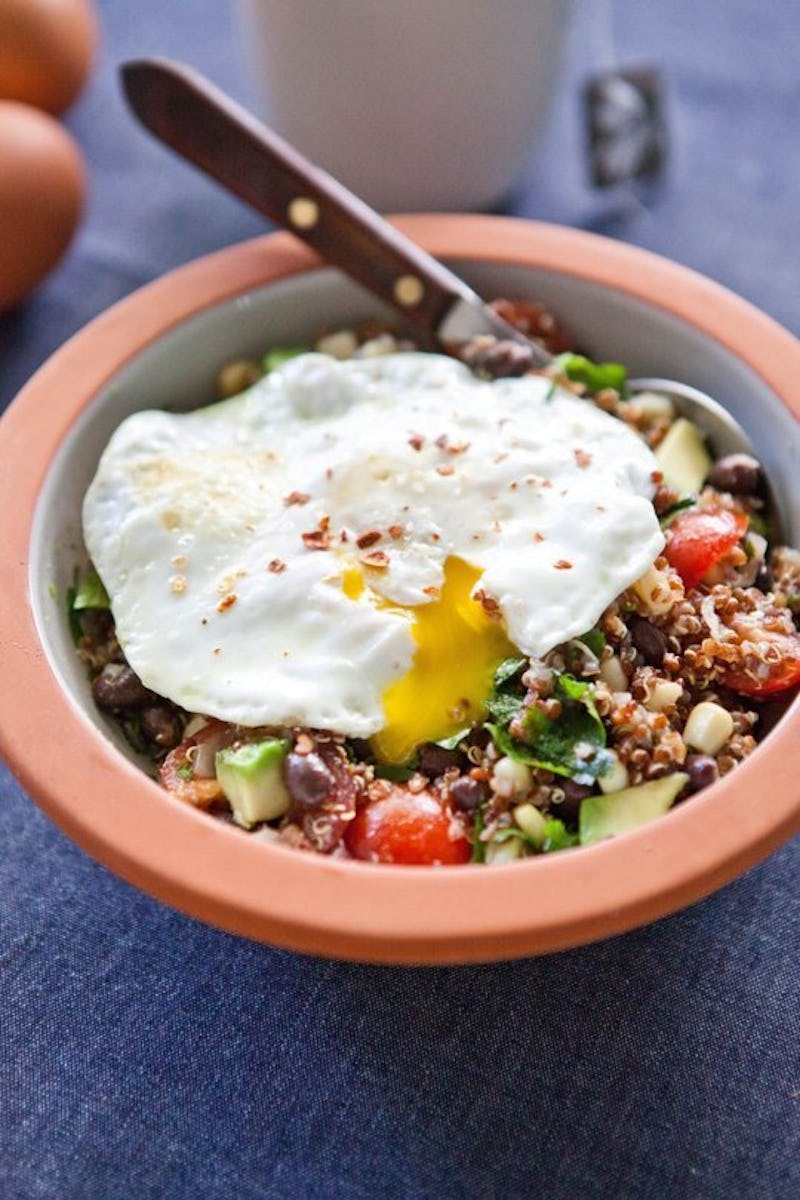 Many people make new year's resolutions to eat healthier each year, but as a self-proclaimed foodie, I refuse to give into bland oatmeal and salads all day, every day. That's why, after hitting the reset button and starting a new year, I decided to brainstorm some healthy breakfast ideas that are just as flavorful as they are good for you, so that no matter what I have going on during the day, I'm at least starting my mornings off like a total boss.
I used to always skip breakfast in the morning — whether because I was in a rush to get out the door, or because I was simply too lazy to whip anything up. But, countless studies and a rumbling tummy by 10 o'clock in the morning have proven to me that this is a terrible approach to healthy eating. Breakfast really is the most important meal of the day.
Don't worry, I'm not going to be throwing you five million smoothie recipes or recipes full of flax seed and other boring ingredients. These healthy breakfasts are all about eating delicious food to kick off your morning. Are you ready to make your day awesome? Here are 20 ways to do just that.
1. Breakfast Grain Salad With Blueberries, Hazelnuts, & Lemon
Eating a bowl of grain salad by itself tends to taste like cardboard, but this recipe from The Kitchn incorporates fresh fruits and bright flavors to make this breakfast anything but boring.
2. Veggie Breakfast Tacos
I am allll about the tacos, so the excuse to eat them for breakfast and also be healthy is a dream come true for this girl. Cookie and Kate packs her breakfast tacos with veggies for an extra hit of vitamins and protein.
3. The Breakfast Sandwich
Protein, veggies, intense flavors. Yep, this breakfast sandwich from How Sweet It Is has it ALL. I'm still drooling over that gooey yolk.
4. Healthy Freezer Breakfast Burritos with Sweet Potato Hash and Black Beans
Cookie and Kate brings the freezer burrito magic with this recipe. This is how you "grab and go" the healthy way.
5. Chia Seed Breakfast Bowl
Chia seeds are my new obsession, because the texture is awesome. That's why I'm all over this chia seed breakfast bowl by Oh She Glows. Check out all that texture in that bowl of happiness… so good!
6. Brussels Sprouts Breakfast Hash
If you aren't on board with Brussels sprouts already, this breakfast hash from How Sweet It Is will get you there in a heartbeat. Plus, there's bacon. Because every healthy breakfast needs a little bacon, am I right?
7. Southwest Quinoa Breakfast Bowl
Love heading to the Southwest with your flavors in the morning? The Kitchn has you covered with this protein-packed breakfast bowl that'll have you jumping for joy.
8. Butternut Squash Breakfast Hash
Butternut squash is my all-time favorite vegetable, so seeing it in a breakfast hash from Love and Lemons is totally rocking my life. All the veggies in this hash will make you feel healthier than you have in months.
9. Super Healthy Breakfast Cookies
The first time I ate a breakfast cookie, I was like, "what the heck is this?" After realizing that they actually taste like yummy cookies, I lost my mind. Half Baked Harvest makes a healthy breakfast cookie that tricks you into thinking you're eating dessert.
10. Yogurt Breakfast Popsicles
For those mornings where you don't want to cook anything, that's when you bust out these popsicles from The Kitchn. It's a travel-friendly version of a bowl of yogurt and granola.
11. Coconut Milk Breakfast Quinoa
Coconut lovers gather around, because I've got your dream healthy breakfast right here. This coconut milk breakfast quinoa from How Sweet It Is is packed with so much coconut flavor, you'll definitely be going back for seconds.
12. Healthy Breakfast Smoothie
I had to get at least one healthy smoothie in here for the smoothie lovers out there, didn't I? Mel's Kitchen Cafe makes a healthy smoothie that will give you the energy you need to get through all those morning meetings you've been dreading.
13. Mile High Power Breakfast Burger
A healthy burger for breakfast? If it's this one from The Healthy Foodie, then I'm totally on board. Any excuse to avoid that big bowl of boring oatmeal…
14. Carrot Cake Breakfast Cookies
I'm predicting breakfast cookies are going to be all the rage in 2016, primarily because it's all I can think about. When they taste like carrot cake like these cookies from Oh She Glows, you might have to slap me to help me realize they aren't a dream.
15. Avocado & Egg Breakfast Pizza
Who says a healthy breakfast has to be complicated? Stick to the basics of protein and healthy mornings with this breakfast pizza from The Kitchn for a downright tasty start to your day.
16. Quinoa Breakfast Skillet
Ditch those boring quinoa recipes, and bust out this one from How Sweet It Is for a fresh start to your morning that'll have your co-workers envious. With plenty of flavors and veggies piled under those eggs, you won't be able to resist diving in face first.
17. Easy and Healthy Banana Oat Pancakes
Weekend mornings are the toughest when you're trying to stay healthy. Those doughnuts, pancakes, and waffles are always calling my name. Enter these healthy pancakes from Simply Delicious — they are too good to turn down, ever.
18. Healthy Breakfast Granola
This is the make-ahead breakfast for those busy weeks of work that are inevitably coming with the start of the year. Make a big batch of this granola from Oatmeal with a Fork, and stock up on the yogurt. You'll have healthy breakfasts covered!
19. Portobello Breakfast Cups
Looking for a meatless healthy morning option that's a little heartier? These portobello breakfast cups from Ari's Menu do the trick with that meaty mushroom piled high with all the breakfast fixings.
20. Egg Baked In An Avocado
You love eggs. You love avocado. Put them together, and you have this hearty and healthy breakfast from The Kitchn. Delish.
Now you've got your healthy mornings lined up for the next few weeks. Bring on the breakfast, baby!
For more food inspiration, check out Bustle on YouTube.
Images: The Kitchn; Cookie and Kate; How Sweet It Is; Cookie and Kate; Oh She Glows; How Sweet It Is; The Kitchn; Love and Lemons; Half Baked Harvest; The Kitchn; How Sweet It Is; Mel's Kitchen Cafe; The Healthy Foodie; Oh She Glows; The Kitchn; How Sweet It Is; Simply Delicious; Oatmeal with a Fork; Ari's Menu; The Kitchn