The Travel Beauty Products You Should Always Carry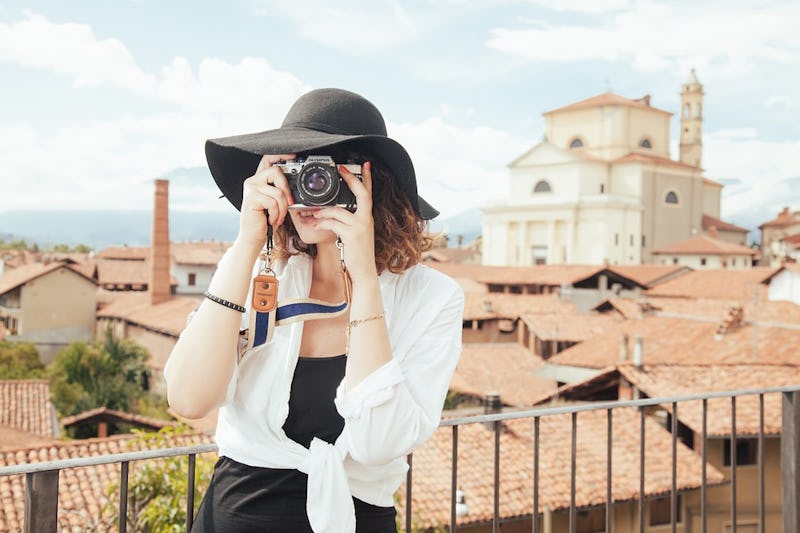 As any beauty lover knows, packing beauty products for travel can be a struggle. How do you decide between all of your eye shadows, liners, and lipsticks? It's can be such an ordeal, but there is a way to all pack your makeup necessities: Simply reach for products that are multi-functional, and travel-friendly. It's a painless step towards a less-stressed you. Isn't that what we all want, anyway?
For instance, you don't need to pack all of your base makeup. It sounds crazy, but all that stuff can just get in the way! Sub out your foundation, concealer, and powder for an all-in-one cream compact foundation. The product is small enough to fit in a clutch, but doesn't leave you feeling bare-faced. Quick solutions like this can do wonders for those who are traveling the world or just rushing out the door. For those of us who are constantly moving, thinking about any added extras can seem like a waste of time. Don't feel constrained by your beauty routine; make it work for you instead! Choose handy products that help you look your best without adding bulk to your bag. Here are nine products that are perfect for beauty lovers on-the-go.
1. trèStiQue Contour Essentials
$92, trestique.com
Traveling is no excuse for a poor contour. Keep your strobing game solid by using these portable cream contour sticks.
2. Cover FX Total Cover Cream
$42, sephora.com
Cream compact foundations are amazing for applying your base makeup on-the-go. Use with a beauty sponge to apply all over for an airbrushed finish, or simply use your fingers for a sheerer coverage.
3. Tarte ShowStopper Palette
$40, ulta.com
Why bring a bunch of different products, when you can have everything you need in one sleek palette? Not only is the packaging of this product gorgeous, but every single shade is super pigmented and creamy.
4. Tony Moly Sheet Mask
$7.50, sephora.com
Unclog your pores while traveling with this handy sheet mask. It is infused with red wine that helps to tighten the pores and leave the skin looking radiant.
5. Vincent Long Lip & Cheek Stain
$22.50, amazon.com
Products that only have one function are so overrated. Speed up your beauty routine by using this long-lasting lip and cheek stain.
6. Prospector Co. Compressed Towel Tablets
$4.99, prospectorco.com
Now, this is one of the coolest beauty products that I've seen in a while. Simply add warm water to these one of these "pills", and it will expand into a dish-sized towel.
7. Pacifica Solid Perfume
Perfume bottles can be so clunky. Free up some space in your bag by packing a solid perfume instead of your traditional bottled stuff. These solid perfumes have amazing lasting power without the bulk (or shattering possibility) of a glass bottle.
8. LAVANILA Healthy Deodorant
$8, sephora.com
Combat any mid-travel body odor by packing a travel-friendly deodorant stick.
9. Drybar Detox Dry Shampoo
$13, sephora.com
Never leave the house without dry shampoo. This mini version of the handy spray acts as a volumizer as well as a dry shampoo. Your hair will practically be begging for more.
See? Primping while on-the-go doesn't have to be a challenge.
Images: Pixabay (1); Courtesy Brands