Do This Before Waxing To Minimize Pain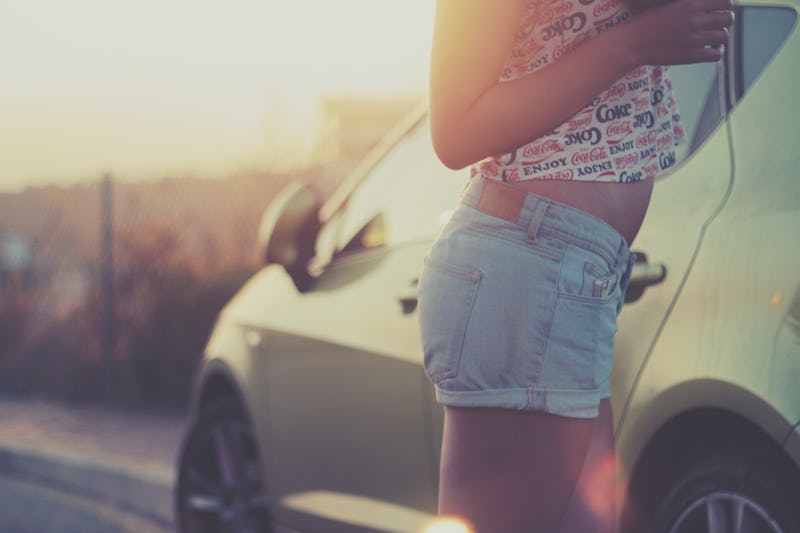 Waxing can keep your skin smooth and hairless for weeks which means you spend less time getting rid of body hair and more time doing, oh, just about anything else. Whether you're new to waxing or have been a believer for years, I bet you could use some tips. In order to get the best wax possible, you need to be sure to prep your skin. And that definitely includes exfoliating before you wax.
Although there are many pros to getting a wax, it can sometimes be a pain. I seriously doubt I'll ever get used to the feeling of hair being ripped out of my body. Although waxing may never be pain-free, there are ways to minimize discomfort, whether you're doing it at home or visiting a salon.
Gentle exfoliation before waxing is key. Exfoliating makes it easier for the wax to stick to the hair instead of your skin, which means the removal process hurts less. Be sure to exfoliate regularly before getting a wax, but skip it the day of the appointment, recommends the Bella Sante Day Spa blog. You want to slough away all the dead skin cells, but you don't want to make your skin too sensitive. If you're in need of a good exfoliator no need to worry. Below is a round-up of the best exfoliators on the market today.
1. Caress Burnt Brown Sugar and Karite Butter
Caress Burnt Brown Sugar and Karite Butter, $14, Amazon
You get both a cleansing and exfoliating product in this bottle with an amazing vanilla sugar scent.
2. Softsoap Coconut Scrub
Softsoap Body Butter Coconut Scrub, $3, Walmart
The perfect inexpensive body scrub with the most addicting piña colada scent.
3. J.R. Watkins Sugar and Shea Body Scrub in Lemon Cream
J.R. Watkins Sugar and Shea Body Scrub, $10, Amazon
This citrus-scented moisturizing scrub is full of sugar crystals to slough away dead skin.
4. Burt's Bees Cranberry & Pomegranate
Burt's Bees Cranberry & Pomegranat Sugar Scrub, $10, Drugstore
A fruity scrub full of cranberry and pomegranate scents perfect for all you natural product lovers.
5. The Body Shop Wild Argan Oil
Wild Argan Oil Rough Scrub, $12, The Body Shop
Rich Moroccan argan oil moisturizes your body while the argan shell exfoliates.
6. Herbivore Coco Rose
Coco Rose Coconut Oil Body Polish, $36, Herbivore
This sugar scrub adds coconut oil and Moroccan rose petals to moisturize and soothe the skin
7. L'Occitane Almond Delicious Paste
Almond Delicious Paste, $42, L'Occitane en Provence
Exfoliate your entire body with sugar crystals and crushed almond shells blended with moisturizing almond oil and almond butter.
8. Fresh Brown Sugar Polish
Fresh Brown Sugar Polish, $39, Sephora
The ultimate gentle exfoliant full of brown sugar and moisturizing oils.
9. Laura Mercier Crème Brûlée Sugar Scrub
Laura Mercier Crème Brûlée Sugar Scrub, $50, Sephora
Decadently sweet sugar scrub leaves you smelling and looking amazing.
10. Lush Ocean Salt
Ocean Salt Face and Body Scrub, $37, Lush
This natural scrub is full of ocean salt to exfoliate and invigorate.
Want more beauty tips? Check out the video below, and be sure to subscribe to Bustle's YouTube page for more hacks and tricks!
Images: Courtesy Brands; Jan Vašek/Unsplash