'Man Seeking Woman' Explores More Love In Season 2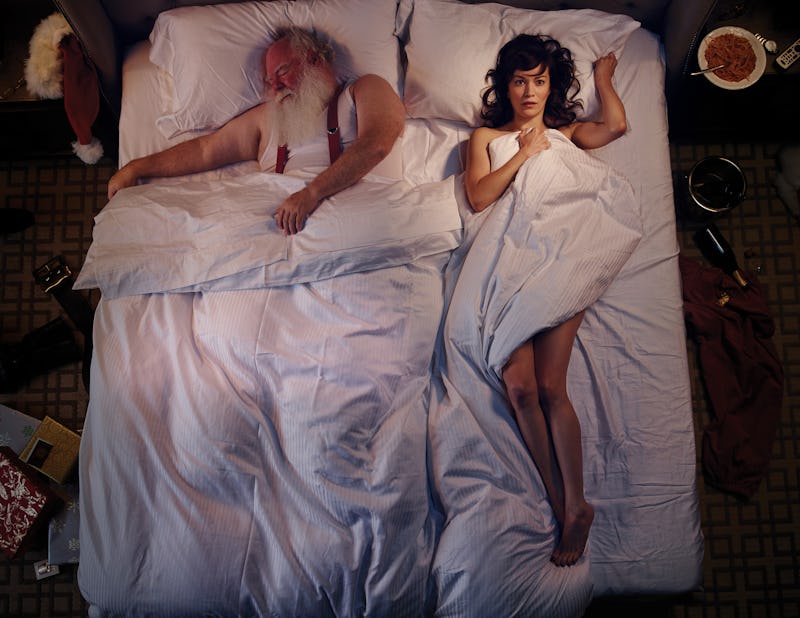 In its first season, Man Seeking Woman explored the fallout of a breakup in absurd, expressionist vignettes set against the otherwise normal backdrop of dating in Los Angeles. When the show enters its second season, the love stories of Man Seeking Woman will expand far past the simple title. The FXX series has already explored some other territory, becoming Woman Seeking Man for an episode last season, but creator Simon Rich tells Bustle that viewers should expect even more forms of love ahead. When Man Seeking Woman returns for Season 2 on Wednesday, Jan. 6 at 10:30 p.m., it will be much more than the story of a man seeking a woman.
"This season we're trying to flesh out our characters and iron out their relationships and put those relationships to the test," Rich says. "The first season was a lot of energy setting up the world, setting up the rules." But now in Season 2, the characters — and the show itself — can go in totally new directions.
"The primary relationship this season is actually between Josh and his best friend Mike," Rich says, revealing one way that Man Seeking Woman will be a bit different when it returns, exploring non-romantic love. In the first season, Mike acted as a foil to Josh's fearful and over-thinking ways, but their friendship is going to face challenges in Season 2 thanks to a new character. "Rosa threatens to blow up their friendship," Rich says. "[The show] goes to being serialized, with cliffhangers." Rosa — much like Josh, Mike, and Josh's sister Liz — will spend the season caught in the pursuit of something out of her reach.
And even when Season 2 does address romantic love, it will be in a different form than before. "The first season was about getting over heartbreak; this season is about unrequited love," Rich explains. "All the characters — Josh, Liz, Mike, Rosa — are after various idealized love objects. They will ultimately learn that relationships are better in dreams than in reality." The theme of unrequited love is as strong and universal as every other topic that Man Seeking Woman tackles, but on such an unpredictable series, it's impossible to guess just how Rich will tell that story.
Something you probably could have guessed, however, is that some of Rich's favorite love stories are also tales of unrequited love. When I ask what stories have influenced him, Rich is quick to respond. "Hey Arnold!. It featured this character Helga. Her obsessive love for Arnold , that to me is the funniest, most surreal portrayal of love I've ever seen. The way she switches between hostile and infatuated — it's hilarious and true." Rich's affinity for odd animated comedies is no surprise, but there is also a live-action love story that has affected him. "I also really like Freaks and Geeks," he says. "It has some of the most accurate depictions of adolescent love I've even seen. Particularly [the characters played by] Jason Segel and Linda Cardellini. That, to me, is good as it gets."
Rich's view of love in Man Seeking Woman is equal parts optimism and realism, served with a healthy dose of the surreal. He's acutely aware of the issues that anyone can face when it comes to love, and though many of his characters have difficulties in other aspects of life, he knows that anyone can fall victim to love's pitfalls. While discussing the character of Liz, Rich says something that permeates the entire series: "for all her success in work, in her career, in her confidence, when it comes to love, it doesn't make a difference." For better or worse, no one on Man Seeking Woman is safe from love.
Images: Matthias Clamer, Michael Gibson/FXX