Sarah Gadon Joins 'Man Seeking Woman'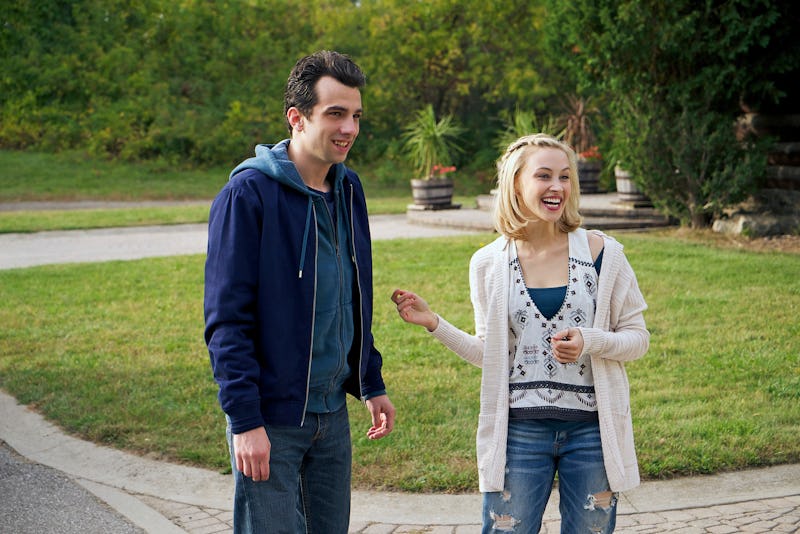 Man Seeking Woman's first season focused on Josh after he got dumped by long-time girlfriend Maggie. Josh spent the show's initial episodes learning how to get over his ex, and he seems to have achieved that. Man Seeking Woman Season 2 starts with Josh dating a new girl named Kelly. Where did she come from? What kind of surreal misadventures with Josh and her go on before he inevitably does something stupid to mess it up like drunkenly hooking up with his ex-girlfriend? Who is Josh's girlfriend on Man Seeking Woman?
There hasn't been much said about Josh's new beau going into Season 2, and it's not clear if she'll be around very long as Josh's romantic partners rarely stick with him for longer than an episode. What is known, however, is that Kelly is played by actress Sarah Gadon, who will go from "Josh's girlfriend on Man Seeking Woman" to James Franco's latest love interest later in 2016, and who knows where her career will take her after that? So, who is Sarah Gadon, and what can we expect from her character Kelly?
Gadon's career so far has defied genre, as she has been making appearances in films ranging from large-scale action blockbusters like Dracula Untold, to small-scale psychological thrillers like Enemy alongside Jake Gyllenhall. In 2016, she'll be playing the role of Sadie Dunhill in 11.26.63, which is shaping up to be Hulu's biggest original series yet. The mini-series, starring James Franco and based off of the book by Stephen King, premieres on Feb. 15, 2016. In the month before the premiere of her this Hulu series, audiences will have a chance to watch Gadon stretch her comedic muscles on Man Seeking Woman, which is just about the opposite of most of her other projects.
Gadon seems to have a penchant for strong female characters that take action, which begs the question — Why would someone like that end up with someone like Josh? Gadon hasn't been featured in any trailers for this season, so it's hard to tell exactly what her character is bringing to the table. Either Gadon is playing a character far different from her big-budget movie roles, or Josh somehow ended up dating a woman who is infinitely more kickass than him. Many of the promotional pictures for the pilot also seem to hint that Josh is in far over his head when it comes to Kelly.
If any actress is going to be good at playing a blood-covered girlfriend, it is definitely an actress who was in a film called Dracula Untold. While it's not clear what exactly Kelly's deal is, or how long she'll be on the show, it's obvious that the show's habit of getting Josh into situations that he can't handle is still intact. Man Seeking Woman is going to get very weird, very fast — and even if she's not around for long, Sarah Gadon seems to be a perfect fit for this world.
Images: Michael Gibson (2)/FX