#TBT To This Iconic Ariana Grande Photoshoot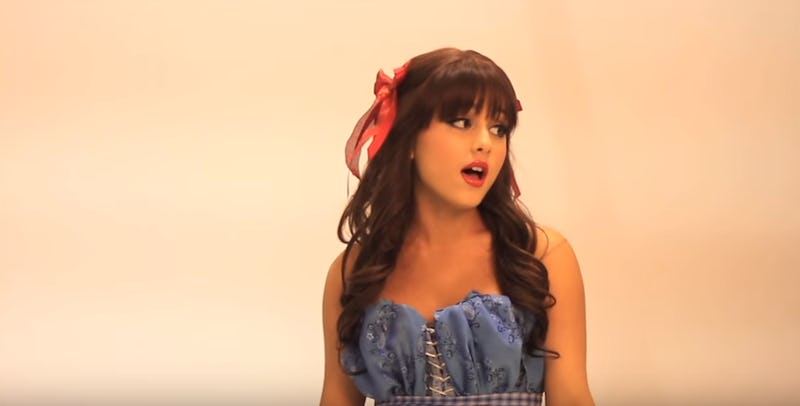 Ariana Grande first came on the scene back in 2009 as the red-headed quirky teenager with the killer vocals in Nickelodeon's Victorious. Fast forward seven years later, and the now 22-year-old is one of the biggest international superstars of our time. Dubbed the next Mariah Carey, the pint-sized singer has surely come a long way in her career, but she has also made quite the dramatic beauty evolution. Reminiscing on her earlier years, it's clear to see how much the powerhouse singer has changed. Remember Ariana Grande's "Viva Glitter Viva Glam" shoot from 2012? Who could forget, it was totally epic.
As part of makeup artist Melanie Mills' Viva Glitter Viva Glamour book, Grande transformed into Dorothy from The Wizard of Oz for the throwback photo shoot, and looked remarkably different. Her then signature red hair was covered up by a Dorothy style wig complete with bangs and red bows. She sported rosy cheeks, thick eyeliner, and a bold red pout, emanating the whimsical fairytale character perfectly.
The songstress has done many other iconic photoshoots that called for a total fashion makeover. Her 2013 spread for Seventeen was pretty memorable, with all its colored baubles and bubblegum pink galore.
Let's take a trip down memory lane and reminisce about Ariana's most iconic photoshoots.
1. Viva Glitter Viva Glam
The cutest Dorothy I ever did see. Check out the full behind-the-scenes video below.
So much fabulousness.
2. Vogue Japan
This kind of looks like a Katy Perry music video, and I'm totally digging it. Here is a look at all the #BTS fantasy fashoin goodness.
3. Billboard
Futuristic fashion as its finest.
4.Teen Vogue
Can't stop obsessing over that hair wrap.
5. Cosmopolitan
This pink-themed shoot is so darn adorable.
6. InStyle
Grande showed us she can do ultra glam with this InStyle cover.
Images: Screenshot/Youtube (3), Screenshot/Youtube (2)