Where To Watch Oscar Isaac's 'Show Me A Hero'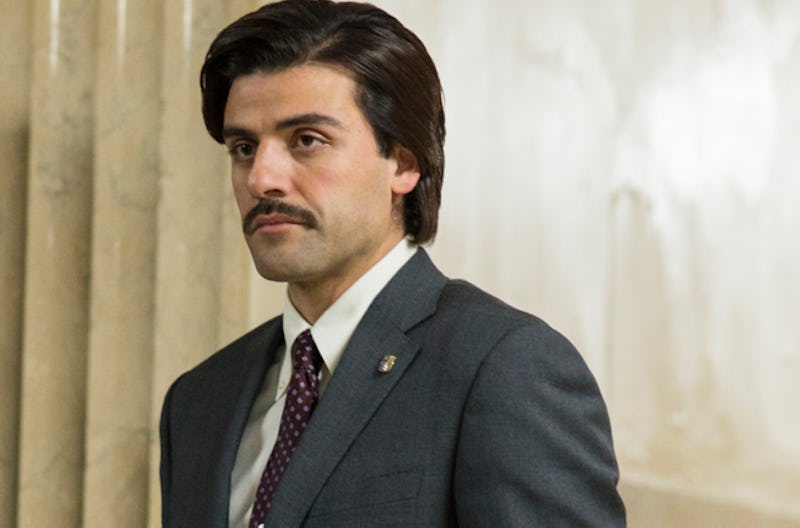 You don't need me to tell you that Oscar Isaac is hot right now. Whether you've been stealthily following Oscar Isaac for years, or if he has just come to your attention as Poe Dameron in Star Wars: Episode VII — The Force Awakens, it is undoubtedly Isaac's time right now. For instance, did you know that you can order a life-size Poe Dameron body pillow? The fandom surrounding Isaac is real, which is why it's the absolute right moment to track down all of the other movies and TV shows he's appeared in. And you need to see Oscar Isaac in HBO's Show Me A Hero immediately, especially since it was nominated for a 2016 Golden Globe. So where can you watch Show Me A Hero ?
From co-creator of The Wire, David Simon, and featuring a star-studded cast alongside Oscar Isaac, including Winona Ryder, Catherine Keener, and Jim Belushi, Show Me A Hero is based on real-life events regarding a public housing site in Yonkers, New York, and the opposition the development faced from the existing neighborhood, which was predominantly middle-class and white. Adapted from the book by former New York Times journalist Lisa Belkin, Show Me A Hero initially aired on HBO, starting August 2015. But where is it available to watch now?
Relax, my fellow Oscar Isaac lovers: Show Me A Hero is on HBO NOW and HBO GO right now. As the series was commissioned by HBO, and was one of 2015's most acclaimed dramas made by HBO, it certainly makes subscribing tempting. If streaming is not enough for you however, you can purchase all six episodes of Show Me A Hero on Amazon, for $3.99 each. If you're an Oscar Isaac collector and have to own everything he's ever been in, this might be a safe option for you, as you will never be without him. The complete mini-series is also available on iTunes for $24.99.
As Poe Dameron, Oscar Isaac seems to have captured the hearts of people everywhere, and it's about time he got the recognition he's been working so hard for over the past few years. Show Me A Hero is one of many roles in which Isaac transforms himself into character, and showcases what an amazing actor he is. Obviously, we have Star Wars sequels to look forward to, but Oscar Isaac is sure to be even more prominent movies and TV shows now that the world has finally realized how downright incredible he is. I'm not too happy about having to share him, but I'll get used to it.
Image: HBO