16 'Star Wars' Valentine's Day Gift Ideas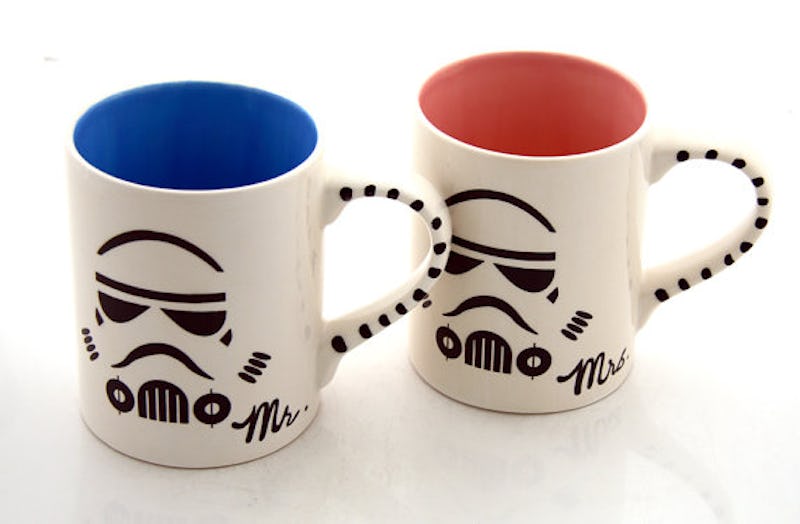 Nothing says "Our love is semi-dependent on our mutual love of Star Wars" quite like getting bae one of these Star Wars Valentine's Day gifts. Sure, there are plenty more stereotypically romantic ways you can celebrate this holiday. You can go the whole nine yards with your fancy five-course meal, your flowers, your chocolates, what have you. I'm not here to Valentine's Day-shame anybody, because at the end of the day, like most people, my main priority in life is food — er, I mean, love. (But food.) But now you have have all your cake and nerd out with it too, by giving it the Star Wars theme that you've secretly been dreaming up since you bae'd up in the first place.
There's no better year to letter you inner nerd shine than this one, now that Star Wars: The Force Awakens has Star Wars products flooding stores at an all-time high. The Internet and consumerism wants this for us. And let's be real, being a nerd is considerably cooler and more socially acceptable now than it was when the prequels came out. It's a whole new world, y'all, and we best celebrate it before Bill Weasley goes all Space Hitler on us and blows it up. Here are all the Star Wars gift ideas that will make your 2016 Valentine's Day one to remember:
S tar Wars Cupcake Pan, $5, Amazon
Astromechs have never been so tasty.
Yoda Shirt, $20, Etsy
Say yes, you will.
O bi Wan For Me Mug, $20. Etsy
And after you drink your fifth cup in one morning, You want to go home and re-think your life.
Stormtrooper Charger, $13, Amazon
Running out of juice for that I <3 U text? FN-2187's got your back.
Rebels Vs. The Empire Technology Blanket, $60, Look Human
The coziest and most aesthetically pleasing battle you've ever seen!
Han & Leia Keychains, $20, Etsy
Subtle Star Wars swag FTW.
Force Awakens Cards, $9, Etsy
Awww, it's their first V-Day in the fandom! Welcome, BBs.
Death Star Pillow, $40, Etsy
For when you and bae Star Wars & Chill.
Death Star Waffle Maker, $60, Amazon
Valentine's Day breakfast taken care of — granted somebody doesn't explode the bejeezus out of it first.
Jedi In The Streets T-shirt, $25, Amazon
... Look, I don't know your life.
Star Wars Cookies, $30 Etsy
Come to the Dark Side, we have cookies?
R2D2 Tea Pot, $42, Amazon
Have hot coffee as fresh as R2's sass.
Star Wars Jelly Belly , $16, Amazon
Just make sure to trust that the person you gift this to will share.
Rebel Scum Card, $4, Etsy
For when "rebel scum" is your love language <3.
Stormtrooper Mugs, $34, Amazon
The couple that crush the Republic together, stays together.
Star Wars Chocolates, $22, Etsy
I'm guessing the Darth Vader chocolates are ... Dark.
Images: Courtesy of Brands