Valentine's Day Daytime Date Ideas That Don't Suck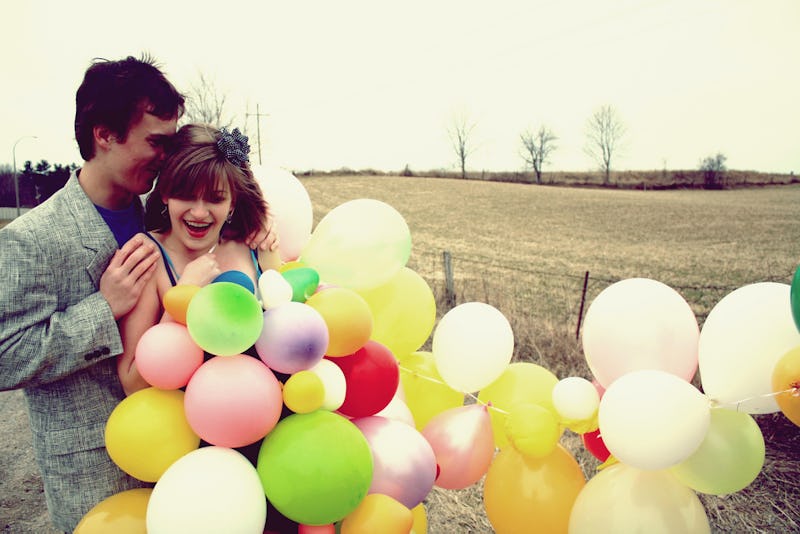 Happy almost Valentine's Day, lovebirds. The annual day of couples-only marketing campaigns and price markups is peeking its head out from around the corner. And what kind of Valentine's Day date do you have planned? Because in order to actually go somewhere on Valentine's Day, you'll need a reservation that was probably made two months prior. Actually, that's only the case if your plans include a romantic evening out. That's when the majority of V-Day dates occur, and when rebellious singles are out celebrating their freedom.
However, if you shift your romantic adventure to the morning of Valentine's Day, or even mid-day, you'll save a ton of money, avoid the lovey-dovey crowds, and probably have more fun than you would on a night date. Who says this holiday is an evening-only affair? There are no rules here, just BS traditions shoved down our throats via jewelry ads and candy heart messages. Ignore them. Ignore all of them. Honestly, this is a holiday that should be celebrated every day of the year, because the person you love should know how you feel that often. So don't buy into the advertising industry's idea of a "perfect" Valentine's Day evening for two. Here are 11 daytime V-Day dates that are just as much (if not more) fun.
1. Brunch It Up
Breakfast food is better anyway. And if you have the option of choosing between breakfast or lunch, you'll feel like anything is possible. Seriously, when do you get that kind of power during an evening meal? Never.
2. Snowball Fight
This winter has been relentless, and you've been cooped up inside trying to escape the paralyzing cold. Let out all of that stir-crazy energy on your date through giant, perfect snowballs aimed at their beautiful face.
3. Have a Book Date
Head to a coffee shop that has an overstuffed couch, order a pair of lattes, and escape into your favorite fictional worlds together.
4. Matinee Movie
You probably haven't been to an afternoon showing of a movie since The Little Mermaid, but they're amazing! Nobody else is there, no lines for the bathroom and/or candy, and you still get to enjoy the movie on the big screen. Yes, please.
5. Day Drinking
Take an Uber to your local pub, have multiple adult beverages, and just enjoy the tingling feeling of booze and love as you get drunk before the sun sets.
6. Netflixing with All the Candy
Everyone deserves the joy of finding a show that they watch one episode of and then feel compelled to immediately watch all the rest in one sitting. That's the beauty of Netflix, and falling in love with a new show is one of the best bonding methods for couples today.
7. Arts and Crafts
It doesn't matter how hideous your finished products are, because the fun is in trying something new and creative as a team.
8. Cooking Together
Bake a pie, grill up some burgers and fries. Much like arts and crafts, it's a way to work together and inevitably get a glimpse of your strengths and weaknesses as a couple. And if the dish ends up gross and inedible, there's still time for food to be delivered, since it's only 2 p.m.
9. Celebrate the Presidents
There are all kinds of retail sales happening this weekend in honor of President's Day. Just skip the red roses and pink hearts, and hit the mall with a strategy to spend as little as possible on a whole lot of goodies.
10. Play All the Games
Grab a puzzle, a few board games, and have a cozy afternoon of treating your SO like an opponent you must defeat. It'll be fun too.
11. Treat Yo Selves
Fragrances. Massages. Mimosas. Fine leather goods. Because then, Valentine's Day suddenly becomes:
Images: ClickFlash/Flickr; Treat Yo Self/Tumblr, Giphy (11)