9 Ways To Use Coconut Oil All Winter Long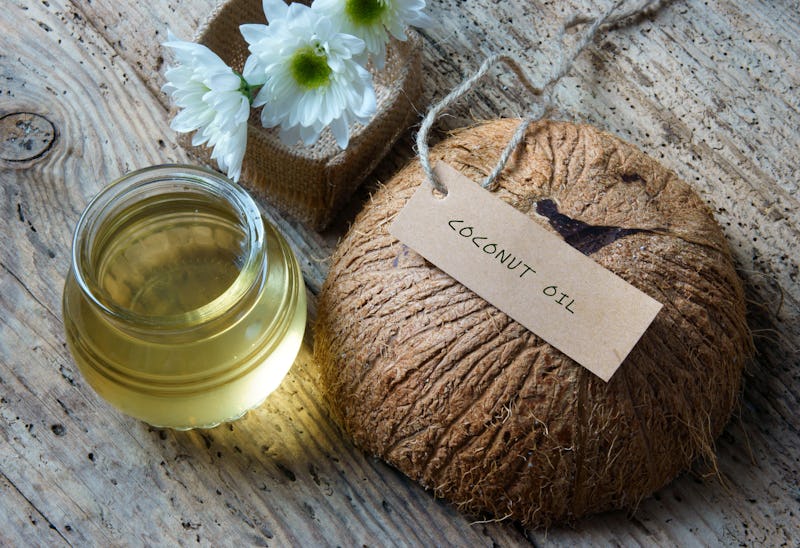 The other the other day, my roommate and I became suddenly and keenly aware of something we already knew deep down: There are an incredible amount of uses for coconut oil in this world. How did we arrive at this simultaneous realization? Well, I was in the kitchen smoothing coconut oil all over my face in an attempt to remove my makeup. At the same time, she was rubbing solid coconut oil all over several pieces of Kabocha squash in preparation for roasting. "You're buttering up the squash with coconut oil for the oven," I joked, "And I'm buttering up my face before a hot shower."
It might sound ridiculous — the moment the squash and I became one — but in truth, it tells a larger story of just how versatile and amazing coconut oil can be. It's great to cook with, sure, but it also takes my beauty game to the next level on a regular basis. There are a myriad of ways to take this standby kitchen product into the bathroom with you, and I've compiled a list of some of my absolute favorites. Whether you need help with your hair and skin or just want to smell like a tropical beach in the middle of winter, coconut oil has got you covered. Let the luxurious seasonal moisturizing begin.
1. Leave-In Conditioner
Bustle's own Kristin Collins Jackson created an incredible coconut oil leave-in conditioner recipe. All you need is:
1 cup of coconut oil
2 tablespoons of aloe vera leaf extract (or pure aloe juice)
2 tablespoons of sunflower seed oil
1 teaspoon of vegetable glycerin
12 drops of lavender essential oil
8 drops of pure vanilla extract
It works wonders on textured and curly hair. If your hair is thin, straight, or wavy, you can use this leave-in conditioner as an overnight mask. If your hair is particularly dry, you might be surprised by how much it has absorbed by morning.
2. Body Lotion
Sure, you can use coconut oil as body lotion by itself, but you can also take it up a notch by combining it with a few other skin-soothing products. This particular tutorial produces a recipe that's light and incredibly moisturizing. Plus, it smells delicious.
3. Makeup Remover
We all know that oil cleansing is incredibly effective at removing that first layer of heavy makeup, and coconut oil makes for a particularly useful oil cleanser. It melts as soon as you begin rubbing it into your skin, and can remove even the toughest matte liquid lipsticks and eyeliners without drying out your face.
4. Body Scrub
Some recipes for coconut oil-based body scrubs include coffee grounds as the main exfoliant, but I find that those have a tendency to get all over the shower (and the last thing I want to do after taking a shower is clean the shower). This recipe harnesses the power of epsom salts instead, and after using this, your skin will feel smooth AF.
5. Shaving Cream
I'm not often a fan of over-the-counter shaving creams, because I think they're completely unnecessary when you've probably got loads of other stuff that can do the job in your arsenal. Instead, I concoct this coconut oil shaving cream with ingredients I already have in my bathroom and kitchen. The resulting cream leaves my legs feeling super soft.
1/4 cup aloe vera
1/4 cup coconut oil
4-6 drops essential oil (I like lavender or peppermint for this)
Stir them all together and keep them in an airtight jar or container in the shower, easily accessible any time you want to get your gams looking and feeling smooth.
6. Night Cream
For those particularly harsh winter days, I like to sleep with a DIY mask made from coconut oil all over my face. It's incredibly hydrating. And like the shave cream above, all it requires are a few simple ingredients:
1 cup solid coconut oil
1/2 teaspoon tea tree oil
1/2 teaspoon Vitamin E oil (optional for an added boost of moisture)
For this cream, whip the coconut oil with a mixer first, until it's light, fluffy, and luxurious. Then stir in your tea tree and optional Vitamin E oils, leaving the final product in a sealed container by your bed. Warning: This will likely stain your pillow, so you might want to have an extra one on hand for the nights you indulge in this skin-quenching cream.
7. Lip Balm
This recipe from BuzzFeed might be slightly labor intensive, but the finished product is so, so worth it. I've found that the effects of this balm versus other store-bought ones are much more long-lasting. Plus, making it feels like a mini version of being a badass beauty scientist.
8. Overnight Pedicure
This particular use of coconut oil is as simple as can be: Simply slather it all over your feet, put on some cotton socks, and go to sleep. When you wake up, your feet will be softer than you ever thought possible. And for once, they'll smell good, too.
9. Eczema Treatment
During the winter, I get eczema in the strangest places: On the backs of my forearms, my cheekbones, and the bridge of my nose. Needless to say, the last thing I want in these highly visible areas is a stinky, medicinal eczema cream. That's why this article from Bustle's Faz Abdul Gaffa-Marsh was a lifesaver for me. Her recommendation of using coconut oil to relieve eczema has been both effective and keeps me smelling like a tropical island, all winter long.
And at the end of the day, smelling like a tropical island all winter long is just one of the many benefits of this wonder product.
Want more beauty tips? Check out the video below and be sure to subscribe to Bustle's YouTube page for more hacks and tricks!
Images: Fotolia (3); Meal Makeover Moms, Phu Thinh Co/Flickr; Faz Abdul Gaffa-Marsh/Bustle