Living In A Paris Changed By Terror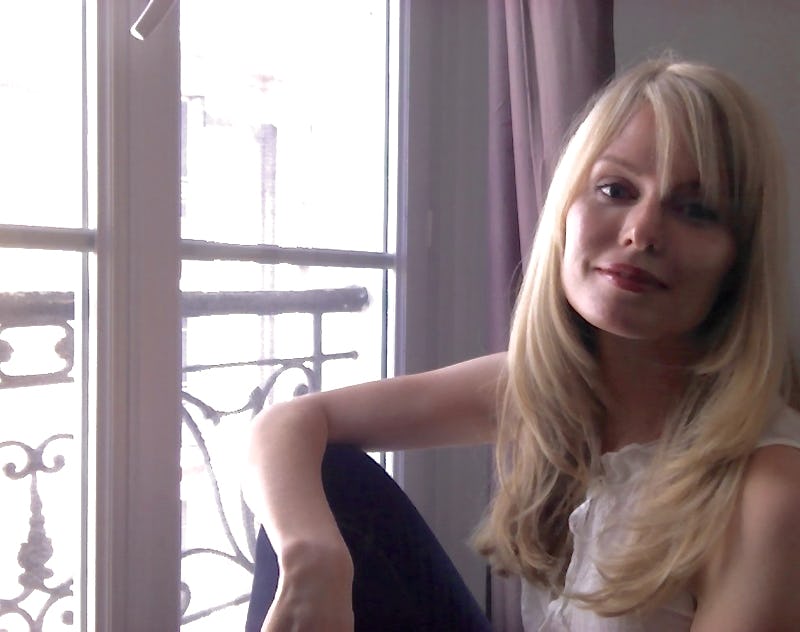 At Paris' five-star L'hôtel The Peninsula, a luxe Mongolian-style yurt currently occupies its sprawling Terrasse Kléber. Guests are invited to drink hot chocolate and nosh on tartines while lounging inside amid mattresses and fur throw rugs strewn beneath a chandelier made of antlers. On the garden patio of the equally swanky Hôtel du Collectionneur in the neighboring 8th Arrondissement, patrons can sip champagne and nibble canapés inside a large, transparent bubble festooned with elegant floral designs.
I can't help but think that the yurt and the bubble signify something beyond the novelties of snacking in a rustic-chic tent and getting tipsy in an upmarket snow globe. A year after terrorist attacks on the offices of the satirical magazine Charlie Hebdo and a kosher supermarket killed 17, and less than two months after gunmen murdered 130 others on Nov. 13, these whimsical, cozy spaces seem to embody a collective desire to find refuge from the bad memories of a 2015 that a recent Agence France-Presse headline dubbed an " année de merde ," or,"a shit year."
This past Wednesday, Charlie Hebdo released a special anniversary edition. The cover depicts an image of a God with splotches of blood on his robes and a Kalashnikov strapped to his back. Beneath the cartoon is the headline, "A year later the murderer is still on the loose" — another of the magazine's signature jabs at religion. The first page contains a disturbing blow-by-blow account of what happened at the magazine's editorial offices on Jan. 7, 2015, when the fanatical Kouachi brothers gunned down 12 people, including eight staff members.
"It was unthinkable that in 21st-century France journalists would be killed by religion," cartoonist Laurent "Riss" Sourisseau writes in the magazine's editorial. He continues: "We saw France as an island of secularism, where it was possible to tell jokes, draw, laugh, without worrying about dogma or fanatics."
And just 10 months later, more fanatics and more attacks. This time, Islamic extremists targeted several bars and restaurants, a soccer match, and a popular concert hall, where young Parisians were unwinding on a Friday evening as they had on so many Friday evenings before. If the Charlie Hebdo massacre had been viewed as an assault on the freedom of expression, the coordinated attacks on Nov. 13 were seen as an offensive against the very fabric of French culture and its famous joie de vivre. For some in France, however, such distinctions are irrelevant.
"It's not an attack on freedom of expression, it's an attack on freedom itself," Franco-Australian cartoonist Nicolas Vadot told France 24 during a recent panel discussion about last year's attacks. "For these guys from the Islamic State, drawing the Prophet or having a drink or attending a rock concert are exactly the same thing."
In the weeks after the Charlie Hebdo rampage, the sight of heavily armed troops outside of media outlets and famous monuments was jarring. Running up the storied Montmartre steps one afternoon, I nearly collided with a soldier cradling an automatic rifle. The experience left me shaken, but now I've grown accustomed to their presence, just as I've grown used to the security guards stationed at post offices and grocery stores in my neighborhood who ask me to open my purse and coat upon entering. I was initially puzzled by the request to open my coat until I remembered the suicide vests the Nov. 13 attackers had been wearing. Now, I reach for my buttons before being asked.
After the Jan. 7 attacks, more than a million people thronged the streets around the Place de la République in a show of solidarity. This Thursday afternoon, however, on the one-year anniversary of the Charlie Hebdo attack, the square was virtually empty, with only a few media camera crews and a handful of tourists milling around the handwritten tributes and burnt down candles at the base of the statue of Marianne. Torn posters from last January's demonstrations proclaiming "Je suis Charlie" still clung to the statue.
Life does go on, but the sense of insecurity left in the wake of such atrocities is harder to shake.
The country's ongoing state of emergency, which bans large-scale gatherings and expands police powers, has some rights groups, such as Amnesty International, concerned about the potential infringement upon individual liberties in the name of defeating terrorism. Meanwhile, President François Hollande's recent proposal to strip French nationality from dual passport holders convicted of terrorist offenses has been met with outrage by activists who argue that it would fuel discrimination and do nothing to curtail future attacks.
"When a terrorist wants to kill and die, this won't prevent him from doing so," Yasser Louati, a spokesperson for the Collective Against Islamophobia (CCIF) in France told Al Jazeera in late-December. "When have you ever seen a terrorist worry about losing his citizenship?"
On the first Wednesday of each month, air raid sirens sound throughout Paris — remnants of another age that once signaled an impending strike from above. Today, the sirens are just drills, auditory souvenirs from a tumultuous time that lives on only in history books and fictional renderings. Visitors are sometimes startled the first time they hear these urgent-sounding howls, but those of us who live here hardly notice them. This week was different, though. As the country marked the anniversary of last January's attacks, the dull roars took on a new significance for me — the echo of a past, abstract threat colliding with the distinct and present danger of our current times. I also thought that there was something orderly and predictable about those alarms whose shrieks announced, "Enemy air strike incoming. Take cover!" There are no such warnings for an impending terror attack. Today, we are facing an ongoing threat from which there is no refuge.
In the meantime, Parisians are moving on. Crowds have defiantly returned to Café Bonne Bière, the only eatery besieged in the Nov. 13 attacks that has since reopened, to enjoy tapas and pints of Carlsberg. Not far from my new apartment, another bar that came under fire, Le Carillon, is undergoing renovations. Metro cars are full. The anniversary edition of Charlie Hebdo printed a million copies. On New Year's Eve, a friend of mine told me that he was no longer having nightmares. Another friend who had been too terrified to leave her apartment in the weeks after the November attacks said that she had since gone back to work and was taking small outings in her neighborhood. However, she also admitted that she was still too afraid to ride the metro or to be among large crowds at night.
Although I encouraged her to be strong and to defy the terrorists by carrying on as before, I also empathize with her. It will be a long time before I can relax at a cafe terrace with the same nonchalance that I enjoyed before Nov. 13, or attend a concert without first making note of the emergency exit doors. Life does go on, but the sense of insecurity left in the wake of such atrocities is harder to shake.
As we adapt to this new vulnerability, we also cling tightly to what feels familiar and safe, seeking solace in our own versions of the Peninsula's yurt or the bubble at Hôtel du Collectionneur: a bottle of wine shared with friends in a warm bistro. A lively dinner party in a cozy apartment. A well-heated cafe on a bleak January afternoon. A particularly vivid winter sunset. These little comforts reassure us, soothe us, and distract us as we adjust to a new normal and to a city that may never be the same.
Images: Erin Zaleski; Getty Images