Channing Tatum Basically Won 'Lip Sync Battle'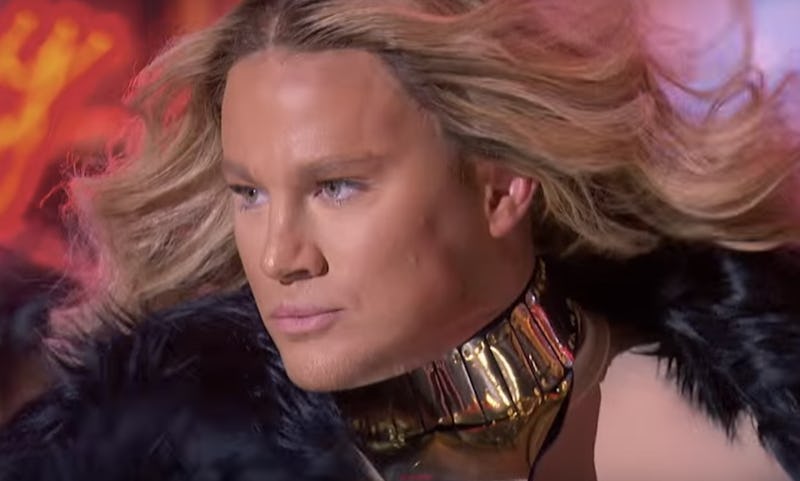 Channing Tatum-related news is the best kind of news as far as I'm concerned, and the latest doesn't disappoint. The long-awaited episode of Lip Sync Battle featuring husband and wife team Channing Tatum and Jenna Dewan-Tatum fighting it out aired on Thursday, and was even better than any of us could have imagined. Not only did we get to see Channing Tatum in full Frozen attire, performing "Let It Go," there was the most awesome cameo by Beyoncé. It was a major coup for Beyoncé and Tatum's to perform "Run The World (Girls)" to put Jenna Dewan-Tatum to shame, and the performance was totally epic.
It'll be difficult to erase the image of the Magic Mike star going full-on Beyoncé (he even perfected ALL of her dance moves). Plus, Jenna Dewan-Tatum did an on point impersonation of her husband in Magic Mike XXL, when his character dances around a workshop to Ginuine's "Pony." While Dewan-Tatum's performance was an amazing replica of her husband's routine, nothing can quite overshadow the awesomeness that is getting Beyoncé to actually take part in your Lip Sync Battle performance. So, with no further ado, it's time to examine the best moves and most important moments from Channing Tatum & Beyoncé's performance of "Run The World (Girls)."
1. The Anticipation Is Real
You feel it, I feel it, Jenna Dewan-Tatum and LL Cool J feel it. The anticipation for Channing Tatum's performance is off the charts.
2. Tatum Strokes This Fake Horse
Tatum's horse is a majestic beauty.
3. Two Dancers Help The Magic Mike Star Off His Giant Horse
Even Tatum needs a little help sometimes.
4. He Does A Hair Flick Because He Is Cool
Nothing says Beyoncé like a sick hair flick.
5. Tatum Basks In His Glory
Center stage, Channing Tatum basks in the audience's applause. He is Beyoncé after all.
6. It's Time For A Hands On Hips Shake
Wasting no time, Tatum assumes the position, and begins his unexpectedly flawless routine.
7. Channing Tatum Has Every Move Down!
His Beyoncé jump is just perfection. It's official. Channing Tatum can do no wrong.
8. Time For A Head Bang
Tatum shows that he's more than his Magic Mike character, and head bangs like there's no tomorrow.
9. The Choreography Is On Fleek
Once the backing dancers are on stage, the performance really takes off.
10. Every Beyoncé Needs A Fake Fall
In a swoon-like move, Tatum hits the floor, ending up on all fours.
11. A Little Spank Never Hurt Anyone
In a legendary move, Channing Tatum gives himself a little smack. Time to take a deep breath, viewers!
12. Jenna Dewan-Tatum Is The Proudest Wife
Clearly enjoying her husband's routine, Dewan-Tatum gets in on the dance moves.
13. It's Time For A Beyoncé Thigh Stroke
A performance of "Run The World (Girls)" would be incomplete with a thigh stroking move. Focus on those assets!
14. Things Get A Little Provocative
Need I say more?
15. Tatum Reaches Out And Grabs Some Air
Like any successful, world-class diva, Channing Tatum grabs the air, and draws the audience towards him, like a pro.
16. This Epic Move Happens
Tatum's team of dancers is nothing but co-ordinated throughout.
17. Some Twerking Is Attempted
Not one to shy away from a dance move, the Dear John actor twerks, much to the approval of the audience.
18. The Queen Arrives
Beyoncé's thunder will not be stolen. She arrives on stage as Tatum's performance reaches fever pitch.
19. Chrissy Teigen Goes Wild
Teigen's reaction is just amaze, and sums up how most of us would feel if Beyoncé just arrived on stage.
20. Beyoncé Proves She Is Royalty With This Strut
Immediately taking control of the stage, Beyoncé enters the performance in epic fashion.
21. Tatum And Beyoncé Make The Best Team
Was there ever any doubt? Tatum's Lip Sync Battle just went stratospheric.
22. Jenna Dewan-Tatum Cannot Cope
We feel you, Dewan-Tatum, we feel you!
23. The Queen Goes To Work
FLAWLESS.
24. There's A Reason We Call Her Queen Bey
STILL FLAWLESS.
25. Was Tatum The Best Beyoncé Impersonator Ever?
The proof is in the gif, people!
26. Channing Tatum Bows Down, And So Do We
All hail Queen Bey!
27. There's A Congratulatory Hug
Just because.
28. Channing Tatum Rocks Out
He did just smash his Lip Sync Battle performance, so who can blame him?
29. Jenna Dewan-Tatum Collapses, Because That Was Just Amaze
She dramatically collapses into a heap, because who can follow a performance as great as Beyoncé and Channing Tatum's?
Definitely the most epic Lip Sync Battle yet, it's always fun to see super cute couple Jenna Dewan-Tatum and Channing Tatum onscreen together. BRB, just got to go watch Step Up for the millionth time.
Images: Lip Sync Battle On Spike/YouTube (30)